Hello, Maria Grazia! It's so good to visit with you again at My Jane Austen Book Club. I'm really excited to share with you my latest project, Fine Eyes and Pert Opinions. This has been an odd project for me—I started it, handwritten in 2014 and then set it aside when something shiny and urgent crossed my path. Recently I found the old notebooks and realized I had to finish to tale. I didn't know how it ended and I just had to find out!
 In Fine Eyes and Pert Opinions Vicar's daughter, Elizabeth has grown up in the shades of Pemberley, a great friend to Darcy and his sister Georgiana. A baronet's elegant daughter distracts Darcy from his duties, leaving the Darcy family on the brink of disaster. Elizabeth holds the key to their restoration, but she has fled Pemberley, unable to tolerate another day there. Will Darcy relinquish his pride and prejudice to seek out a woman below his notice before his family is irreparably ruined?
Here's a peek inside:
***
Most days, Elizabeth could keep herself occupied and remind herself of the blessings she and her family enjoyed. But days like today reminded her far too much of what had been lost—and almost lost—since autumn cast its bony grip upon the vicarage. Best not dwell upon those gray thoughts. They were too quick to make themselves at home in one's mind, only to overstay their welcome.
She made her way along the dirty village street, the skirts of her dusky pink walking dress picking up a coating of dust as they swished around her legs. Spring, with its fresh smells and gentle warm breezes, had finally come to the little hamlet of Lambton, driving away the vestiges of a long, dark winter. Bits of new green—a very particular shade, quite different from the old established green of hardy plants—dotted the edges of the road. Birds chirped and twittered from unseen perches, their songs dappling the fresh afternoon air with musical notes unique to the season. Reminders that life continued on were a good thing.
Finished with her morning calls, she left the cobblestone street in favor of the dirt footpath that led into Pemberley's woods. The deep shade of arching hardwoods embraced her. The loam's perfume and the insects' twitters soon screened out all traces of Lambton. Yes, this was what she needed.
The ladies she had called upon had been kind when they remembered Mama—and well they should be, for she had been a gentle, kind, and gracious soul—but the pain of loss was still so fresh.
Still, today was the start of the seventh month since her passing, a time to set mourning aside. So many memories floated too close to the surface, though. The day would be better spent keeping to herself, quietly remembering … and grieving.
Mama would not have approved, insisting it was more important to celebrate with the living than to consider the dead. What better way to honor her memory than to do just that? At least, that was what Papa had said.
If only her feelings would cooperate with those directions. Would it be so bad to take a respite here in the woods that always soothed her soul?
Perhaps she should try to appear active. Some moments to practice her archery might suit. If questioned, she could explain that she was honoring Uncle and Aunt Gardiner's gift of a membership to the Derbyshire Archery Club by preparing for their next meeting. That might be just the thing.
The footpath forked; the right side led to Pemberley, the left toward the vicarage. A familiar tall dark form approached from the right. Long purposeful strides, brow furrowed, mouth drawn into something most mistook as a frown. Something troubled Mr. Darcy.
"Good day, Miss Elizabeth." He tipped his hat and bowed from his shoulders—an odd mix of formal and familiar.
He had been calling her Miss Elizabeth from the moment they had met—what was it, ten years ago now?—when Father had taken the living at Kympton. He would hardly call her anything else now.
She curtsied. "Good day, Mr. Darcy."
"Am I intruding? You are walking alone. I know, sometimes …"
"It is six months to the day of my mother's passing."
"Forgive me, I should have recalled. I must be intruding, so I will go. You cannot want company now." He was always so polite, so proper, but his deep brown eyes seemed crestfallen.
"Pray, do not. I think perhaps—perhaps too much solitude might not be a good thing for me today. I am walking to the vicarage—"
"Might I walk with you then?" They set off together down the left-hand path, their steps falling into a comfortable harmony as they often did when they walked together.
"It seems you have something on your mind. Pray tell, would you like to talk about it?"
He clasped his hands behind his back and stared at the path they walked. A sunbeam filtered through the canopy, highlighting his classically handsome profile. She was right; something weighed on him. "It has been a long time since you have called upon Georgiana."
"I am sorry for that, but we have been in mourning—"
"I meant no criticism. You have had other concerns. In that time, though, she has quarreled with Mrs. Younge. The situation escalated to the point where I was forced to dismiss her. Georgiana is without a companion at present. This is the third—no, the fourth companion—who has quit or had to be dismissed in eighteen months."
Actually, it was the fifth, but Mrs. Allen had only remained for a week and a day. No point in reminding him of that.
"She needs another companion, but I am at a loss how to find one suitable. I had hoped to ask your assistance."
"I should think that one of your aunts might be a far more appropriate source of help. Their connections in good society might be very useful."
"They supplied the last three companions."
She gripped her hands behind her back. That should help conceal her true thoughts. "So, you want to seek help from another quarter?"
"Do not toy with me, I know that tone of your voice. You do not approve." Did he just roll his eyes at her? "If you do not want to help me, I will find other means. You need only say so."
"Do you really want to hear another one of my pert opinions, as you called them the last time that I offered a sentiment you did not like?"
"It was not that I did not like it. I thought—and still do think—you were in error."
Stubborn, arrogant man. Just because he had attended university did not mean he knew everything! "If you take the time to do some reading on the matter, you will find I am correct. Those creatures we saw in the garden last summer were indeed moths—hawk-moths to be precise—not humming birds."
"You are quite mistaken. I am entirely certain—"
"You are an expert in all the natural sciences?"
"I am not accustomed to arguing such matters with young ladies."
"Because most are too stupid or insipid to hold on to a controversial point of view." Her fists clenched—now was not the time to reiterate her arguments.
"Another of your pert opinions." He glanced at her, just a hint of amusement in his eyes, a tiny dimple forming on his left cheek. "Tell me your views on acquiring another companion for my sister."
Why did he have to ask that? "Miss Darcy has had a long history of difficulty with governesses and companions."
"And school masters, do not forget those."
"Those as well. To have so many unfortunate experiences at just sixteen, that is very difficult for a girl."
"It is not easy on those around her, either." He harrumphed. "To have her tutors call her stupid and willful was no easy thing. Had my father been alive—"
She lifted an open hand. There was no need to discuss what Old Mr. Darcy's reaction might have been. "It is a mercy for all of you that he did not live to see it happen. I am certain.
Maria Grace
About the Book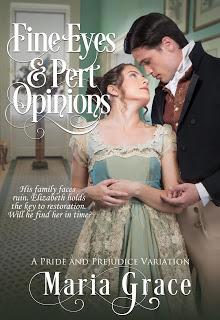 Darcy is at his wits end.
As guardian to his younger sister, he wants her to become a properly accomplished woman--she is coming out soon, after all. But Georgiana steadfastly refuses despite the encouragement of Elizabeth Bennet, long time Darcy family friend.Darcy invites a few guests to Pemberley in the hopes of encouraging Georgiana's improvement with a taste of society.
Unexpected additions to the party prove dangerously distracting, leaving the Darcy family on the brink of disaster. Elizabeth holds the key to their restoration, but she has fled Pemberley, unable to tolerate another day in the Darcys' company.
Will Darcy relinquish his pride and prejudice to seek out a woman below his notice before his family is irreparably ruined?
Universal Book Buy Link
About the Author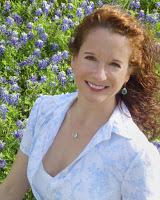 Five-time BRAG Medallion Honoree, Maria Grace has her PhD in Educational Psychology and is a 16-year veteran of the university classroom where she taught courses in human growth and development, learning, test development and counseling. 

None of which have anything to do with her undergraduate studies in economics/sociology/managerial studies/behavior sciences. 

She pretends to be a mild-mannered writer/cat-lady, but most of her vacations require helmets and waivers or historical costumes, usually not at the same time.




She writes gas lamp fantasy, historical romance and non-fiction to help justify her research addiction. Her books are available at all major online booksellers.  




She can be contacted at  

[email protected]

  Facebook Twitter  Pinterest 

Random Bits of Fascination      Austen Variations    English Historical Fiction Authors


Maria Grace is hosting a giveaway on her blog. Check it out!