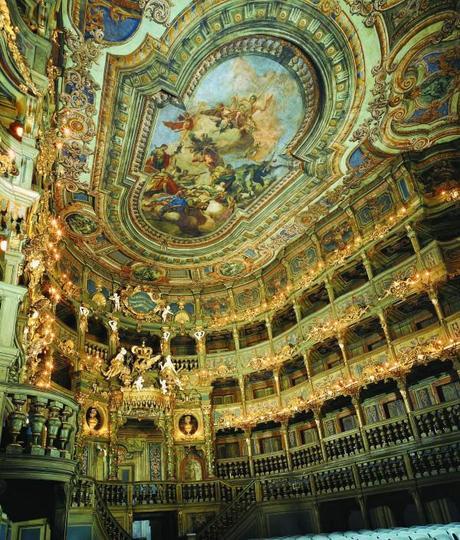 Photo courtesy of Bayreuth Tourist Information.
The timing was serendipitous for my recent visit to Bayreuth, a city known for it culture, palaces and beer.  A week earlier the Margravial Opera House became Germany's newest UNESCO World Heritage Site.  While opera is not really my thing, I'm a sucker for all things UNESCO, especially architecture.   The Margravial Opera House delivered on both accounts: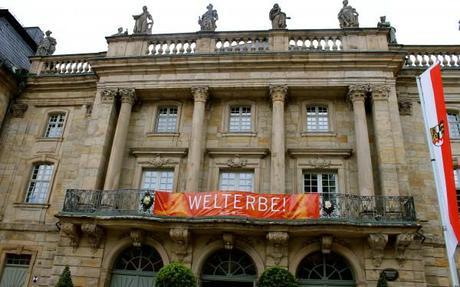 The exterior of the Opera House is nice, but nothing special. This was done intentionally by the Italian architect Guiseppe Galli Bibiena. He set guest's expectations low, then wowed them with the interior of the opera house.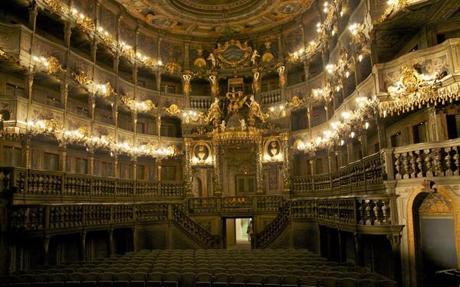 And wow it did.  The  opera house was built between 1746-1750 and constructed entirely of wood.  Miraculously it has survived over 250 years of potential fires earning it the distinction of being the most beautifully preserved Baroque Opera House in all of Europe!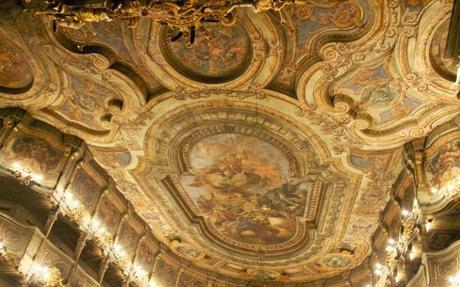 The showpiece of the opera house is the hand painted roof which never in a million years would I think was constructed of wood.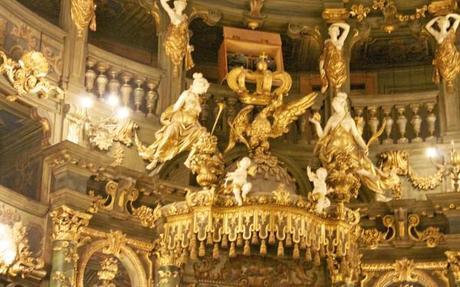 The devil is really in the details, of which there are so many intricate carvings, all done miraculously in wood.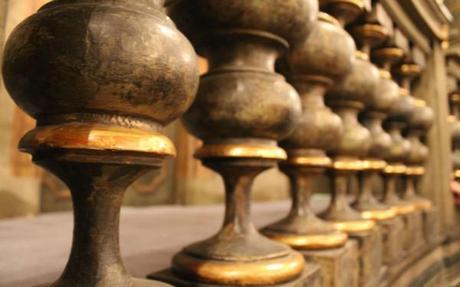 Not everyone is a fan of the Margravial Opera House though, Bayreuth resident, Richard Wagner, a famous composer thought it was too showy and that the acoustics weren't very good.  This was in sharp contrast to the understated Bayreuth Festspielhaus that he built that is still renowned for its acoustics and home to the annual Richard Wagner Festival.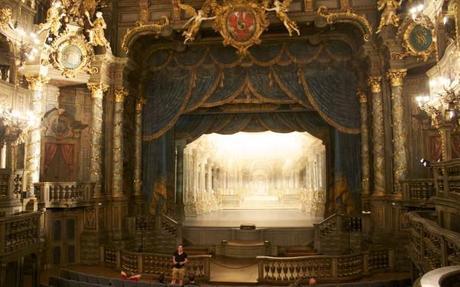 Even the stage curtains are made of wood. Originally there were made of blue velvet and gold.  But, thhey were so beautiful that they caught Napolean's eye and he took them for a present for his father-in-law in Vienna – where they were sadly destroyed by fire.  The irony being if he would have just left them there, they wouldn't have been destroyed.
I would highly recommend a visit to the Margravial Opera House, even if you're not a fan of opera -the architecture is incredible!  But you have to hurry.  The Opera house will be undergoing an estimated five year renovation beginning in October 2012.  As of July, it had been unknown whether any part of the opera house would be open for tours.
Know Before You Go to the Margravial Opera House:
The Opera house is open from 9:00-6:00 every day from April to September and from 10:00-4:00 from October to March.
German tours run every 45 minutes.  The English tour is every day at 1:30.  Tours in other languages are available with advance notice.
The tour costs €5.50 for adults, and is free for children under 18.This photo has been submitted to Nancie's Budget Travelers Sandbox where you can see more travel photos.