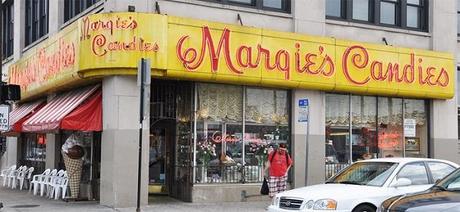 Cities like Chicago are inundated with hidden local gems and, as many ice cream fanatics know, full of superb ice cream. It is easy to get lost in the shuffle of chain ice cream stores as you are strolling along the Loop under the sometimes oppressive Midwestern heat. However, if you are passionate about your flavors, looking for an adventure, and ready for some serious sundaes, Margie's Candy Shop is well worth the extra CTA fare. (And don't worry, their Montrose location is literally placed right under the trains!)
Truly, Margie's is a revered institution known far and wide as one of the original ice cream and candy shops in Chicago. They have been hand-dipping chocolate, serving up mega sundaes, and blending delicious shakes for over 90 years. Their clients have ranged from the seemingly average to the star-studded rock star- the Beatles and Rolling Stones included!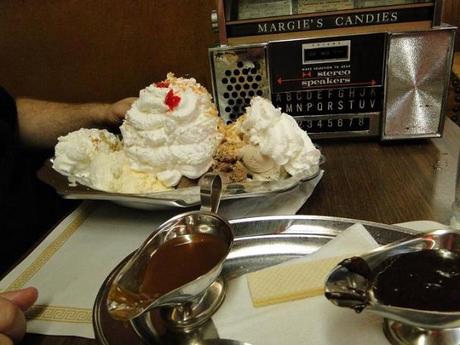 A step into one of Margie's two locations carries with it the soft whisper of a gentler ice cream age. A third-generation ice cream shop, the parlor exudes a welcoming warmth to regular families and Chicago visitors alike. It goes without saying that their menu is second to none. Margie's has a huge selection of classic favorites alongside "jumbo creations" such as the Zombie- the world's largest soda complete with whipped cream, nuts, cherry, and a special cookie.
Other interests include:
TURTLE TUMMY BUSTER- Five Scoops of Margie's Famous Ice Cream and a Turtle
THE WORLD'S LARGEST TERRAPIN- Fifteen Scoops of French Vanilla Ice Cream Topped with Kettle-Fresh Fudge and Caramel, Whipped Cram, Nuts, Bananas and a Cooke.
CHERRIES JUBILEE- French Vanilla Ice Cream Loaded with Cherries, Banana, Topped with Whipped Cream, Nuts and a Cookie
PINA COLADA SUNDAE- Polynesian, a fantasy of Fresh Pineapple, Ice Cream, Coconut and Bananas.
BROWNIE ALA MODE- Rich Fudge Brownie covered with Vanilla or Chocolate Iced Cream, Fudge, Whipped Cream, Cherry, Nuts and Wafer.
To complete the experience, Margie's serves up their insane creations in the largest ceramic clam-shaped bowl you have ever seen. Seriously, this is too good to pass up!
Final Score? 8 out of 10. Be wary- it can be hard to find seating in the winter!