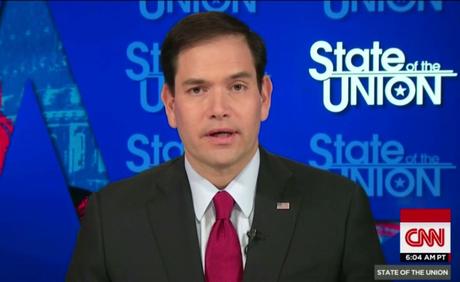 PF
"If these were perfect lists, that would be one thing," he said. "But there are over 700,000 Americans on some watch list or another that would all be captured under this amendment the Democrats offered. And that's the problem."
We wondered if there were really 700,000 Americans who could potentially get caught up on a terrorist watch list and be prevented from buying guns under Democratic legislation.
Rubio's count is way off. The number of Americans on the consolidated terrorist watch list is likely in the thousands, not hundreds of thousands.
We reached out to Rubio's team, but they didn't get back to us.
By the numbers
The FBI's Terrorist Screening Center maintains what is colloquially known as the terrorist watch list. The Terrorist Screening Database is a consolidated collection of information about people known or reasonably suspected to have some level of involvement in terrorist activities. The no-fly list is a subset of the terrorist watch list.
The terrorist watch list is the one the attorney general would pull from when deciding whether someone should be denied a firearm if there's reasonable belief that the person would use that firearm for terrorism, under the Democrats' bill, said Ashley Schapitl, spokeswoman for bill sponsor Sen. Dianne Feinstein, D-Calif.
The terrorist watch list pulls information from numerous government agencies in the United States and around the world, so American citizens and legal residents only make up a portion of the list. A pretty small portion, in fact.
A Terrorist Screening Center spokesman declined to comment on the watch list's current size, but we found an estimate on a 2011 FBI fact-sheet that put it at 420,000 individuals. Of those, only about 8,400 were American citizens or legal residents. The no-fly list subset included about 16,000 names, only 500 of whom were Americans.