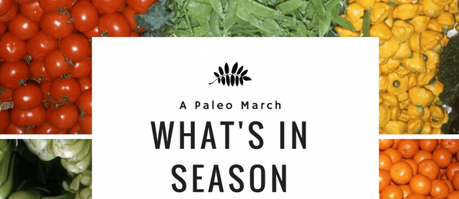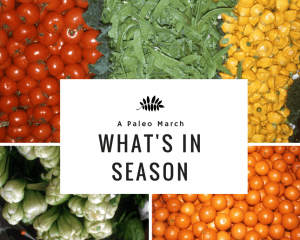 March Seasonal Produce for Your Paleo Meals
A Paleo Look at What's in Season
The biggest takeaway from a Paleo practitioner lifestyle is the consistent exposure to fresh fruits and vegetables. I'm sure you've heard many people recommend that you buy what's in season to get the best foods and the best price. However, many people don't take the time to tell you what's actually in season. As such, we've compiled a list of the fruits and veggies that are in season for March. The list is not exhaustive, but it's a good starting point for what identifying the fresh produce to buy this month. Let's get started!
First, however, may I suggest a public service announcement? Whenever you can, please consider buying local. Support your local community's farms and farmer markets. You get a lot more food for your money, and you get products grown without foreign growth substances. Most importantly, your budgeted food expenses go right back into your own community! Help keep your space green, and support your local farmers buy purchasing their fresh fruits and other produce.
Supporting local farmers is a big deal, but supporting your body's need for good foods is just as important. If you already have a favorite spot to get your fruit tooth goodies, focus on listing what is in season.
For Paleo, you do not need to consume everything listed in our allowed foods list, but please allow yourself to try new things, every once in a while. It has taken some individuals decades to discover new tastes and flavors that they are passionate about. Why not start experimenting now? As with all advice, please consult with your physician when you feel adventurous trying exotic foods.
Here's a quick look at what's in season for March. As previously mentioned, these fruits and veggies taste their best this time of year and it's probably the time of year that you'll get the best price on them. Check your allergy tolerance levels first. Until then, dig in and enjoy!
March Produce:
Vegetable List (alphabetically)
Artichokes
Arugula
Asparagus
Avocados (They make a great dessert, too)
Beets
Broccoli
Brussels sprouts
Cabbage
Carrots
Cauliflower
Chives
Collards
Garlic
Leeks
Mint
Onions
Parsley
Parsnips
Turnips
Spinach
Walnuts
How to make the most of your veggies Asparagus, broccoli, collards and cauliflower are "busy" veggies. This means that hey can be employed toward the making of anything and everything. They are, furthermore, essential side dishes to accompany any meat. Better still, they can be cooked in a myriad of ways to make the best out of your purchase. You can eat them:
Steamed (all)
In casseroles –Broccoli and cauliflower make the best casseroles out there, but adding asparagus to casseroles punches in more flavor. Parsnips, leeks
In soups!- If you are a picky eater, chop any of the vegetables in season small enough that you can have them, without knowing!
Oven-fried using pork rinds as "breading"
Artichokes, beets, chives and carrots are excellent for dips, soups, and spreads. Cabbage and Brussel sprouts go awesome in soups, casseroles and steamed. Cauliflower mimics breads, pastas, and conforms to any shape you give it. Use cauliflower in the myriad of ways it can be made!
Fruits
Grapefruit
Guavas (passion fruit)
Kumquats
Lemons
Limes
Mandarins
Oranges
Tangerines
Tangelos
Raspberries
Rhubarb
Rutabaga
Strawberries
Perfect for sherberts, coconut milk-based ice creams, souffles and Paleo-approved "cheese"cakes, the March fruit list is as colorful as it is tasty. Don't forget that fruit beverages also add to the macronutrient content we want to get. Therefore, squeeze away those lemons and oranges for delicious limeades and refreshing aguas frescas that the whole family can enjoy! Eat fruit at breakfast, lunch and dinner.
Fresh produce is essential to Paleo practitioners, as such take every chance you can to include them in your daily diet. Enough fruit and veggie consumption means less digestive issues, less meds to take, and much more energy; it's the Paleo way! On a final note, keep this list in mind as you're shopping for ingredients to create the delicious paleo meals that I'm sure you're whipping up at home.