March's Degustabox was a joy to open, and here is why!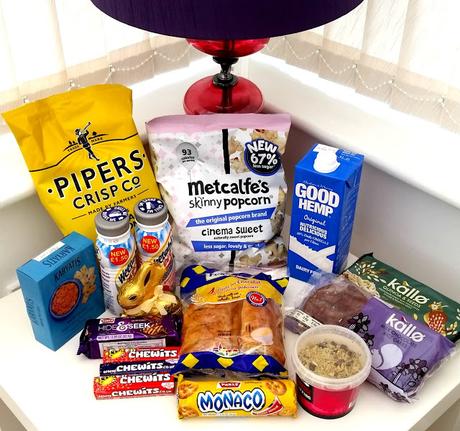 This is my kinda box. Full of naughtiness goodness!  

Lets take a closer look...

  Savoury Snacks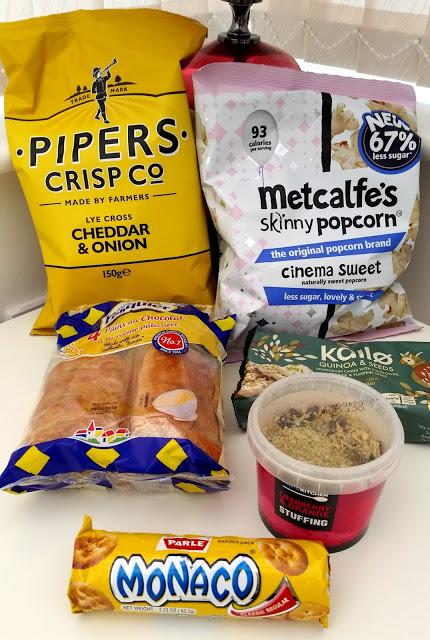 Pipers Crisps (Cheddar & Onion) I have always categorised Pipers Crisps into the 'posh crisp' category, mainly due to the price. I've never tried this flavor before but if I'm honest, I wasn't overly keen - I found the flavor quite overpowering to the point were I didn't overly enjoy them. Thankfully I shared these with Mike over a film otherwise I would have struggled to finish them!   Brioche Pasquier Pain Au Chocolat   I'm a huge fan of a good croissant and a pain au chocolat, so these were a winner for me at breakfast. They are individually wrapped and I just found them so convenient in a morning, even on a work day. I got into a nice routine whereby I'd venture downstairs, preheat the oven, potter around doing the usual morning things, pop in a pastry, potter some more for a few minutes and bingo, my breakfast was complete. Due to not having a lot of time in a morning, I loved how I could multi-task whilst my breakfast was being prepared. I've had a few packs of these before and they never tire.   Parle Monaco These thin savoury biscuits that are sprinkled with salt reminded me so much of Ritz crackers that you often find lying around houses at Christmas times. They weren't as tasty but they weren't far off either!    Metcalfes Skinny Popcorn These were yummy, and although they were low in calories, it didn't seem to alter the taste like it does with some food products. I don't often eat popcorn, but when I do, it tends to start a popcorn addiction with me for a few weeks afterwards!   Kallo Quinoa and seeds multigrain cakes These were actually quite yummy, I had them for several lunches with different toppings. The seeds helped add flavor and I definitely felt like I was eating healthy when having these!   Kent's Kitchen - Cranberry & Orange stuffing Unfortunately I'm yet to try this because I just haven't had the opportunity to use it with a meal but this flavor definitely intrigues me! The cooking procedure sounds so simple and convenient too. Simply add water, stir and bake and you're good to go!   Sweet Snacks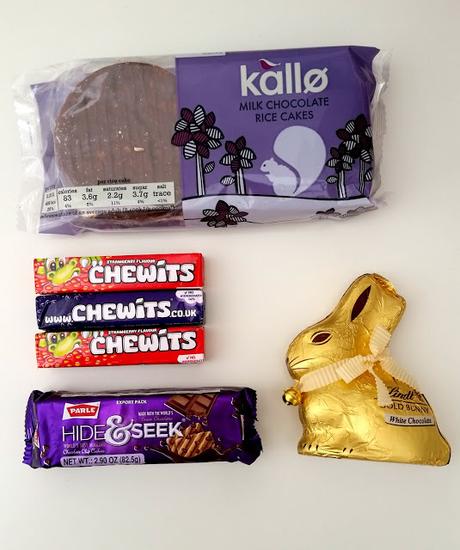 Chewits (x 4.. yes, I ate one before this photo!) Who doesn't love a good chewit? They take me back to my childhood, just fruity and chewy goodness. I particularly enjoy them when they're a bit warm! Definitely wakes those taste buds up!   Parle Hide & Seek These chocolate biscuits originate from India and were really moreish!  If at the right price, I wouldn't hesitate in buying these!   Lindt Gold Bunny With this box being Easter themed, it was only right to include an easter themed item! Lindt is up there with one of my favorite chocolate brands, so I enjoyed these. Although I find white chocolate a little more sicklier than milk, it only meant it lasted me that little bit longer!   Kallo Milk Chocolate Rice Cakes Similar to the seeded ones, but coated in chocolate instead, these were yummy, and I couldn't put them down!   Karyatis - Meze to go (below) This Mediterranean red pepper and feta dip was rather different to what I'm used to. The convenience of having dip and crackers 'on the go' is great. There was a generous portion of dip (but not enough crackers!). Definitely tickled those taste buds!  
Drinks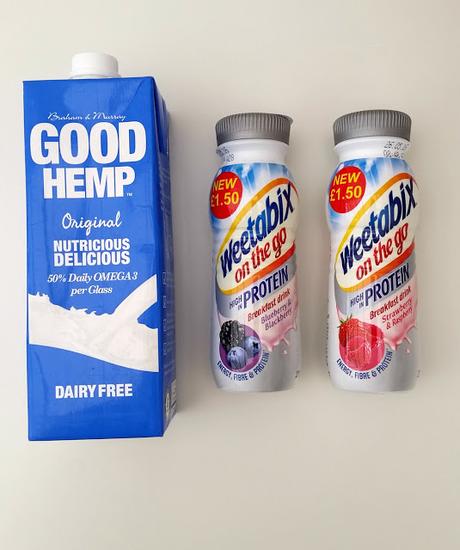 Weetabix 'on the go' protein breakfast drink x 2 I was happy when I spotted these in my box again. I've tried every flavor now I believe, and I have loved every one of them. These fit perfectly into a busy lifestyle, moreso a busy morning routine where sometimes you may not find time to eat, but may have a commute to work where you can grab a few minutes to eat/drink your breakfast. I took these to work with me and enjoyed them at my desk in a morning. It was nice to free up that breakfast time at home, and use it doing something else instead! The creamy texture and varieties of flavours will definitely keep me coming back!   Good Hemp Original Dairy Free Milk Honestly? This is still sat in my fridge, although I do intend to use it because I hate wastage. I will hold my hands up and say that I'm not a fan of dairy free food/drink items. The taste just isn't the same, and the occasional dairy free products I've tried in the past have often had that bland 'diet food' taste to them. I will definitely try this though, maybe in a smoothie!   All in all, a very good box for me this month. If you like the sound of receiving a Degustabox through the post every month, full of exciting food items, then use my code 8IGIDN

to deduct a whopping £6 from your £12.99 order! What's not to like?!

  If you want to find out more about Degustabox, visit them on their website for more details.