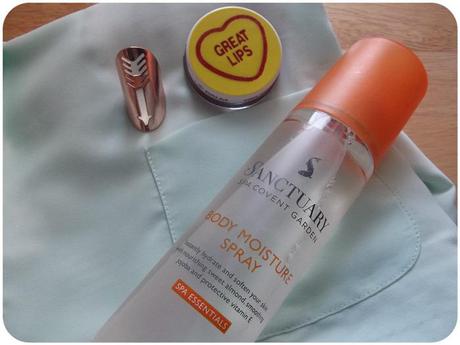 River Island Ring / MUA Lip Balm / Sanctuary Body Moisture Spray / New Look Blazer
Oh my goodness, I cannot believe it is the end of March! Which means that I half one month left of uni –one month!! I haven't got many favorite this month as  haven't really been buying a lot –surprise surprise! I've been wearing the MUA Great Lips every day pretty much recently, I've been applying it with a lip brush which makes it last soo much longer and I just love the color. Sometimes I wear it over Shy Girl if I'm feeling naughty – naughty? I rediscovered this Santuary body oil and I don't know why I put this into my 'never use' bag –!? I've been really tired recently and the only thing I want to do after a bath is fall into bed, so this is amazing for super quick moisture on my lovely flaky legs – they're not really flaky, although they would be, had I not wasted so much of my life moisturising! I have to say my all time favorite this month is the River Island ring; I only bought it last weekend but I love it that much it's in the favourites. I just think it's such a rare find for RI jewelry and I don't own anything rose gold, so I am glad to have it in my life. FYI River Island have some good rings in at the minute! Last but by no means least, my bargain blazer from New Look. I know a lot of people have been getting the mint blazer from Primark but personally I think this one feels a little more luxurious and it was only £23 plus I got discount off so was around £20 really.
I hope you have got some better favourites than me this month! I can't wait to finish my dissertation so I can focus on the important stuff in life– make up and face masks, lip gloss and body wash, you know.
I might not be blogging as much over the next few weeks as I have a lot of work to do at the minute and need to focus on that, I did not want to stop blogging without an explanation though. BUT I am always on Twitter –I cannot give this up just yet- and Instagram so if you'd like to follow me there my user name is @inordinateplush for both –keeping it simple. Come the end of next month, I hope to have gotten rid of my under eye bags, and I'll probably be about ten tonne the rate I'm eating these Haribo, along with it a hefty loan installment.