First visit? Glad you're here! I hope you'll take a second to "Like" my page on Facebook and subscribe for updates so we can stay connected!
Happy Spring, everyone! 2014 seems to be flying by and I'm just trying to keep up with it. I can't believe we've reached the end of another month already, but I'm excited because that means it's round-up time! March was an amazing month full of discovery for disability-related writing and I somehow managed to narrow my list down to eight pieces. I know it's quite a lot, but all of the articles are incredibly thought-provoking and absolutely worth your time. Even if you can't get to them all right now, I hope you'll bookmark this post and check back when you can.  I hope you'll let me know your thoughts on some of the articles. And, if this round-up leaves you wanting more to read, there's plenty of awesome previous lists for you at the bottom!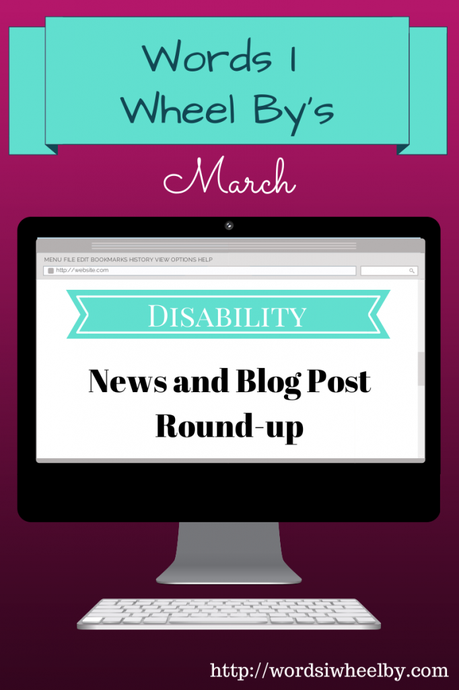 Disability News
How Designers Are Failing People With Disabilities – This article is an absolute goldmine of tackling disability issues through the lens of mobility equipment technology. From insurance coverage to stereotypes to social/medical models of disability, the author covers it all. I was especially glad to read the emphasis on the benefits of Universal Design for all people, and not just people who have disabilities. Well worth reading!
What It's Like to Grow up in a Deaf Family – It was such a pleasant discovery to find an eloquent account of growing up with disabled parents in Teen Vogue. The teenage population needs to be a crucial target to increase sensitivity and acceptance, and this author did a great job of being easy to relate to while getting across an important message.
Trigger Happy The "trigger warning" has spread from blogs to college classes. Can it be stopped? – Are you familiar with trigger warnings? You may have encountered them while reading various things around the web. They're intended to be an accessibility feature to be used before talking in detail about potential emotionally triggering content, but this article questions if the use of them has gone too far. I, for one, have incredibly mixed feelings about this article, though I'll let you form your own opinions.
Are You Disabled? Your Boss Needs to Know – Come to think of it, this is the only actual news piece I'm sharing in this category. All the others are just opinion pieces in news sources. But I definitely wanted to share this because it's important. Also, I have a question for everyone: how do you feel about disclosing disability to potential employers?
Disability Blog Posts
Know Me Where It Hurts: Sex, Kink, and Cerebral Palsy – I must first give you a fair warning that this post does use graphic language about sex. That being said, can sex just stop being taboo already? Ditto for discussions of sexuality and disability. This stuff NEEDS to be talked about. And I love how this author does it. Too often, disabled people are infantilized rather than given the chance to be perceived as fully sexual beings. But disability does not negate sexuality. Moreover, disability need not be ignored. It is a part of me, of everyone who has a disability, and we shouldn't be made to feel attractive only in spite of our bodies. We want partners who will embrace our bodies as they are. (Writing a blog post on this topic may be impending for me!)
Normcore is Bullsh*t – Have you heard of the supposed new fashion "trend" called normcore. Fashion often comes under fire for ableist tendencies. I love this author's take on why trying to embrace "normalcy" as a fashion statement just doesn't cut it.
My Child Doesn't Need Your Pity – I'm a big fan of the blog Love That Max, written by a mother whose son has cerebral palsy. So I was happy to see her article on The Huffington Post that conveys an awesome message in such a straightforward way: stop pitying people who have disabilities!
World Down Syndrome Day – The Long Game. Or why cute and happy is not enough. - One of my top advocacy priorities is moving beyond inspiration porn. So, I loved this post by a father of a boy with Down syndrome because he is spot on about why spreading warm, fuzzy feelings isn't enough to achieve real change.
Did I miss anything you think I should have shared in this round-up? Let me know! I'm always on the lookout for more disability-related reading.

Past Round-ups:
February 2014
January 2014
December 2013
November 2013
October 2013
Like what you read? Subscribe for weekly updates and be sure to confirm your e-mail!