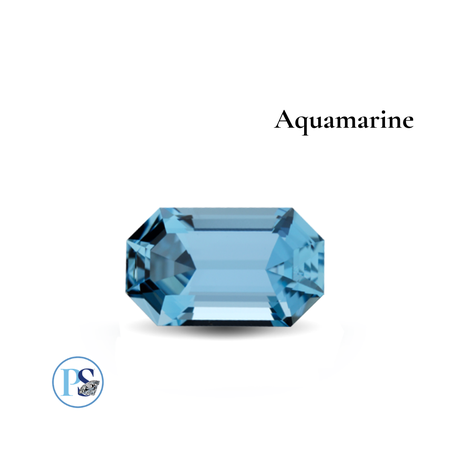 March is just a few days away and what better way to enter a new season than with a new birthstone. If you are a March baby you would know that you have two (2) birthstones: aquamarine and bloodstone. Today, we're going to focus on aquamarine and where you can shop for aquamarine jewelry to suit your budget.
HISTORY
The name aquamarine comes from two Latin words: 'aqua' meaning water and 'marine' meaning of the sea. As the human eye can see, the color of aquamarine is a reflection of the colors of the sea (blue to green color palette).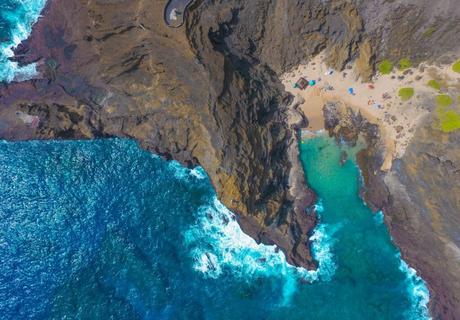 The ancient Greeks and Romans believed that the aquamarine would protect sailors and keep them from getting seasick.
ABOUT AQUAMARINE
Aquamarine is light blue to green teal in color and belongs to the Beryl family of gemstones. It is interesting to know that when the aquamarine gets really green it is similar to an emerald. When we speak about the color of March's birthstone - blue is most desirable. Consumers prefer to shop for blue aquamarine so if the stone is green, gemologists tend to heat the stone to get rid of any teal green. However, each with their own. If you prefer a teal green aquamarine - it is available on the market.
Even though aquamarine is categorized as part of the Beryl family - the gemstone is rated a 7.5 - 8 on the Mohs scale.
FUN FACT: The aquamarine is stronger than an emerald on the Mohs scale because it doesn't have as many inclusions.
You can wear aquamarine in a ring, earrings, necklace pendants, and bracelets. Another great perk of aquamarine is that you can wear a very large aquamarine stone in any cut of your choice.
Aquamarines can be found worldwide. Aquamarines are found in Africa, Middle East, Russia, North and South America. However, the aquamarine we most commonly see on the market is from Brazil.
MEANING OF AQUAMARINE
Aquamarine is said to make the wearer more intellectual, amiable, and unconquerable. Aquamarine was often worn in battle and help you if you were in any kind of litigation or argument. Aquamarine is said to promote intuition. Crystal balls were commonly made from aquamarine.
FUN FACT: It was an aquamarine crystal ball that the mystic gazed into to determine when Queen Elizabeth I's coronation should take place.
WEDDING ANNIVERSARY GIFT(S)
Aquamarines are traditional gifts for the 16th and 19th wedding anniversaries. Aquamarines are also said to rekindle marital love, hence why they are traditional wedding anniversary gifts for the latter years of marriage.
FUN MYTH: It is said that if you set aquamarine with diamonds, it will bring happiness to a marriage worn as a wedding ring.
SHOP AQUAMARINE JEWELRY
UNDER $500
14K White Gold Genuine Aquamarine Stud Earrings
This pair of aquamarine gemstone studs carry natural aquamarines in a four-prong setting of 14K white gold. Ideal for everyday use or a candlelit dinner.
14K White Gold Diamond And Genuine Aquamarine Trio Accent Pendant
This aquamarine gemstone pendant of 14K white gold holds a rich oval aquamarine and diamonds. If you are wanting to bring about happiness upon yourself or to a loved one then this is the ideal gift and it won't break the bank either.
Genuine Pear Aquamarine And 14K White Gold Solitaire Ring
Treat yourself this month of March with a natural aquamarine set in the center of a charismatic 14K white gold ring.
OVER $500
Aquamarine and Diamond Milgrain Halo Leverback Drop Earrings in 14k White Gold
Simply poetic, these icy aquamarine earrings are framed by a halo of pavé diamonds and set in milgrain 14k white gold. This is the perfect accessory, adding a touch of vintage style to any outfit.
Aquamarine and Diamond Ring in 18k White Gold
A light blue aquamarine, the birthstone for March, is prong-set in 18k white gold and accented by two brilliant round diamonds.
Crafted from 14k white gold, these gorgeous bracelets 17 oval-cut aquamarine gemstones shimmer when the light hits them. Each gemstone is separated by small infinity links symbolizing eternity.
FORUM - Where can I read more about aquamarine?
Go to Aquamarines
Go to Aquamarine Facts
Are you a March baby? Do you own aquamarine jewelry? What is your favorite thing about aquamarines? Share by clicking the comments button below!
Written by Bianca Mac Donald