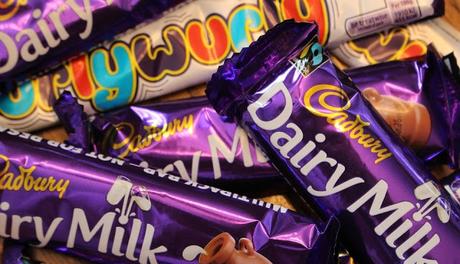 March 4th is...
Cadbury's Chocolates Birthday (1824), March Forth/Do Something Day/March for Yourself Day, Holy Experiment Day, Hug a GI Day/Hug a Government Issue Day, National Poundcake Day, Abraham Lincoln's First Inauguration (1861), Courageous Follower Day, Holy Experiment Day, International GM's Day/Game Master's Appreciation Day/Game Master's Day, AAA Birthday (1902), First Meeting of Congress (New York City/1789), Healing From the Inside Out Day, International Scrapbooking Industry Day, National Dance the Waltz Day, Marching Music Day/National Marching Arts Day, National Backcountry Ski Day, National Grammar Day, National Snack Day, Old Inauguration Day, Paczki Day, Toy Soldier Day, Brazilian Carnaval, Bun Day (Iceland), Benjamin Harrison Day (Indiana), Discovery Day / Magellan Day (Guam), St. Casmir's Day (Lithuania)
MORE: (1st Monday):
Fun Facts About Names Day, Casimir Pulaski Day (Illinois), Shrove Monday/Carnival Monday/Collopy Monday/Fat Monday/Hall Monday/Luni Gras/Merry Monday/Paisen Monday/Peasen Monday/Rose Monday/Rosenmontag, World Tennis Day
PLUS -
interesting books to read and free printables, paper crafts, kid crafts, activities, and coloring pages.
Want more Holidays to celebrate? Click for our Index of Holiday Freebies
---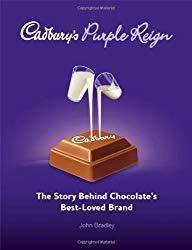 Cadbury's Chocolates Birthday (1824)
-- In 1824, John Cadbury opened a grocer's shop at 93 Bull Street, Birmingham, England. Among other things, he sold cocoa and drinking chocolate, which he prepared himself using a pestle and mortar. John's wares weren't just inspired by his tastes, they were driven by his beliefs. Tea, coffee, cocoa and drinking chocolate were seen as healthy, delicious alternatives to alcohol which Quakers deemed bad for society.
Source
Read: Cadbury's Purple Reign: The Story Behind Chocolate's Best-Loved Brand
-- The in-depth story and definitive history of the Cadbury brand, and how it came to be the world's pre-eminent chocolate brand. It presents a no holds barred account of the rollercoaster ride the organization has experienced which has, ultimately, led to its success. It is a story of endurance, where, in the UK, Cadbury is a clear market leader. This fascinating journey which has been the history of Cadbury makes it an ideal example with which to illuminate the story of consumerism. llustrated with fact, anecdote and beautiful images from previously archived material, this book provides the reader with an unprecedented insight into one of the world's most iconic brands.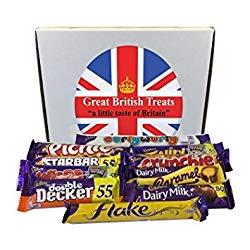 • Cadbury Selection Box --
A
Great British Treats
selection box of 10 of the top selling Cadbury British chocolate bars. You will receive all the chocolate bars in the
Great British Treats
presentation box as pictured - guaranteed. All chocolate bars are full size UK products - not the smaller multi-pack bars
• Cadbury Christmas Candy Selection --
Basically British Christmas Sack
comes filled with: 10 Cadbury Chocolates and Freddo Selection Box. A wonderful selection of Cadbury's Chocolate, The Best chocolate in the world.
• Chocolate Coloring and Activity Books
---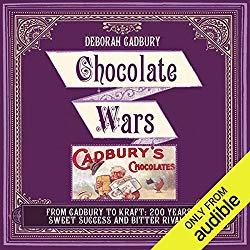 Chocolate Wars: The 150-Year Rivalry
Between the World's Greatest Chocolate Makers
Amazon Freebies:
🍫
Read Chocolate ebooks for free
with a
Free Trial of Kindle Unlimited
🍫
Free Chocolate apps
🍫
Free Chocolate games
🍫
Listen to Cadbury Chocolate LPs with a Free Trial of Amazon Music Unlimited
🍫
Watch Chocolate Videos for Free with a Free Trial of Amazon Prime
🍫
Listen to Chocolate Audible books with Amazon Audible, and Get Two Free Audiobooks
🍫
Free Alexa Skills | Chocolate
---
Free Printables, Coloring Pages, Activities and Crafts:
🍫
Cadbury World: Resources
🍫
Cadbury UK Recipes
🍫
Cadbury Egg Inspired Easter Trifle
🍫
Mini Egg Dessert Bars and Easter printables
🍫
DIY Origami Easter Bunny Baskets (Free Printable!)
🍫
Cadbury Mini Egg Easter Gift
🍫
Easter bunny printable wrappers for your Cadbury's Creme Eggs
🍫
Chocolate Printables
🍫
Easter Printable Pocket Place Cards
🍫
Cadbury Easter Egg Hunts
🍫
Easter Lamb Craft using packaging from Cadbury Dairy Milk Egg 'n' Spoon
🍫
Easter Egg Hunt At Home Packs
🍫
Cadbury Crafts
🍫
These DIY Candy Creme Eggs are a Huge Upgrade Over Cadbury's Version
🍫
Cadbury US Recipes
🍫
Let's Make a Chocolate Bar Craft
🍫
Egg Box, a simple template to download and make
🍫
Chocolate Reindeer Stocking Filler
---
March Forth
-- A little known holiday created by Deborah Shouse, a famous writer, speaker and creativity coach. It is celebrated on March 4th and invites us to march forth into our lives, take on new experiences, and celebrate our accomplishments.
Holy Experiment Day
-- A day to try something religious. It is a chance to try something, or ask for something, and to measure the results.
Hug a GI Day
-- Give a great big hug to any and all GIs you see today. The men and women in our armed forces deserve our thanks and appreciation. GI's perform an invaluable service to our country. They risk their lives for our freedom, and to keep us safe. A simple hug is a small thanks for this vital service to our country.
National Poundcake Day
-- Pound cake has been around since the early eighteenth century. The original recipe consisted of butter, sugar, eggs, and flour. Ingredients were measured by weight, and each ingredient weighed one pound. At first, pound cake did not include liquids and baking powder.
Abraham Lincoln's First Inauguration (1861)
--
I am loth (sic) to close. We are not enemies, but friends. We must not be enemies. Though passion may have strained, it must not break our bonds of affection. The mystic chords of memory, stretching from every battle-field, and patriot grave, to every living heart and hearthstone, all over this broad land, will yet swell the chorus of the Union, when again touched, as surely they will be, by the better angels of our nature.
Abraham Lincoln, First Inaugural Address, March 4, 1861.
March 4th in History
1877: Tchaikovsky's ballet Swan Lake premieres
1959: Pioneer 4 becomes the first American spacecraft to flyby the Moon
1980: Robert Mugabe forms Zimbabwe's first black government
1924: The song
Happy Birthday to You
first appeared in print
1974: First publication of People Magazine.