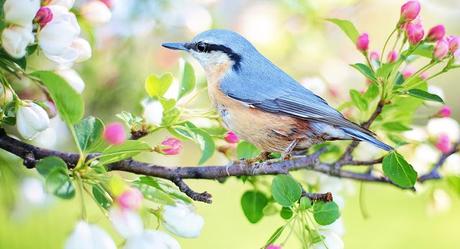 March 20th is...
The First Day of Spring/The Spring Equinox, World Sparrow Day, Kick Butts Day, National Ravioli Day, National Proposal Day/Proposal Day!®, Alien Abduction Day/Extraterrestrial Abductions Day, Bed-in For Peace Day (1969), National Kiss Your Fiancée Day, National Jump Out! Day, Won't You Be My Neighbor Day/Mister Rogers Birthday (1928), Atheist Pride Day, Snowman Burning Day, Bibliomania Day, International Day of Happiness, French Language Day, National Bock Beer Day, National Native HIV/AIDS Awareness Day, World Day of Theater for Children and Young People, Bill Martin's Birthday (1916), Jour du Macaron (Paris), National Macaron Day (New York City), National Seal Products Day, Sakura Matsuri (Japan), St. Cuthbert's Day
MORE:
International Day of Nowruz/Norouz/Norooz, International Astrology Day, Great American Meatout Day, Kick Butts Day, International Earth Day (1969), Ostara/Alban Eilir, World Storytelling Day, Holi, Purim
PLUS -
interesting books to read and free printables, paper crafts, kid crafts, activities, and coloring pages.
Want more Holidays to celebrate? Click for our Index of Holiday Freebies
---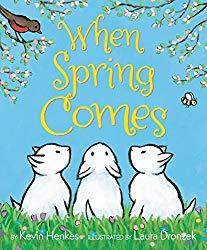 The First Day of Spring/The Spring Equinox
-- From the budding of the trees and the warming of the temperatures to the animals coming out of their winter hideouts, there seems to be a promise of new birth and color in the springtime air. My tulips are growing - how is your garden?
Read: When Spring Comes
-- Before spring comes, the trees are dark sticks, the grass is brown, and the ground is covered in snow. But if you wait, leaves unfurl and flowers blossom, the grass turns green, and the mounds of snow shrink and shrink. Spring brings baby birds, sprouting seeds, rain and mud, and puddles. You can feel it and smell it and hear it — and you can read it!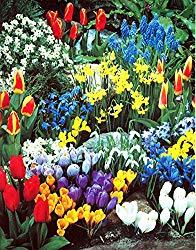 • A Complete Spring Garden --
50 Bulbs for 50 Days of Continuous Blooms. Tulips, Daffodils, Muscari, and other hardy perennial bulbs. The varieties may vary depending on the season. Hardy in zones 2-9. Months of Bloom: Mid Spring. Height: 4-18"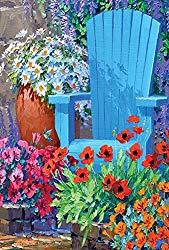 • Adirondack Arrangement Flag --
Toland Home Garden's Adirondack Arrangement House Flag is a fun way to accent your home any time of the year. Featuring a blue adirondack chair surrounded by colorful flowers, this flag will brighten up your porch and your neighborhood.
• Spring Coloring and Activity Books
---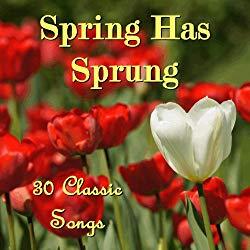 Spring Has Sprung: 30 Classic Songs
Amazon Freebies:
🌱
Free Spring ebooks
. No Kindle? Download a
FREE Kindle Reading App
🌱
Read Spring ebooks for free with a Free Trial of Kindle Unlimited
🌱
Free Spring apps
🌱
Free Spring games
🌱
Listen to Spring LPs with a Free Trial of Amazon Music Unlimited
🌱
Watch Spring Videos for Free with a Free Trial of Amazon Prime
🌱
Listen to Spring Audible books with Amazon Audible, and Get Two Free Audiobooks
🌱
Free Alexa Skills | Spring
---
Free Printables, Coloring Pages, Activities and Crafts:
🌱
Free Printable Activity Worksheets for Spring
🌱
Top 35 Spring Coloring Pages
🌱
Spring Theme Activities and Printables
🌱
Spring Printable Art
🌱
Spring Word Book | A Printable Book
🌱
Spring Activities for Kids
🌱
Happy Spring!! Free Printable Banner
🌱
Spring Printable Coloring Page Bookmarks
🌱
2019 Compilation of Free Printable Spring Stationery
🌱
Spring Crafts for Kids - Mr Printables
---
Kick Butts Day
- A national day of activism which empowers youth to speak up and take action against Big Tobacco at more than 1,000 events from coast to coast. Learn more about what Big Tobacco does to attract youth and get more people addicted its products by downloading and checking out the
Kick Butts Day Downloadable Resources
.
National Ravioli Day
- What is Ravioli? Ravioli is a traditional Italian pasta dish made by stuffing rounds or squares of pasta dough with a filling, creating a sort of pasta
pillow.
Go out and treat yourself to some delicious ravioli!
Alien Abduction Day/Extraterrestrial Abductions Day
- Clamp on your foil hat and cower under your bed,
Alien Abduction Day
is here, when the skies are carefully watched by those expecting / wishing to be abducted by an alien life form. Or simply enjoy an alien abduction movie today, such as:
Close Encounters of the Third Kind,
Fire in the Sky,
Men in Black,
The Astronaut's Wife,
Taken
and
Signs.
Bed-in For Peace Day (1969)
- Having been driven from Paris to Amsterdam early in the morning, John Lennon and Yoko Ono checked into the Hilton Hotel, where they staged the first of two bed-ins for peace. The couple knew their wedding, which took place on March 20, 1969, would receive extensive press coverage, and so decided to use the publicity to promote world peace.
Great American Meat Out Day
- On
(or around)
March 20, thousands of caring people in all 50 U.S. states and two dozen other countries get active to host educational events for Meatout - the world's largest grassroots diet education campaign. Activists distribute free food, educate their communities, and ask their friends, families, and neighbors to
kick the meat habit
and explore a wholesome, compassionate diet of fruits, vegetables, and whole grains.
National Kiss Your Fiancée Day
- A day for brides and grooms round the world to forget wedding planning and all the stress and kiss your Fiancée!
National Jump Out! Day
- Today you are asked to grab a jump rope and hop to it! March 20th – the first day of spring – is the day for girls and boys to jump-start their way into a more active lifestyle by gathering friends and family and seeing how many times in a row each person can jump without stopping. Any kind of jump will do, from a simple hop to a Double Dutch or Criss-Cross step. Or, they can jump into another activity which pumps up the heart, like biking, skating, or playing tag – the idea is to get off the couch and on the road to good health.
Won't You Be My Neighbor Day
- In honor of Fred Rogers' birthday, March 20th has been declared
Won't You Be My Neighbor?
Day throughout all kingdoms, real or make believe. The point of the holiday is to carry on Mister Rogers' spirit of being neighborly: be connected, strengthen your community ties, reach out to people you've never talked to before.
Ostara/Alban Eilir
- One of the
Lesser Sabbats
during the Wiccan year,
Ostara
is a fire and fertility festival which marks the beginning of spring. Annually, on the spring equinox.
International Earth Day (1969)
- Initiated to make earth inhabitants aware of their responsibility to care for the planet. This care includes environmental and natural resources.
International Earth Day
was founded by John McConnell, of Davis City, Iowa. In September, 1969, he proposed the establishment of Earth Day to the San Francisco, California Board of Supervisors.
International Day of Nowruz
-
Nowruz
marks the first day of spring and the beginning of the year in Iranian calendar. It is celebrated on the day of the astronomical vernal equinox. As well as being a Zoroastrian holiday and having significance amongst the Zoroastrian ancestors of modern Iranians, the same time is celebrated in parts of the South Asian sub-continent as the new year. The moment the Sun crosses the celestial equator and equalizes night and day is calculated exactly every year and Iranian families gather together to observe the rituals.
Atheist Pride Day
- On this day, atheists seek to let the world know that we exist. Because we are often demonized and marginalized, in much the same way as sexual minorities, simply asserting our identities as nonbelievers can do much to overturn stereotypes, and help others who privately doubt religion. While the aim is visibility, the number of participants is less critical than is the ability to get people to publicly admit their lack of faith.
Snowman Burning Day
- A festival to mark the end of winter and welcome spring. It's a way to celebrate the change of the seasons. By March 20th, most of us are more than ready to say goodbye to winter and hello to spring. We say goodbye to the last icy snowman by helping it melt as we set it a fire and watch it burn.
Ta'Ant Esther
- The Fast of Esther
(ta'anit Ester)
remembers God's deliverance of the Jewish people from the evil scheming of Haman
(said to be a descendant of the Amalekites)
during the reign of the Persian King Xerxes
(Ahasuerus in Hebrew)
as described in the Biblical book of Esther. Xerxes became king of the great Medo-Persia empire at the death of his father Darius the Great in 485 BCE.