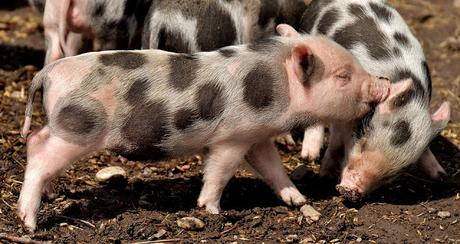 March 1st is...
National Pig Day, Salem Witch Hysteria Begins (1692), National Peanut Butter Lover's Day, Share a Smile Day, K-Mart's Birthday (1962), National Day of Unplugging, Asiatic Fleet Memorial Day (1822), National Wedding Planning Day, Self-injury Awareness Day/SIAD, National Fruit Compote Day, Lindbergh Kidnapping (1932), National Dadgum That's Good Day, Endometriosis Day/Wear Yellow Day, Baby Sleep Day, National Black Women in Jazz and the Arts Day, Women of Color Day, Zero Discrimination Day, International Day of the Seals, National Horse Protection Day, World Compliment Day, Free Dentistry Day, Plan a Solo Vacation Day, Peace Corp Birthday (1961), Refired - Not Retired Day, World Civil Defense Day, Ohio Statehood Day (Ohio), First Day of Meteorological Spring (Northern)/First Day of Meteorological Autumn (Southern), National Minnesota Day, Beer Day (Iceland/1989), Rice Festival (Thailand), Baba Marta Day (Bulgaria), Whuppity Scoorie Day (Scotland), Saint David's Day (Wales)
MORE (1st Friday):
Dress in Blue Day, Employee Appreciation Day, National Doodle Day, National Read Across America Day, National Speech and Debate Education Day, Women's World Day of Prayer (UK), National Salesperson Day, Shabbat Across America and Canada, Shabbat Shekalim
PLUS -
interesting books to read and free printables, paper crafts, kid crafts, activities, and coloring pages.
Want more Holidays to celebrate? Click for our Index of Holiday Freebies
---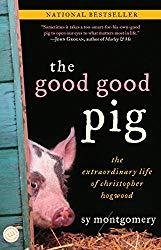 National Pig Day
-- Recognizes and gives thanks to domesticated pigs. For some unknown reason, big, pot-bellied pigs seen in zoos, are often the symbol of the day. Pigs are clever and intelligent animals. But, most people are unaware of this high level of intelligence. They can be taught to do tricks. Some people even keep them as pets. Today is a day to give pigs the respect they deserve.
Read: The Good Good Pig: The Extraordinary Life of Christopher Hogwood
-- A naturalist who spent months at a time living on her own among wild creatures in remote jungles, Sy Montgomery had always felt more comfortable with animals than with people. So she gladly opened her heart to a sick piglet who had been crowded away from nourishing meals by his stronger siblings. Yet Sy had no inkling this piglet, later named Christopher Hogwood, would not only survive but flourish – and she soon found herself engaged with her small-town community in ways she had never dreamed possible. Unexpectedly, Christopher provided this peripatetic traveler with something she had sought all her life: an anchor
(eventually weighing 750 pounds)
to family and home.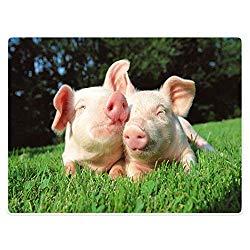 • Soft Pig Plush Throw --
Wonderfully soft, the luxury flannel blanket will sure to bring you a cozy snug feeling. Perfect way to add extra warmth to your bed or snuggling up in front of the TV on the evening. More importantly, the blanket is machine washable and easy care. High quality fabric is antipilling and it will retain its softness even after several washes.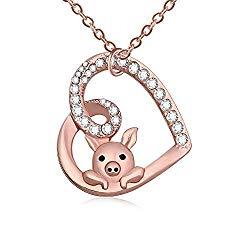 • Cute Heart Pig Pendant --
Every year in China there is an animal representing lucky things. The year of 2019 is the year of the pig, so the luckiest animal is the pig. I hope that the piglet necklace will bring you good luck. Suitable for wedding, engagement, graduation, party, prom, daily wear and any event to be beautiful.
• Pig Coloring and Activity Books
---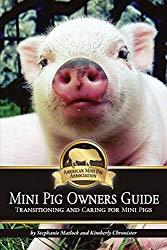 Mini Pig Owners Guide:
Transitioning and Caring for Mini Pigs
Amazon Freebies:
•
Free Pig ebooks
. No Kindle? Download a
FREE Kindle Reading App
•
Read Pig ebooks for free with a Free Trial of Kindle Unlimited
•
Free Pig apps
•
Free Pig games
•
Watch Pig Videos for Free with a Free Trial of Amazon Prime
•
Listen to Pig Audible books with Amazon Audible, and Get Two Free Audiobooks
•
Free Alexa Skills | Pig
---
Free Printables, Coloring Pages, Activities and Crafts:
•
Top 20 Pig Coloring Pages
•
Peppa Pig Print and Color
•
Peppa Pig Printables and Activities
•
Muddy Pig Craft
•
Clean the Muddy Pigs Alphabet Printable Cards
•
Feed The Pig! Preschool Counting Activity Game
• Game of PIG
• The Three Little Pigs Printable Book
•
Mini Pig Educational Information: Info That Can Be Shared At Pig Related Events
---
Salem Witch Hysteria Begins (1692)
- The Massachusetts Bay Colony village of Salem had experienced a strange February in which several teenaged girls exhibited bizarre behavior and attributed their ailments to witches. Three women were then arrested on February 29, 1692. One of the accused, Tituba, a West Indian slave, broke down under questioning on March 1st and admitted to being a witch.
National Peanut Butter Lover's Day
- Not just about the love of peanut butter, but it's all about the people who love peanut butter too! If you are an American, you most likely love peanut butter because you most likely grew up eating peanut butter and jelly sandwiches as a kid. So for this holiday find as many recipes as you can using peanut butter and enjoy each and every peanut butter bite.
Beer Day (Iceland/1989)
- This event began on March 1, 1989, when a 75-year prohibition of beer was lifted. Features celebrations in pubs and restaurants all over Reykjavik.
Share a Smile Day
-
No one needs a smile as much as a person who fails to give one. Every time you smile at someone, it is an action of love, a gift to that person, a beautiful thing.
Mother Teresa. Go smile at a stranger today!
Plan a Solo Vacation Day
- Traveling alone is a great way to explore a new city or town, take in some new sights and enjoy some new experiences. However, planning a solo vacation does require a little more work than a group or couples trip. Look beyond the regular scope of activities for options which really resonate with you and will help you make the most of your trip.
K-Mart's Birthday (1962)
- Under the leadership of executive Harry B. Cunningham, S.S. Kresge Corp. opened the first Kmart store on March 1, 1962, in Garden City, Michigan, just a few months before the first Wal-Mart opened. This store is still in operation to this day. A total of eighteen Kmart stores opened the same year. Kmart Foods, a now defunct chain of Kmart supermarkets, opened in the same decade.
Refired, Not Retired Day
- Are you thinking about retiring, maybe in the next five years? Or, have you already retired? Are you a baby boomer or close to being one? If you answered
yes
to any of these questions, you definitely need to make yourself part of the
ReFIRED,
not retired, generation. What's more, you're a charter member of the
ReFIRED
generation.
Peace Corp Birthday (1961)
- President John F. Kennedy signed an executive order officially establishing the Peace Corps on this date in 1961. The Peace Corps has sent more than 170,000 volunteers to 136 countries to help people help themselves. The volunteers assist in projects such as health, education, water sanitation, agriculture, nutrition and forestry.
Asiatic Fleet Memorial Day (1822)
- The United States Navy's presence in the Far East dates to 1822. The Asiatic Fleet was formed in 1902, reestablished in 1910, and continued to serve into 1942. Through years of unrest and disturbance, the Fleet protected American lives and interests along the China coast and the Yangtze River, bearing responsibilities which were as much diplomatic as Naval. The Fleet also assisted civilian areas devastated by the forces of nature and by internal warfare.
National Horse Protection Day
- A day to raise awareness through public education about the plight of horses in America — the abuse, neglect, homelessness and slaughter. This day also encourages adoption events around the nation to help unwanted horses find a forever home.
Lindbergh Kidnapping (1932)
- Twenty-month-old Charles A. Lindbergh, Jr, the son of Charles A. and Anne Morrow Lindbergh, was kidnapped from their home at Hopewell, NJ about 9:00 PM on March 1, 1932. Even though the Lindberghs paid a $50,000 ransom, their child's body was found in a wooded area less than five miles from the family home on May 12, 1932. Bruno Richard Hauptmann was charged with the murder and kidnapping. He was executed in the electric chair Apr 3, 1936. As a result of the kidnapping and murder, the Crime Control Act was passed on May 18, 1934, authorizing the death penalty for kidnappers who take their victims across state lines.