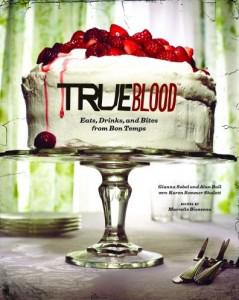 True Blood's 1st Cookbook is expected to be published in August and one of the contributors, Marcelle Bienvenu talks below about the vampire version of cookbooks and what kind of recipes we can expect to be included in it. San Francisco's Chronicle Books has teamed up with HBO for the project, set to release August 29.
A contributor to the project is South Louisiana food writer, caterer and author of the popular "Who's Your Mama, Are You Catholic and Can You Make a Roux?" Marcelle Bienvenu. We gave her a call to find out what she could dish up.
How did you become involved in the "True Blood" cookbook?
I had a contact at Chronicle, because they had published "Cooking Up a Storm" after [Hurricane] Katrina. They also had a hand in doing the Sopranos cookbook, and they were looking for somebody to do one to go with HBO series "Treme." Lolis Elie got the "Treme" book, so they asked if I would consider doing "True Blood." I honestly had no idea what they were talking about. I don't have HBO. There were six or eight people interviewed, and, lucky me, I got it.
It was a tight schedule. They needed everything by Oct. 31. I had to go through all of the series and make notes of all references to food. A lot of it is set at Merlotte's in the show. Although the setting is Shreveport, a lot of it references things generally thought of as South Louisiana food.
What kinds of recipes will be featured in the book?
Chapter one is just the drinks. Instead of a Cosmo, we have a Plasmapolitan. There's Vampaid. Dead on the Beach. In the series, there is a reference to a Tequila Moonrise. We also one called The Necromancer, Belvedere Compton, Lovin' in the Coven, Wanted Dead or Alive. Several of the drinks were made with the product Tru Blood.
Chapter 2 is breakfast, like Skillet Cornbread, Great Gram's Biscuits with strawberry jam, Gram's Sausage and Eggs Over Easy, Cajun-style eggs benedict. Each recipe references its mention in series.
There are references to hoecakes, steak and eggs. At the wedding reception [Arlene and Rene's], they serve loaded potato skins, fiery chicken wings and shrimp cocktail. Merlotte's also has its hamburger deluxe, tuna melt and oyster poboy. Dessert is things like ambrosia, Blood Orange Gelato, pecan pie and red velvet cake with white icing and a raspberry/strawberry puree that dribbles down the sides.
We got it finished, and the photos are fabulous.
Have you seen the book yet?
I haven't seen the hard copy, only electronic, but I think it's very cool that they have featured so much food in a series set in the South. Right now the South is very trendy and Southern food is much more fun. Southern food is food people can relate to.
San Francisco's Chronicle Books has teamed up with HBO for the project and "True Blood: Eats, Drinks, and Bites from Bon Temps" is available now for pre-order on Amazon and expected to ship Aug. 29.  Click on the link below to pre-order your copy.
source: deepsouthmag.com