I follow the NHL a lot more than I used to.  The game is fast, athletic and physical.  Unlike the NFL, there isn't a break every two minutes (though they are getting more frequent) and that means more time watching guys go as hard as possible for two minutes and then getting a break.  Well, last night Marc Stall took a wicked slap shot to the face.  The talk today has been about whether or not the NHL will every mandate that every player at least wear a visor.  This has to be happening soon right?  Like most rules, players will balk at them at first and then forget they ever cared about them in the first place.  The same thing happened when they made all players wear helmets.  Certain players threw fits and then got over it.  Well, now we need visors on those helmets.  In fact, I'd be all for the crazy helmets they wear in college.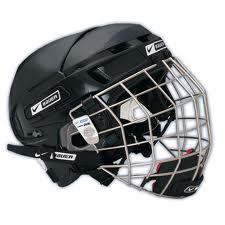 What's the problem with that?  Is the play going to all of sudden be terrible because players have a mask on?  I doubt it and I imagine it would save a few faces every year from getting mangled.  Only issue I see is that fights would probably be way down since you'd probably do more damage to your hand than the other guy.  You'd just have to make a handshake agreement league wide that when you fought you dropped gloves and helmets!  Look, I'm just trying to avoid injuries that look like this: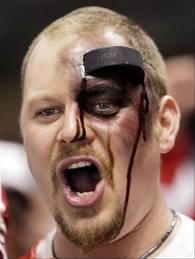 Ok, that's fake, but you get the point.  Let's at least put visors on those helmets.