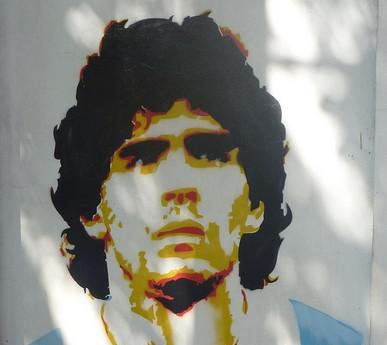 Maradona graffiti on the streets of Buenos Aires. Photo credit: b00nj http://flic.kr/p/9vZTQb
Opinions on who is the best footballer ever to play the beautiful game vary. Some say Maradona, some say Pele. Others reckon Lionel Messi, the superstar of today's game, is the greatest of all-time. There are some not-so-unreasonable shouts for Johann Cruyff and Zinedine Zidane.
While the player with the best all-round game could be one of (at least) three, the best ever executor of the lobbed goal simply has to be Argentinian legend Maradona. Those not already wholly convinced should immediately watch fishtsingtao's YouTube compilation of Maradona's top 20 lob efforts. It has everything – headed lobs, corner kick lobs, freekick lobs, you name it. Enjoy!