I've been making this Maple-Roasted Turkey with Sage, Bacon, and Cornbread Stuffing for the last nine years for our Thanksgiving dinner. As a matter of fact this post has been on my site for many years but it was more as a refuge so I wouldn't lose the recipe than anything else. One quick photo of the finished bird while people were waiting to eat dinner did not really do it the justice it deserved so this year I decided it was high time to do it right and feature my most favorite turkey ever.
I used to love changing up ingredients and doing something new each year with the holiday bird but then I did this recipe from an issue of Bon Appetit magazine and everything changed. The article was a charming tale of how Tyler Florence made this for the holiday with his son during a period when he found himself single again. Well, Tyler is no longer single but I'm still making this bird albeit with a few of my own twists. It is quite simply the most amazing and wonderfully flavored star of our Thanksgiving meal.
It's such a perfect combination of things I love; the fresh sage still available from our garden in the fall is added to butter that is rubbed on the turkey and used in a fabulous cornbread stuffing. I have a theory about why sage is so prevalent this time of year...it's the one herb that doesn't seem affected by the chilly nights that come with Fall; mine will stay alive until we get a really hard freeze in January. Or I should say my neighbor Amy's will stay alive until then. I've yet to plant one and she's been generous with hers; perfect right?
While the bacon and the sage are both so important I honestly think the big huge secret to the success of this turkey is the use of maple syrup. I admit I had some trepidation myself at the thought of gravy with maple syrup but combined with the flavor of bacon and sage and turkey it is downright addictive stuff. There is no secret why cornbread is the perfect stuffing; imagine that maple goodness drizzled on top of cornbread. It is seriously an OH MY moment!
How prophetic that I've been asked to work with The Federation of Quebec Maple Syrup Producers as a Brand Ambassador; this isn't my only use for what I deem an elixir of the Gods. I have a profound love for all things maple and combining it with bacon and bourbon is something I'm known for. Those ingredients have peppered a plethora of recipes on this site and my fondness for maple syrup has been apparent for a long time so working with these folks is simply perfect. The Federation was founded in 1966 with the mission of defending and promoting the economic, social and moral interests of its 7,400 maple businesses; the men and women in this industry work together to collectively market their products. The quality of their work and their products has made Canada the producer of 71% of today's global maple syrup output, 91% of which is produced in Quebec. Friends brought me that gorgeous bottle of syrup pictured above after a trip to Canada (see, everyone knows what I like!) but when a bottle was sent to me by my Canadian friends it was, lo and behold, a jug of the Kirkland brand from Costco. Filled with a metric amount I thought maybe that was only for Canada but no; I went to my fridge and pulled out my own jug and son of a gun...made in Canada! I also have a dear friend who lives in Canada; when asked what she could send me for a housewarming gift...well, really, do I need to tell you? I am maple syrup crazy!
I have a lot to learn about maple syrup and thought this graphic from their site most interesting...I mean really...who knew?
I had originally planned to announce my new affiliation with the Federation with a cookie that symbolizes my love of all things 'maple syrupy.' When I was a young girl and my mom was making assembly line peanut butter and jelly sandwiches for my siblings I was the rebel; I always insisted on a combination of peanut butter and syrup instead. Truth be told; I'm betting with six kids there was not a lot of REAL maple syrup in our home but still it was maple flavored and I loved it and I still love that sandwich. Once I was in charge of my own shopping choices, I made the switch to the real deal and there is simply no going back. So my big plans included concocting a sandwich cookie using peanut butter cookies with a maple syrup filling as a tribute to my devotion to all things maple for as long as I can remember. But then Thanksgiving came into view and I decided it was time to make this turkey and get some photos and I could think of nothing better than showcasing the beauty of my bounty in this way. It's delicious and unique and simply unforgettable. I have never had one person enjoy this meal with us that hasn't shared my love. The maple syrup is the most surprising, most noticeable and most memorable component. Looks like I won't be off the hook for making this meal for a long time...and that works for me!
The cookie? No worries...next month just in time for holiday baking!
The bird is smothered and stuffed with sage butter and then glazed every 30 minutes with the maple syrup. The first time I made it the syrup and fat combined in the bottom of my roasting pan and burned a bit so my first modification was to include pouring some chicken stock into the bottom of the roaster as it first goes into the oven. Not only did that prevent any burning but it's my notion that the steam in the oven is just one more reason why this bird is so amazingly moist. Brining? Absolutely no reason to and I'm fine with that!
The bacon is added during the last hour of cooking and I only use thick cut; anything else would get too dry. Even with the bacon, the maple glazing does not stop so at the end of the roasting period, those slices are slightly crispy and maple glazed and totally worth their weight in gold. There was a day when people fought for the roasted slices but I put an end to that; no one gets them! Half of them are chopped and put into the stuffing and the rest are put on the plate of carved turkey so everyone can have a slice. I don't stuff the bird; preferring to have to cook faster so I have a process; the bird comes out of the oven, the bacon is chopped and added to the stuffing which is then put into the oven while the turkey rests and is carved. I long ago gave up the tradition of bringing a whole bird to the table; we carve it and present it on a platter that makes serving it at the table so much easier. Still slicing your turkey breast into thin slices? Try my technique of carving out the entire breast sections and then slicing them crosswise into thick steaks; cutting across the grain makes for a more tender and juicy piece of meat.
When the bird is done, that combination of stock, turkey drippings, maple syrup and bacon make for a gravy that is simply unbelievable especially with the cornbread stuffing. I know...you want some right now don't you?
No post about this years turkey would be complete without my bragging a bit about my new toy. Yes, that's right...cooking gadgets and utensils are every bit the cooks toy as skis are to someone else; they bring joy to use in their use and when they are both functional and gorgeous it's simply the best of both worlds. When the kind people at Viking Ranges wondered if I would like to feature their latest (and greatest), this Viking 9 quart Oval Roaster with Metal Inductin Lid & Rack, I was all ears. I still had not found my turkey roaster that had gone errant when I moved almost 2 years ago and it was time to give up hope. The name Viking certainly has the cache of excellence so I was excited about working with them. When I thought roasting pan, I was picturing my old roaster in my mind; a large rectangular unit with a rack. Period. So I was not completely prepared for this beauty.
The large oval roaster could have easily managed a much larger bird than the eleven-pounder I put to the test. Reversing the rack would prop a bird up a bit higher too allowing for more space but for my needs, I decided to cook it with the rack resting on the bottom; not hung from the sides and it was perfect. The top is something I might be most excited about though. Certainly a perfect fit for the bottom unit when it's needed but the best part? It is also a separate unit that you can roast, bake and serve from. If I had been cooking for a large crowd it would have been perfect for my cornbread stuffing or my famous Creamy Mushroom Bake. While my previous roaster lived in the basement except for one day each year, this one will find it's home upstairs, you know, where the uppity folks live! This year it was so handy to just remove the rack and make gravy while the bird rested. Once I carved the bird and put the gravy into a serving dish, I simply put the carcass and wings back into the pot with some chicken stock and water and covered it while I simmered those pieces for chicken soup. Perfect! Now if they would would just ask me to 'try' a range...ahh, that would be nirvana!
With some great irony, I found my old roaster in a box with some towels two days after this one was delivered. I'm sure a daughter must be in need because it's now been relegated to the garage until I decide it's fate. Ready to make your own switch to something not just practical but beautiful too? Viking has you covered; I seriously love this roaster!
While I may not be staying home and cooking again for Thanksgiving Day, I have sure enjoyed this meal this week. I'll be sharing a recipe for the Herb Roasted Carrots with Honey on Thursday and I've got a whole bunch of cranberry sauce recipes too. This was the perfect meal. The only thing missing? Dessert. I should have saved a slice of the pie I posted yesterday; it would have been the perfect finale. I hope you try this turkey but more than that I wish all of you a happy and blessed holiday season filled with good friend and good food and of course...good cocktails too! Cheers!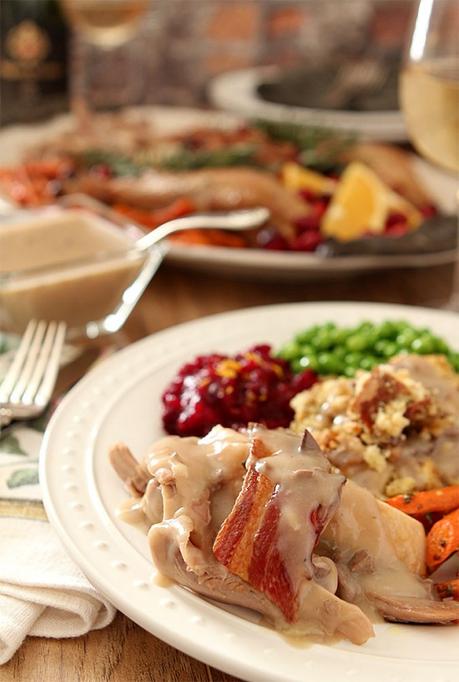 I have been compensated for featuring Canadian Maple Syrup and Viking cookware in this post however all commentary is my own.