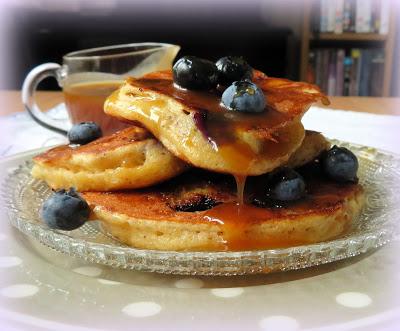 I couldn't wait to share this delicious dessert recipe with you today. It is just fantastic and so simple.  It makes an excellent dessert for when you are entertaining and I have to say most people are delighted when they see you coming with a plate of pancake for them as dessert!  The sauce is to die for!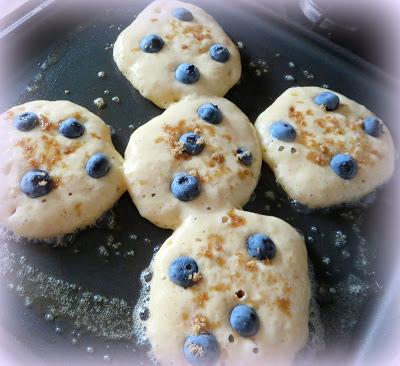 Of course this is blueberry season now.  Our berries are ripening on our bushes at the moment and we are enjoying them!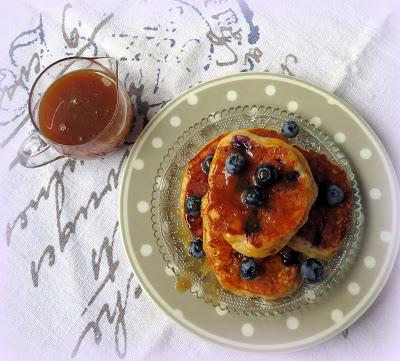 These pancakes are really light and fluffy.  Try not to over mix the batter.  The secret to their fluffiness is not to mix it anymore than necessary. A gentle hand is the key.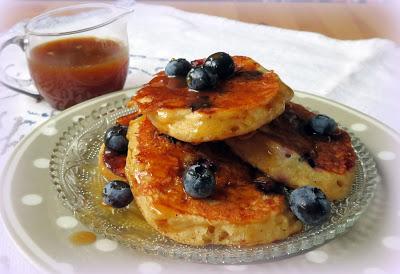 The batter contains a quantity of flour and cornmeal.  You could use fine polenta if you wanted to.  I happen to have cornmeal in my larder.  I buy the Quaker brand from Skyco.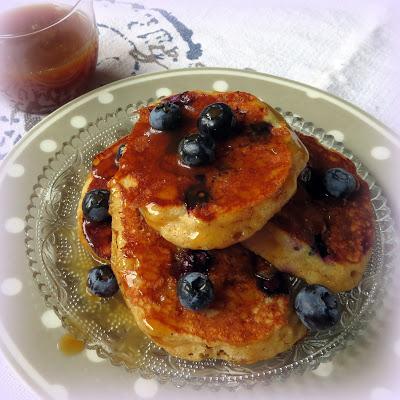 You will need to separate your eggs for these.  The yolks get mixed into the batter and the whites are beaten just until soft peaks form.  You don't want the egg whites  to be dry.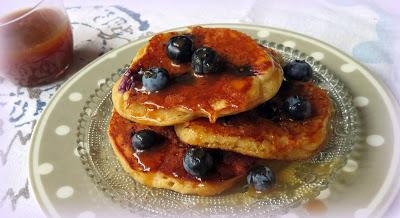 I don't think frozen berries will work in these.  I would use fresh if you have them.  You will want enough to sprinkle a few on top of each pancake as you are cooking them, and some to serve with the cooked pancakes when done.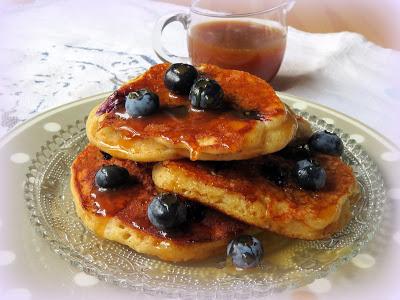 The real star of this show is that sauce  . . . .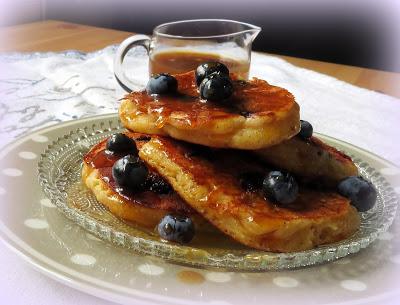 It is TO DIE FOR!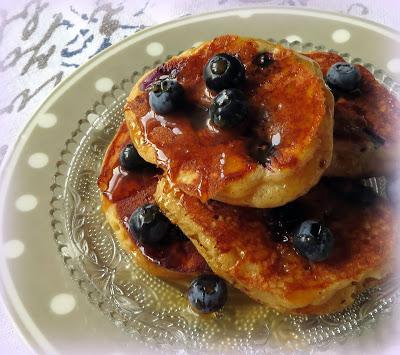 Seriously TO DIE FOR!  Okay I know  . . .  I said that twice, but I can't stress that point enough!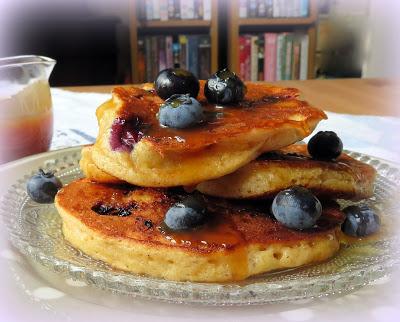 This sauce will not only be delicious on these pancakes, but it would also be fabulous on ice cream as well . . . .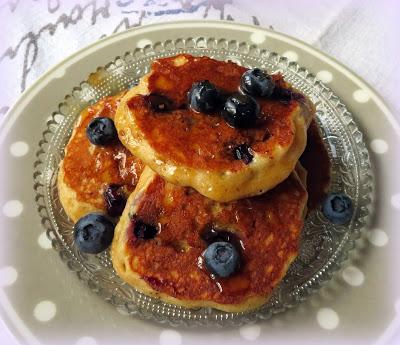 Rich and sweet  . . .  highly flavoured with maple . . .  do use the real thing . . . there is no substitute for the real thing . . .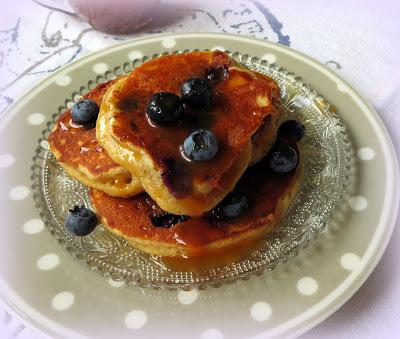 The richness comes from the addition of cream  . . .  yummy  . . .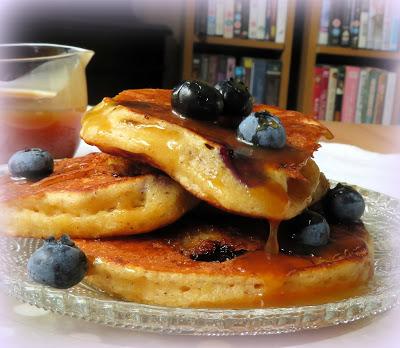 Just look at how it gilds and drips off the edges of these little crisp edged fluffy sweet pancakes  . . .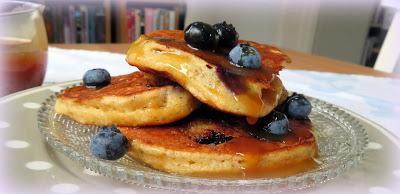 If that isn't enough to encourage you to make these, then I don't know what will!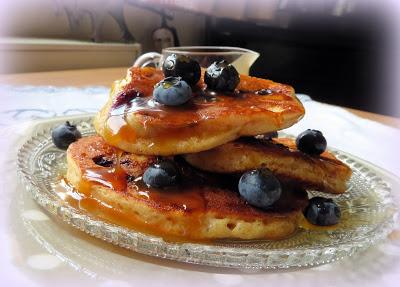 I suppose you could make them go even further to feed more people by only serving each person half the number of pancakes and adding a scoop of vanilla ice cream or some whipped cream.  Both would also be delicious!
Blueberry Cornmeal Pancakes with a Maple Caramel Sauce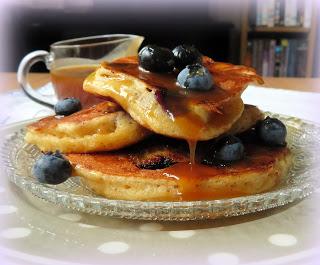 Yield:
serves 4 to 6
Author:
Marie Rayner
Serving pancakes for dessert is unique and people love them.  Especially when they are as delicious as these light and fluffy blueberry cornmeal buttermilk pancakes.  The Maple Caramel sauce is to die for.
ingredients:
105g plain flour (3/4 cup)
80g yellow cornmeal (1/2 cup)
2 TBS granulated sugar
2 tsp baking powder
1/2 tsp bicarbonate of soda (baking soda)
1/2 tsp ground cinnamon
pinch fine sea salt
2 large free range eggs, separated
240ml buttermilk (1 cup)
3 TBS melted unsalted butter, plus more to grease the pan
1 tsp vanilla
2 TBS soft light brown sugar
100g  fresh blueberries (1 cup)
For the sauce:
240ml pure maple syrup (1 cup)
1 TBS vanilla extract
2 TBS heavy cream
instructions:
How to cook Blueberry Cornmeal Pancakes with a Maple Caramel Sauce
First make the sauce. Put the maple syrup into a saucepan along with the vanilla.  Bring to the boil, then simmer over low heat until it thickens. Whisk in the cream and set aside.
For the pancakes, measure the cornmeal, flour, baking powder, soda, sugar, cinnamon and salt into a bowl.  Whisk together until well combined.   Whisk together the buttermilk, egg yolks, melted butter and vanilla.  Using an electric whisk, beat the egg whites just until soft peaks form.  Stir the buttermilk mixture into the dry mixture, mixing all together thoroughly.  Fold in the egg whites, just to combine.
Heat a large griddle pan over medium heat until it is hot.  Brush with melted butter. Spoon the pancake mixture onto the hot pan in TBS.  I can make about 5 at a time.  Sprinkle the top with a few berries and some brown sugar.  Cook for several minutes until bubbles appear and the bottoms are golden brown, flip over and cook for one to two minutes on the other side, again until golden brown. Scoop off and keep warm.  Repeat until you have used all the batter up.
Serve the warm pancakes sprinkled with a few more fresh berries and a drizzle of the Maple Caramel Syrup.  Enjoy!
Created using
The Recipes Generator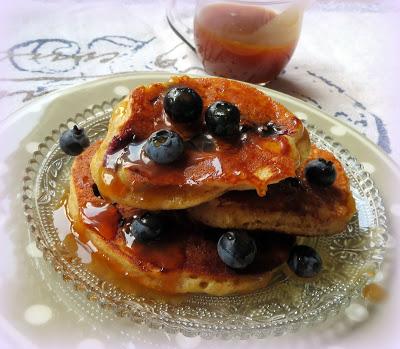 TASTES YOU CAN LOOK FORWARD TO IN THE COMING WEEK
(always subject to change as and when the mood hits)
Sunday
-
A delicious Cardamom & Coffee Bundt Cake
Monday
- Quick Bolognaise along with Nine Other Easy Pasta Sauces
Tuesday
- Pan Seared Salmon with a Sweet and Spicy Asian  Glaze 
Wednesday
- Curried Chicken Saute
Thursday
- Proper Welsh Rarebit
Friday
- Lemon & Caper Dressed John Dory
Saturday
- Raspberry & Chocolate Ice Cream Parfait along with Nine other Parfait Ideas  
As you can see I have a lot of tastiness planned for the coming week, God willing!  I hope you will pop back to see what's happening!