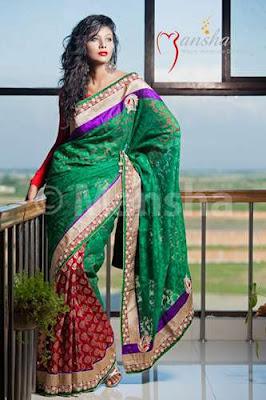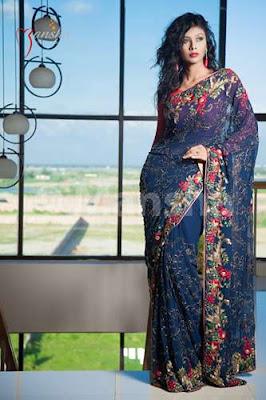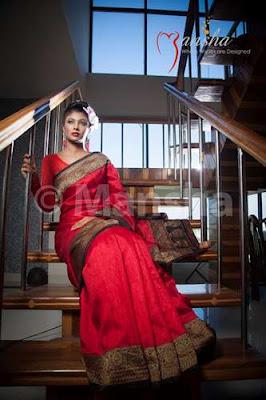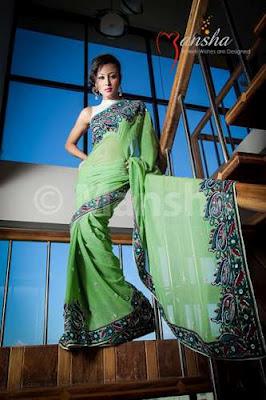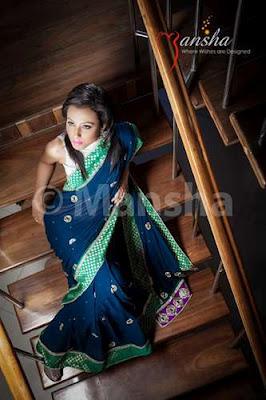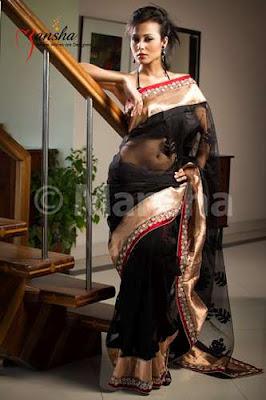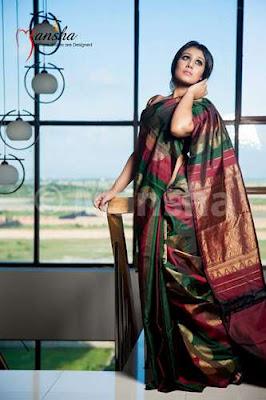 Mansha is a famous fashion brand in Bangladesh which is fundamentally an online boutique. Mansha started its business in 2009 in Dhaka. Within a short period it's achieved outstanding success both in home & abroad. Recently Mansha has launched its Eid Collection 2012 for sarees in the title Mansha Grand Sarees Eid Collection 2012. As the festival of Eid is coming soon, sarees are of great demand in Bangladesh as Eid Dresses 2012. So Mansha has designed a variety of elegant clothes for ladies & young girls which are surely going to be appreciated by Pakistani & Indian stylish ladies also.
Ladies, who are looking for some Eid Dresses 2012 with traditional & ethnic flavor, can select sarees from Manshas Eid Collection 2012; because these are the dresses of ideal ladies fashion trend with eastern touch. Sarees included in this Eid Collection 2012 are of high quality chiffon & silk clothes. There's also quality cotton fabric collections obtainable. These sarees are designed with beautiful embroidery & patch works. Crystals & artificial stones have been used on the decorations which have given this Eid Dresses 2012 an elegance of festivity. Besides this, Mansha has an exclusively designed Eid Collection 2012 where genuine pearls have been used to adorn sarees.
Sarees Eid Collection 2012 by Mansha Grand is designed keeping the beyond border latest trend of ladies fashion in mind. There's beautiful half & half Kachipuram sarees in magnificent designs. The color combination of pleat, body & anchal are basically eye catching. These sarees would an ideal choice for young as well as middle aged ladies & special choice for newly married ladies. You will also love to wear any of these exclusive sarees from the Eid Collection 2012 by Mansha.