We had the pleasure of attending the Manischewitz All-Star Cook-Off where five previous Manischewitz Cook-Off competitors were invited back to submit their recipes for a second chance at a $25,000 Grand Prize. Five finalists were chosen from various states (including one from New York), to go head-to-head against each other using Manischewitz's All-Natural Broth. Their dishes were judged by a prestigious judging panel including

Helen Rosner from Saveur Magazine, Sharon Franke from Good Housekeeping, Claire Suddath from Bloomberg Business Week, Rosie Saferstein from New Jersey Monthly, and Jen Goran from JCC (Jewish Community Center)

.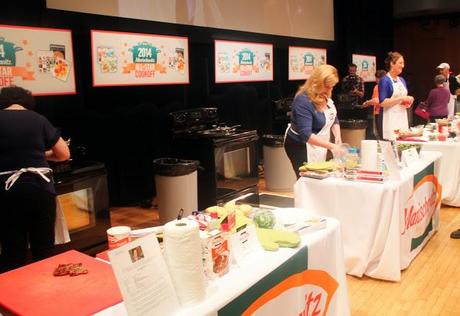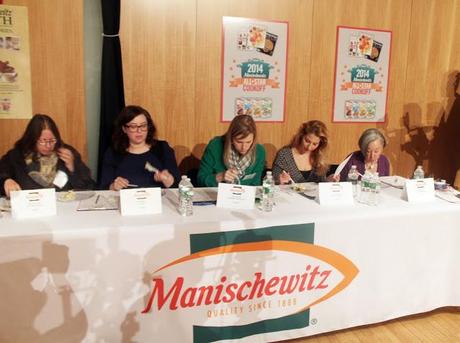 The event started with a recipe tasting event, two recipes from Jen Goren, the JCC's Test Kitchen Director, and Kristin Magnani editor of Saveur magazine, the dishes included Gundi (Persian Chicken Meatball Soup) and Pappardelle with Duck Sago, also made with Manischewitz's All-Natural Broth.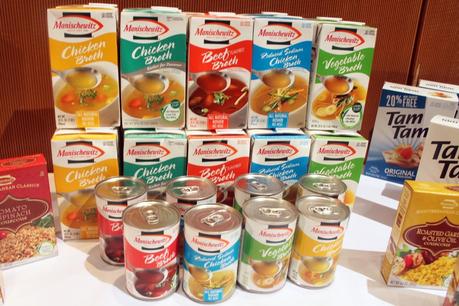 The competition continued with the Live Cook-Off Contest between finalists,

Jamie Brown-Miller, Napa, CA – Chicken and Waffled Latkes (2010), Naylet LaRochelle, Miami, FL – Halibut Couscous (2011), Ronna Sue Farley, Rockville, MD – Beef Tenderloin Puffs (2012), Dina Burcat, New York, NY – Latke-Crusted Chicken with Apple Cider, Mushroom and Rosemary Sauce (2011), and Joe Carver, Philadelphia, PA – Bubby's Noodle Strudel (2008)

- whose dishes, we had the wonderful opportunity to sample.
Each candidate presented their dishes to the judges, shared a bit about themselves and their recipe entry. After a brief intermission, the five entrants were called upon stage where four were presented with Manischewitz All-Star Cook-Off Finalists awards and a surprised and tearfully happy,

Jamie Brown-Miller from Napa, CA

was crowned  the Manischewitz All-Star Cook-Off Champion for her delicious and inventive Chicken and Waffled Latkes.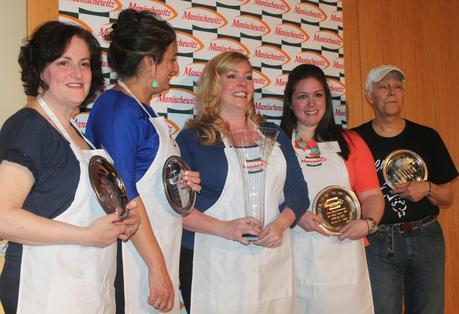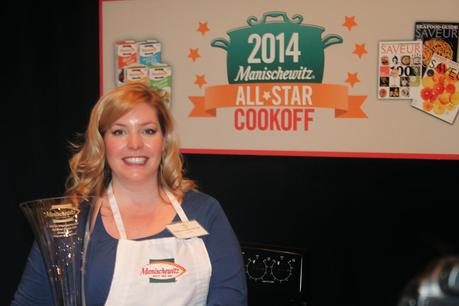 As the winner, Jaime was awarded the Grand Prize worth $25,000, including cash, a beautiful trophy (see above), a Saveur Magazine subscription, and various Maytag kitchen appliances. We had a chance to speak with Jaime after the announcement, see our interview below:

Along with samples the delicious dishes, we also got a peak at some of the new and delicious snack offerings from Manischewitz® including Coconut Crisp Cookies, Almond Pecan Granola, Pistachio Orange Macaroons, and more!