Team BMB (Bagets Meets Bigote Bikers from Mandaluyong) w/ fellow bikers from Las Piñas-Cavite Area in Burnham.
The Planning. Our ambitious bike ride started when I laid out the idea that I wanted to bike from Manila to Pangasinan to my younger biker friends and they liked the idea that they started discussing it with me so I started the planning and preparation and weekend ride meeting with them.
This Manila to Baguio Ride is a dream came true for me because all I wanted on my last birthday (June 2013) is to do a solo ride and I will be doing a Manila to Pangasinan to celebrate my 31st birthday but I had to postpone it because of busy schedule and other commitments.  It happen that a former school mate of mine who loves cycling like I do shares the same dream and itching to do a Manila – Pangasinan Ride as well and I really looked forward in making this a reality.
Our meeting place and favorite rest stop during our planning stage is at Biker's Cafe, San Mateo, Rizal.
Where we trained for uphills and enjoying our favorite "Suman at Latik."
So when the younger biker friends of mine Maynard, Laurence and Khen confirmed that they really wanted to do the long ride then after several meetings with them I sent Kuya John a message telling him that we will do the Manila – Baguio ride which happened last month December 28-30 and it was a successful one, no casualties on both the bikers and our bikes. Thank God for the good weather, guidance through our prayers and determination to finish the ride.
The Preparation. Knowing that it is my first time to do this ride, I keep on browsing and searching for best routes going to my home town Laoac and I used Google Maps to create a bike route that will start from Ortigas going to Valenzuela going to Bulacan then Nueva Ecija and then Pangasinan. I really don't want to travel in Pampanga and Tarlac but in our actual ride we cruised the never-ending Pampanga-Tarlac roads.  :-D  We also getting in touch through Facebook, telling each other what to bring, what to do and they do necessary tune ups and upgrades on their bikes.
Three of them changed their hubs, wheel set including tires that me even been influence to use Maxxis Crossmark because of its review to be the best cross-country tire so I bought only 1 because I still like my Geax Mezcal anyway haha.

Days before our ride I already gathered and pack up all the tools needed for the long ride like free wheel remover for center lock, cogs remover, multi tool, patch kit, 2 extra tires, adjustable open wrence, extra chain with connecting pins, air pump, plier etc. I also shopped for new head lights, tail lights, reflectors. I bought a Cree Light with 800 Lumens, 10,000 watts, with rechargeable battery and a 3 AAA battery adapter that is on Sale because it is
Christmas
in Quiapo that cost me Php 300.00.
I packed up my clothes for 3 days and it was all long sleeve jerseys and put it in on my 11 kilo back pack and I needed my fanny pack to bring my Nike sneakers and extra flat pedals for when my cleat pedals and shoes goes wrong and I am anticipating that it will hurt my feet but it came out just fine and I using this is just really in time. The cadence and power strides are great for hilly rides like bike.
For the food and hydration, I only bought 1 bottle gatorade which my dear wife Andrea bought for me and 2 in cans of Monster Juice (Orange Flavor) and 2 bottles of water. I expect that my younger biker friends will bring a lot of trail food haha in which I am correct and they shared it with the group.
The moment that we are waiting for is here. Hours before our meet us, I need to go to work first and I rendered half day of work and I apologized for being the cause of delay. Our meet up is at The Medical City and they are already waiting there. We were supposed to meet at 12am but I had to move it 1am and I got so much delay so we gathered at around quarter to 2am then go ahead to Muñoz Market where Kuya John is waiting for us. When the 5 of us all gathered together along Congressional Road we ride out at around 2:30AM or not exactly. We took the McArthur Highway road going to Manila North Road. Our ride plan is to ride for 50KM then rest and for uphills for about 5KM.
Jollibee store somewhere in Malolos, Bulacan that operates 24/7 where we eat our breakfast and our 2nd stop over.
Meet the Gang. Team BMB with Kuya John (In white Specialized Jersey. The only roadie biker in the group).
Our first stop is at one of the 7-11 Convenience Store along Marilao, Bulacan where we eat energy bars and check our lights. When we reach Guiguinto, Bulacan area we got confused which way to go so we asked the great people of Guiguinto on which would be the best route for bikes going up north. They told us to take the Malolos road so we did. The supposed 50KM stop over had to be cut short when every one agreed to stop at Jollibee at 32KM of our ride to eat breakfast. Everyone's hungry at this time, some are sleepy including me but my adrenaline is rushing so I couldn't think of sleeping at this time. After a 30 minute stop over for breakfast we continued our ride. At this part of our ride is all dark and I can say it is almost pitch-black but I told them to conserve batteries so we need to use only tail lights and the leading rider should be the only one using the head light. That save us until the dawn.
Welcome to Pampanga. Our supposed to be Manila – Bulacan – Nueva Ecija – Pangasinan route it had changed when we arrived at Calumpit, Pampanga then reached the first ever arch of the boundary of Bulacan and Pampanga we took a first group photo but the same time I started to get worried about the big buses and speedy cars along the way but to my surprise fewer cars and more cyclists and MTB Bikers we greeted and ride with along the way but most of them are roadies. I think they are on their way to Ilocos Region where I heard there will be a triathlon event. We crossed a bridge still in construction and we need to take a detour where we crossed the river through a hanging bridge. We stopped a bit and then after many pedals of our bike we saw the boundary. We stopped again to get a photo.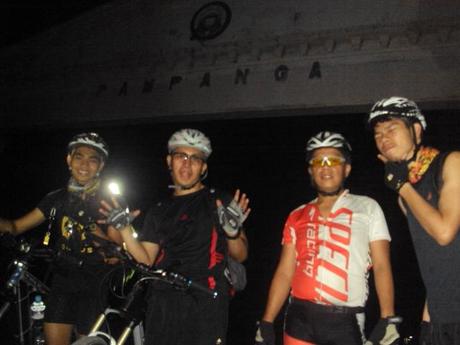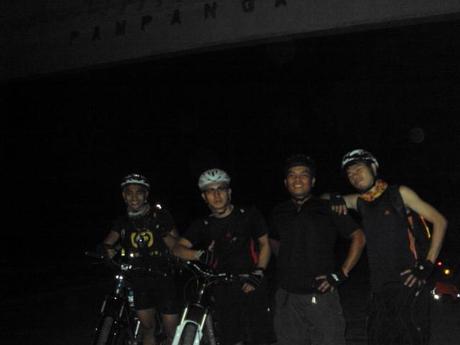 After we took pictures shot at night mode, my younger biker friends applied liniment oils because their knees started to wear out and burnt because they tried to pace with the rocket speed rider that we have for the group which stays at 30KPH where me and Maynard stayed with 25KPH and it is so far the ideal speed for a MTB.
We pedaled and pedaled our way out of Calumpit and we reached the City of San Fernando, Pampanga, after hours of cycling we finally reached Angeles City and it was the start of the never ending road and on my right side I  see Mt. Arayat. We stop again this time at a Mini Stop convenience store to power up where we eat power bars and rehydrate. After we rest we continued our journey. We were drafting to a 25KPH and it was good way to save our energy and to keep the group in tact. I was the tail head/sweeper of the group. Too bad I can't take photos of our drafting ride.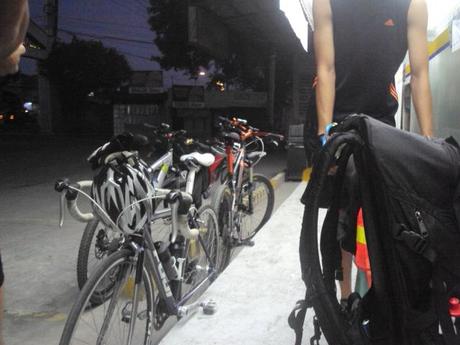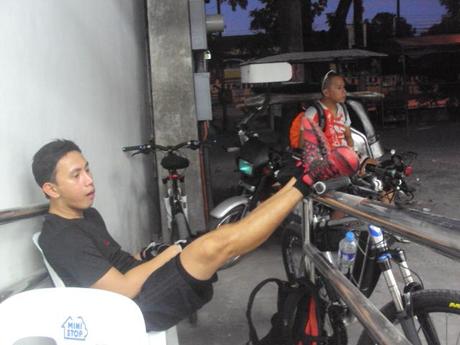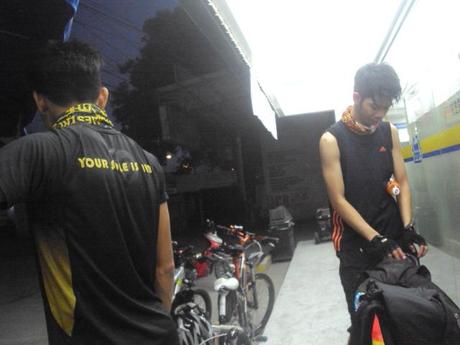 Here we stayed around 30 to 40 minutes and the night is fading out and we are seeing lights in the sky. At this point we are nearing the end of the province of Lito Lapid and finally we arrived at Bamban, Tarlac. We stop at the famous bridge and took pictures then we started looking for a restaurant to have a heavy lunch or something.
Road biker at the opposite lane.
We are craving for Bulalo, Vegetables and hot soup and Angel's Fast Food is the best place for our tummies. We feast here and take a short nap, yeah a long nap in bed hahaha.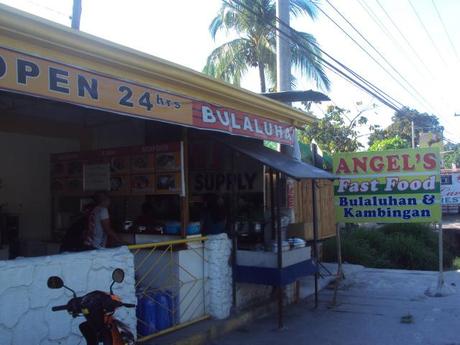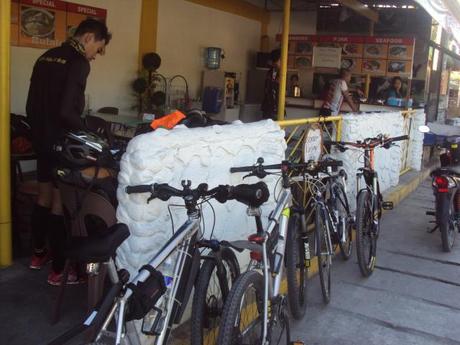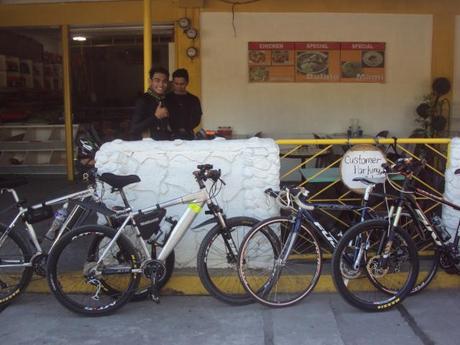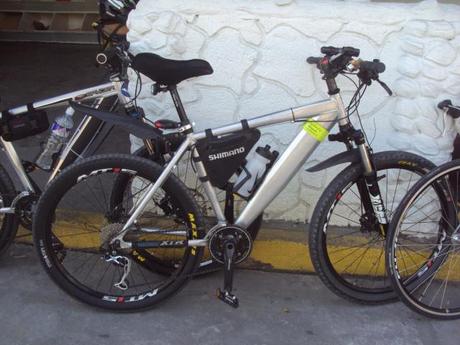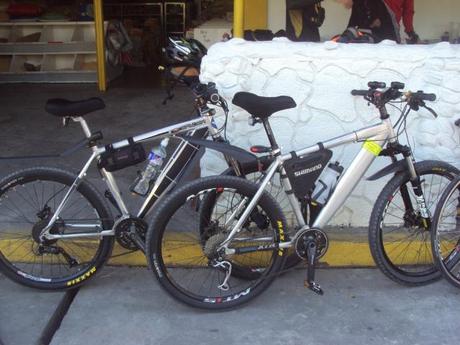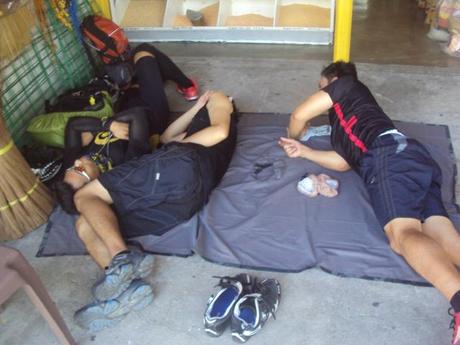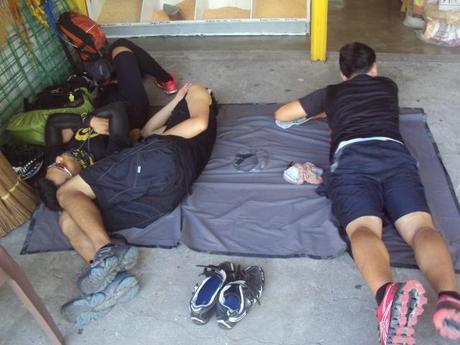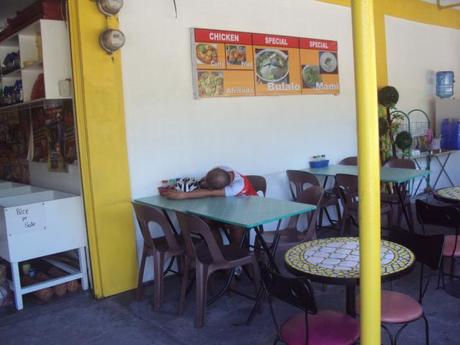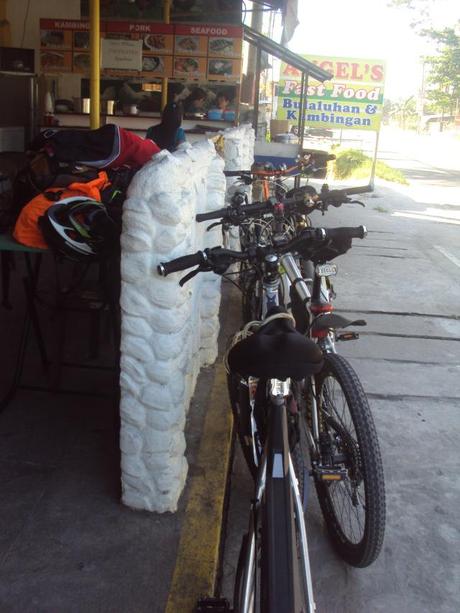 Wakey, wakey, it's getting hot in here, we prep up for our next hours of cycling power. We are now entering the next city of Tarlac which is Tarlac City ahaha.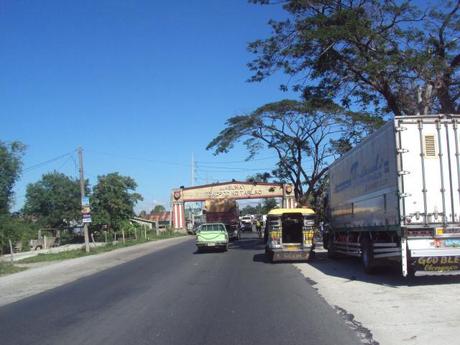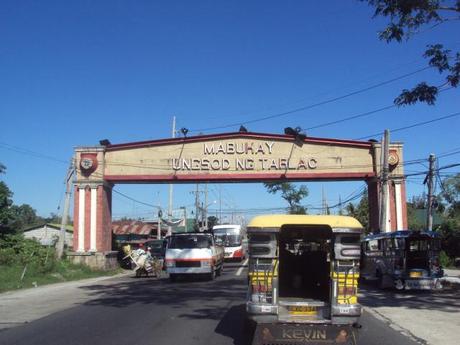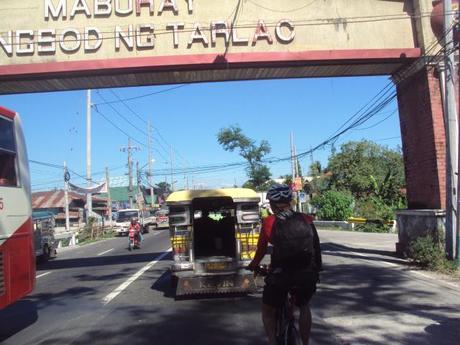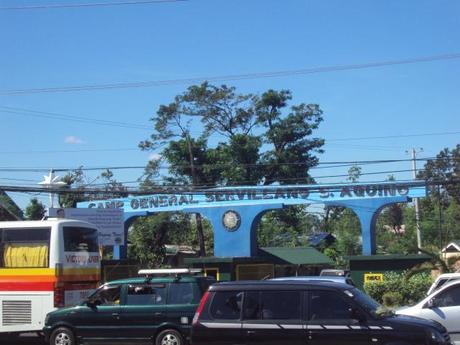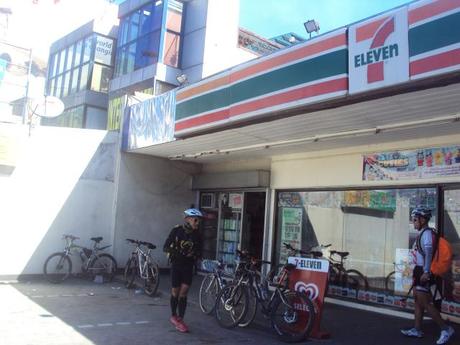 We reached Camp General Sevillano S. Aquino and at the nearby store is a 7-Eleven store my team bought water, power drinks and bananas. This is what we need to replenish our lost energy, electrolytes and potassium.
We go on with our bike journey and the drafting is over because the heat is tearing us all apart but I still stayed at the tail end and doing a sweeper job until we arrived at a familiar land mark, another arch boundary and every one thought it was the Tarlac – Pangasinan boundary but when I check on it, they are surprised that I told them it was a Tarlac City and Gerona boundary hahaha. I told you this is a never ending road, in here we are now taking the National Highway where buses, trucks and speedy cars are so visible but good thing they are courteous especially to us bikers.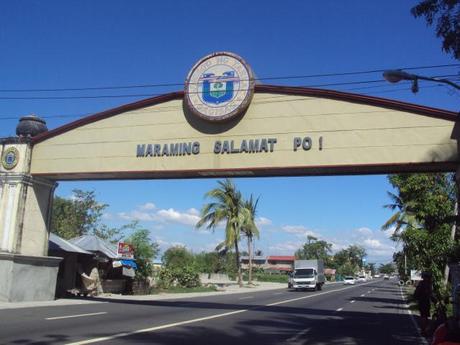 This is the iconic wrong boundary that my biking team thought was a gateway to Pangasinan. The "Maraming Salamat Po !" possibly confused them hahaha :-D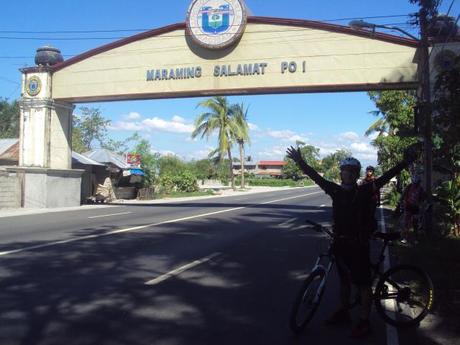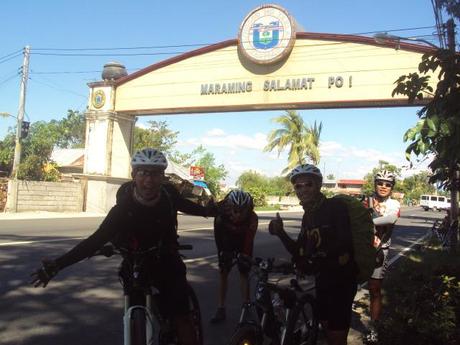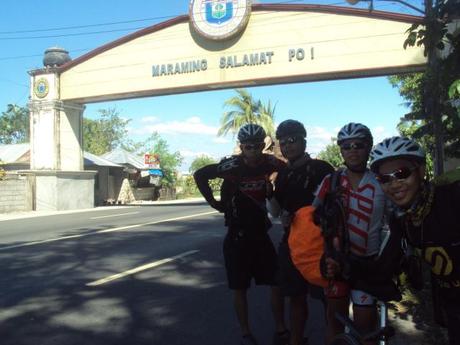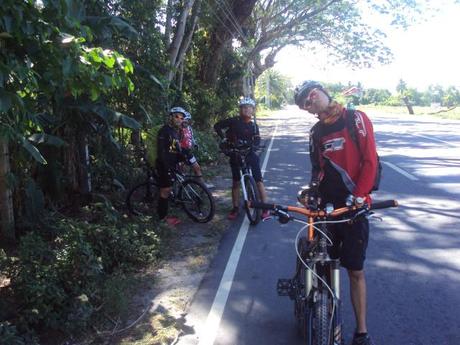 After an hour of sight seeing we now see another boundary that say's "Paniqui" and duh we are still in Tarlac. In here, Laurence wanted me to pace him 15KPH and I counted how many times he bumped my rear tire and he is telling me is almost slept in our ride. Are you sure? Sleeping while riding your bike, is that possible? Don't do that kid please.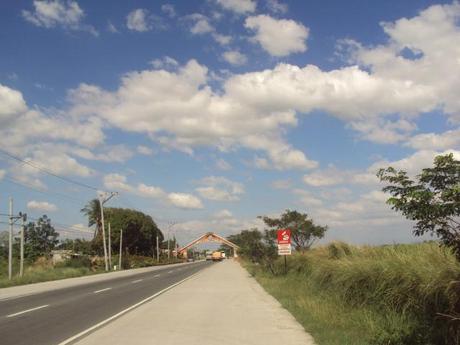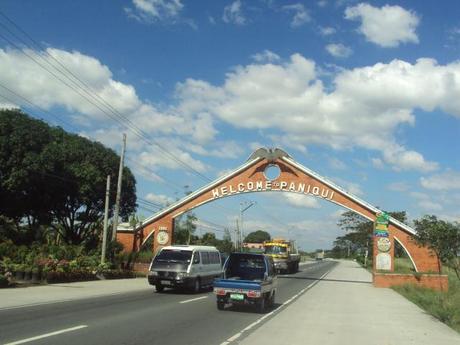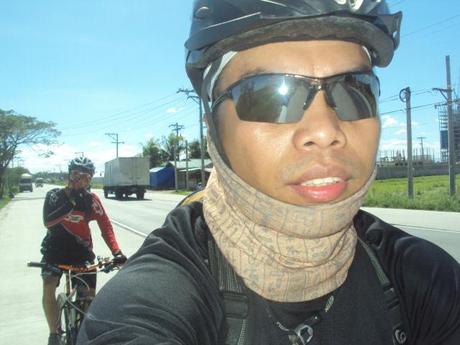 Meet Laurence at my back, the sleepy kid on bike. It is possible that his excitement on this ride didn't put him into sleep days before this epic ride happens.
When we reach San Manuel, Tarlac the group decided to stop and this time at a burger stand. We bought a buy 1 take 1 cheeseburger and a ice cold Coca Cola then followed by a power nap by most of my biker friends and I stayed up to watch for our bikes. This is the best cheese burger ever for us hahaha.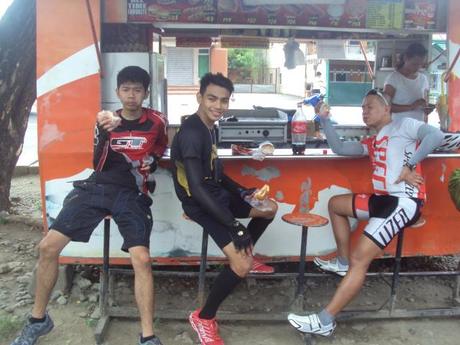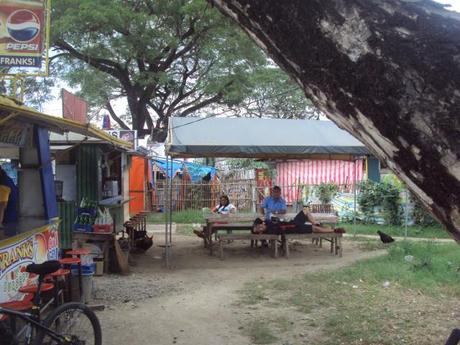 At this time, Kuya John told me again, he thought that we are now in Pangasinan upon hearing that we are in San Manuel, hmmm that was on the other side of the ride I said to myself and you need to pass by Asingan, Pangasinan before you reach San Manuel, Pangasinan.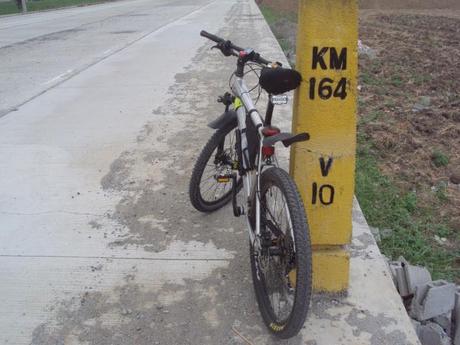 At Kilometer 164, I stand up and peed at this open space farm. This is a call of nature that I need to upload my water system out of my body hahaha.

Then traveling on this road as you can see the pavement is not yet fully complete in some portions of this road, a 1 way merging traffic occurs then it is unfortunate to me that I get down to the dirt road tumbling down because I was cut by the provincial bus that I couldn't make it to the cemented road because I am anxious and panicked to get out of my cleat pedals quickly, I struggled but the good thing the dirt road was like a water bed and I only got minor scratches on my right knee. I had to catch up with the group at high speed and it burnt my legs and I found myself catching my breath.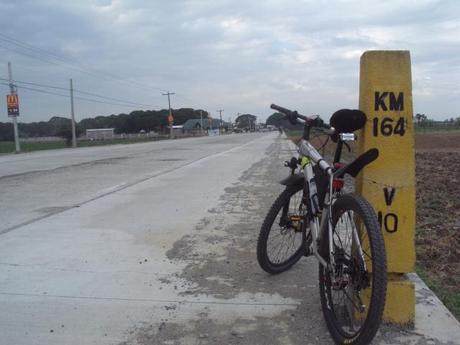 Now, the long wait is over, we finally sees the signs that we are now in Pangasinan.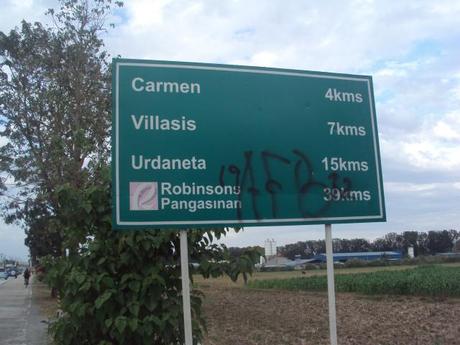 This is it, touch down Pangasinan. We reached our destination, the Tarlac-Pangasinan boundary arch is what we see at this cloudy afternoon.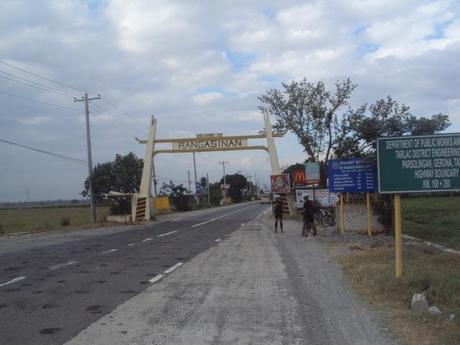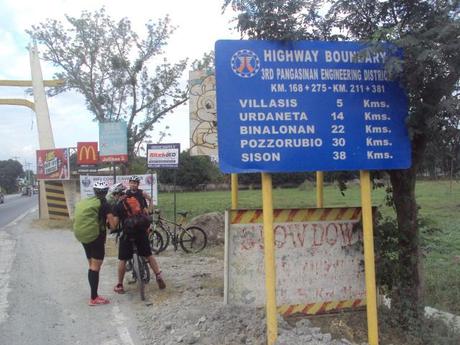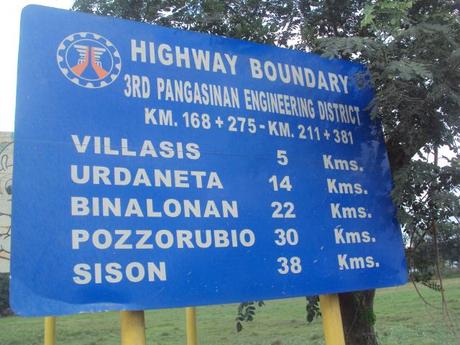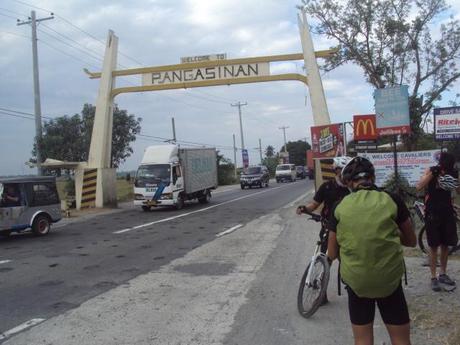 Of course, I had to do my signature Kalongkong Hiker pose at this very momentous journey of my cycling lifestyle. It's a dream came true for me and I will not hesitate to do it again one day.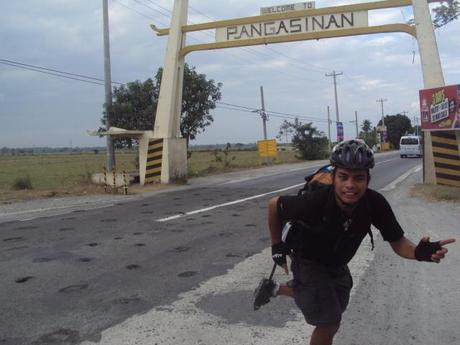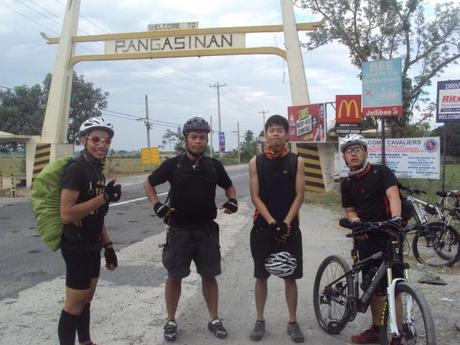 A couple minutes later, we arrived at SM City Rosales in Carmen, Rosales, Pangasinan.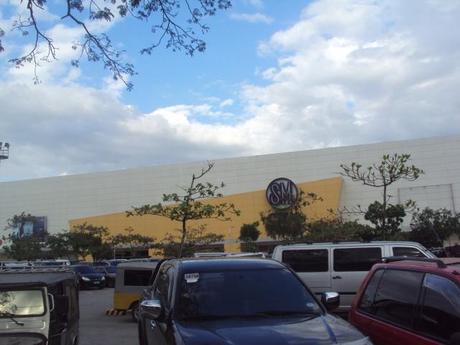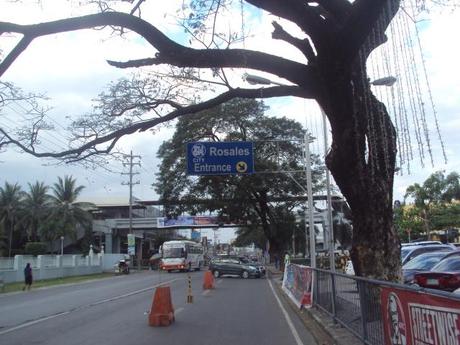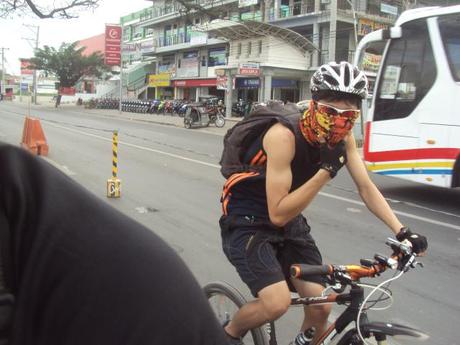 We reached the longest bridge that connects Rosales and Villasis but sad to say I was not able to click a shot on my camera on the the said bridge because of heavy traffic and the only thing I catch is this, an asphalt road and a center line.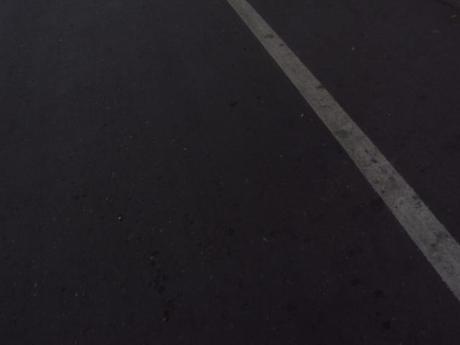 Welcome to Nancayasan, Urdaneta, Pangasinan. After 12 hours of pedaling from Ortigas, Pasig City to Urdaneta City we are on our target ETA for our Baguio City Ride the next day.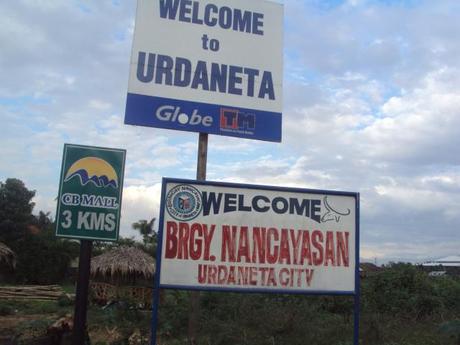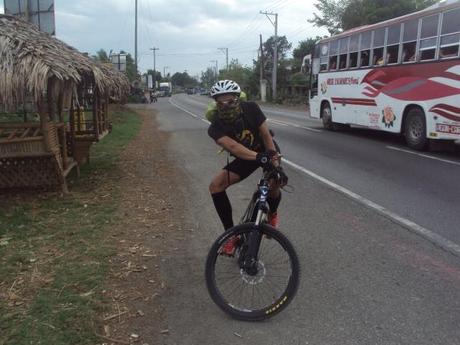 Meet our super athlete and my fellow trail runner, dancer and biker Maynard Choi doing a track stand on our stop over in Urdaneta while waiting for our 2 other members.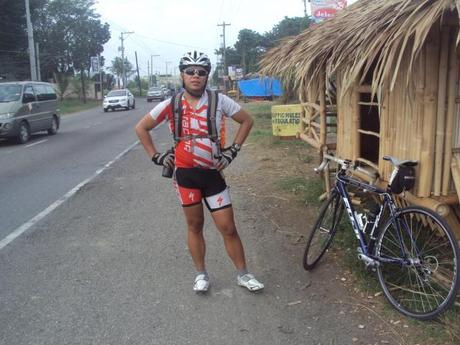 Meet Kuya John the only roadie biker of the group who brave Manila – Baguio City.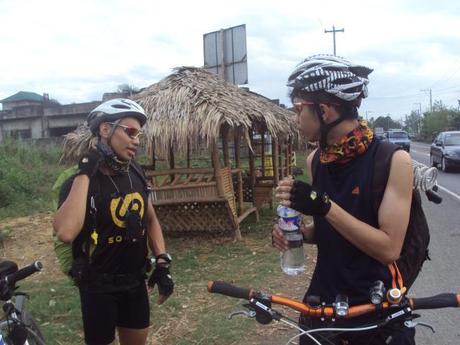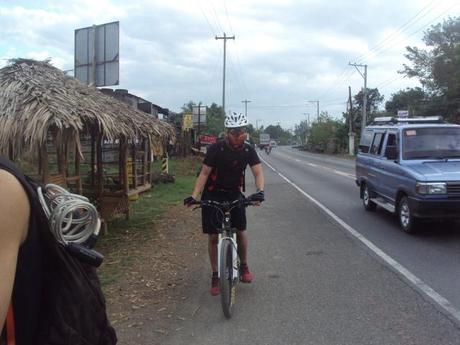 Finally, Khen the Mr. Swave of the group and struggling to keep at high speed because he feels sleepy. He didn't have a sleep at all during this ride according to him, me either but I didn't feel sleepy head at all.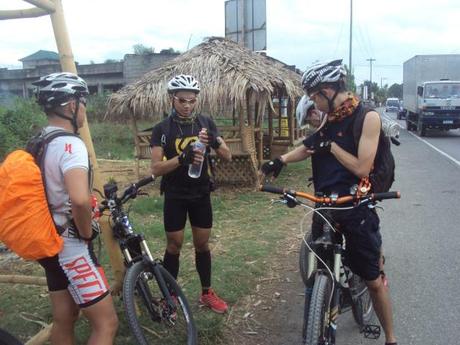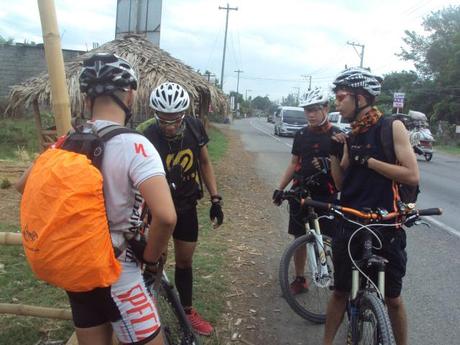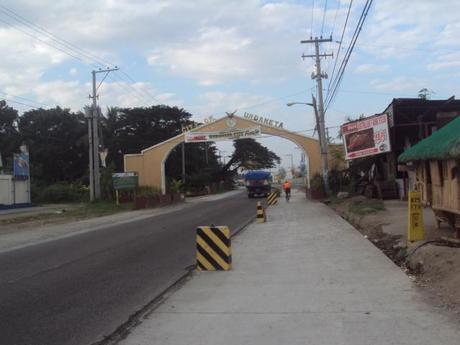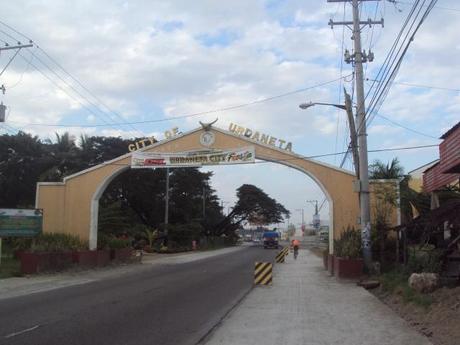 We reroute to Urdaneta – Manaoag road to visit Our Lady of Manaoag Church to pray and asked for guidance and good weather for our Laoac – Baguio City ride. Thank you Mama Mary and baby Jesus. Amen!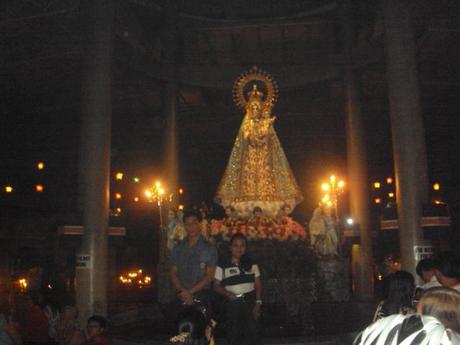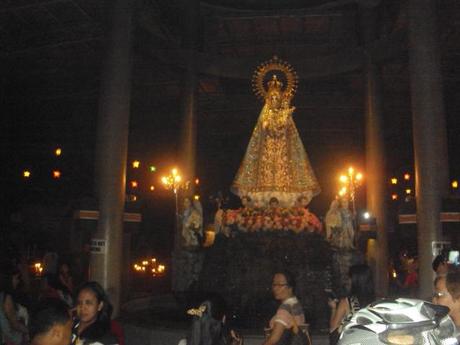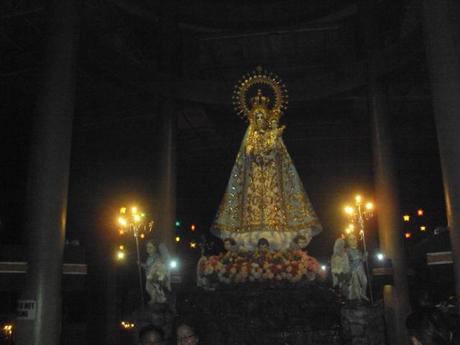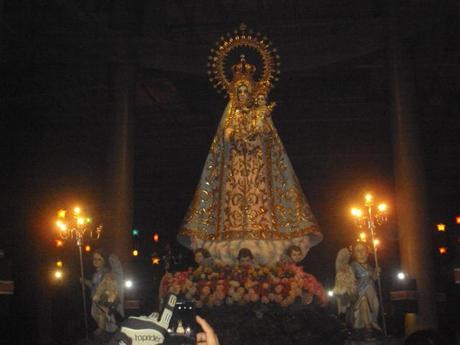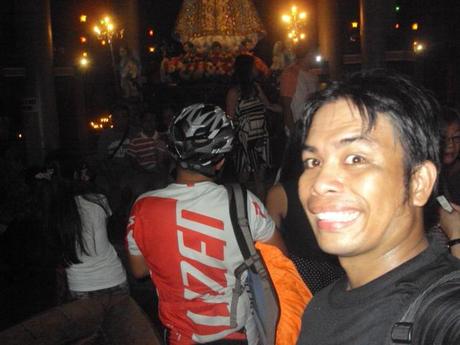 Meet my parents, Mommy Jessie and Daddy Tadeo who hosted our over night stay. They prepared our dinner and breakfast including our beds for a comfortable rest stop for the night. Thank you Mom and Dad for the hospitality, you really love me. Muwah! I love you both. I almost forgot it is still right to say Merry Christmas and a Happy New Year!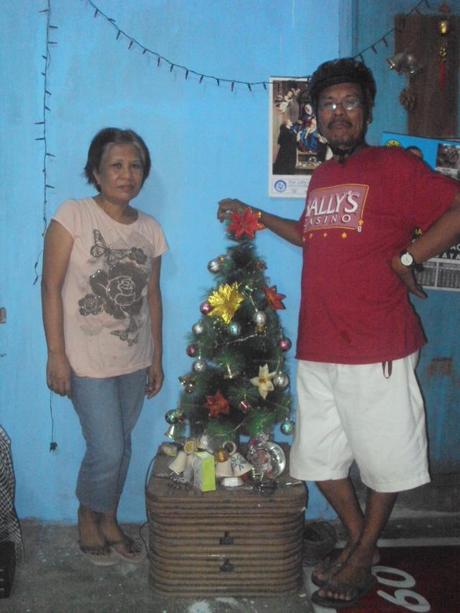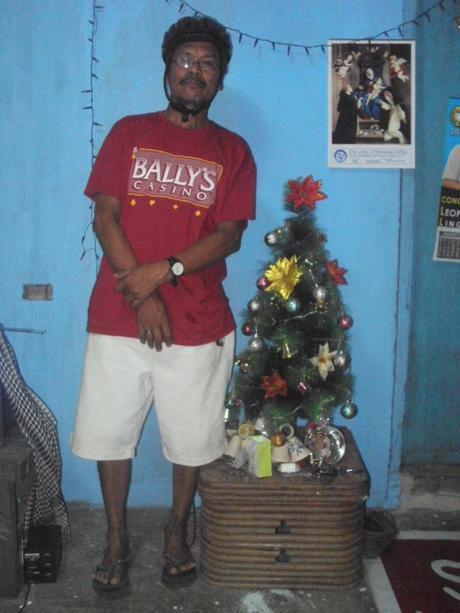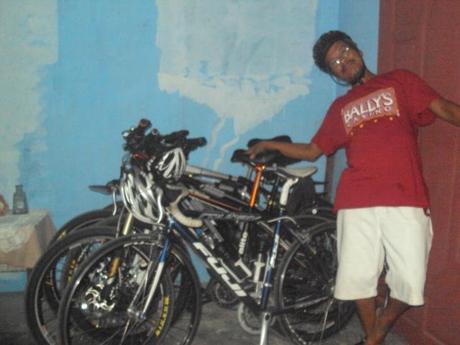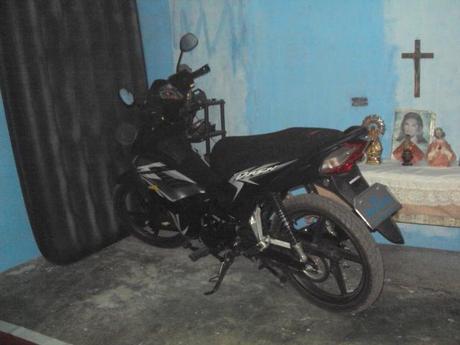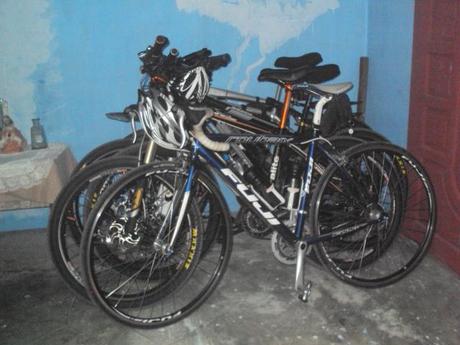 It's washing time, my biker friends despite the cold water decided to wash their clothes to be used the other day.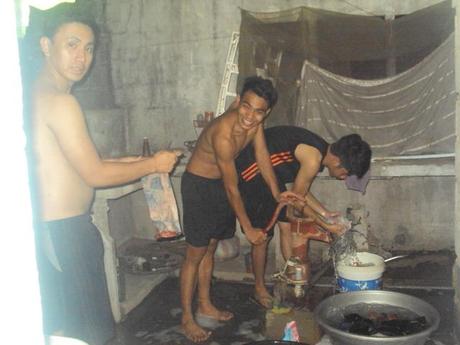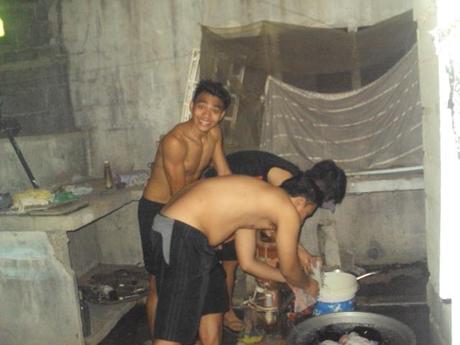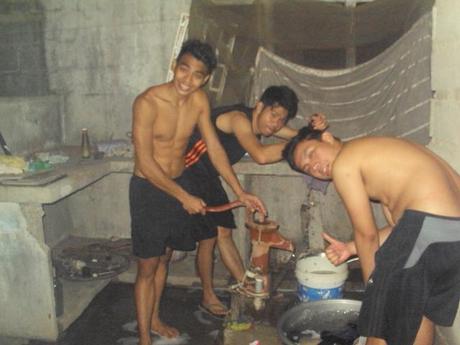 It's sleeping time and it is 20 degrees freezing cold outside and we prepared thick blankets for them and for me of course haha.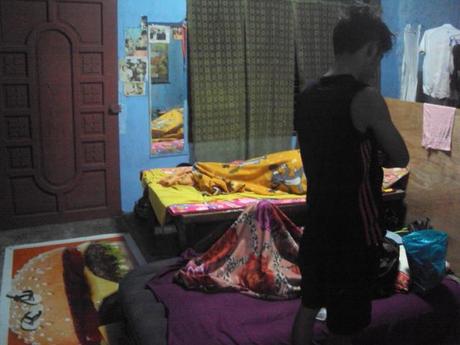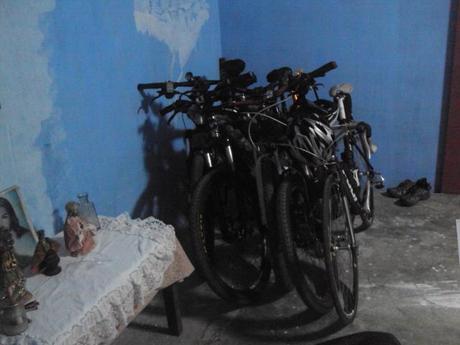 Our bikes and our altar, they will watch for us for tonight and will guide us for tomorrow.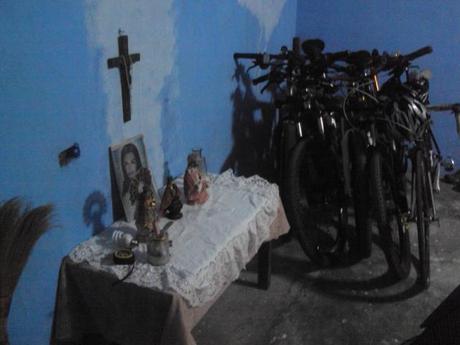 It's really this cold believe me. When we started to ride the next day my hands are freezing.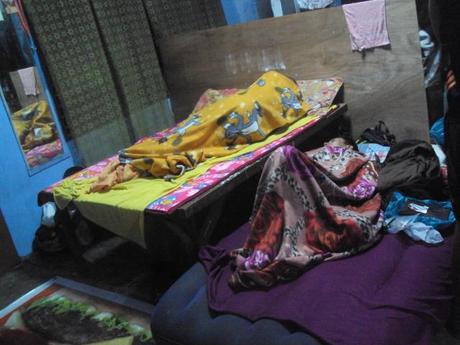 Good mornight everyone! This is the end of day 1, wait for our Manila – Baguio City story.
16.033333
120.550000