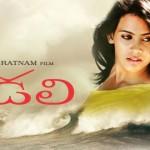 Kadali is the upcoming film of director Mani Ratnam through which two new star kids Gautham and Thulasi are going to be introduced. The film has started its shows already in overseas and here a report from one of our sources.
The film unlike previous films of director Mani Ratnam is said to be a completely commercial movie. However his visual touch is still in tact. The lead pair are alright but the show stealer of the film are said to be the veteran's, Arjun and Aravind Swamy. AR Rahman has once again come up with a superlative effort.  Coming to the film it has a fine first half but looses its grip in the second half. A little trimming in second half could have done wonders to the film as it drags a bit in this half.
Do let us know what do you think of the film as it hits the screens later today all over Andhra Pradesh.