This Mango Pineapple Crumble has an irresistible coconut macadamia nut crumble topping. This is a gluten-free, vegan, and refined sugar free crumble that will bring your tastebuds to the tropics!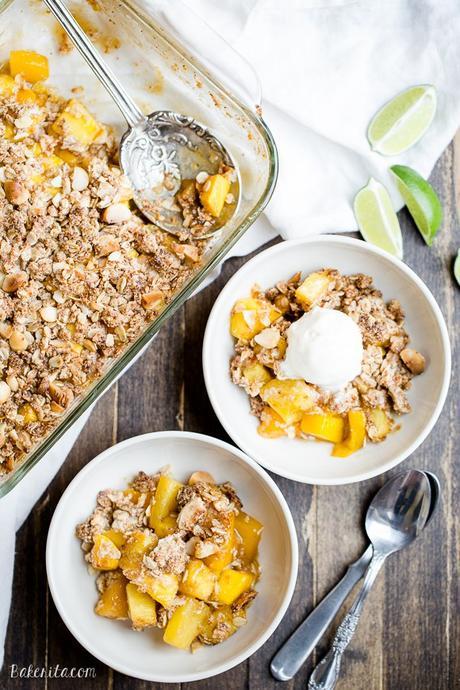 The fruit-filled crisp and crumble obsession continues. I am not kidding you when I say I've made six or seven crumble varieties in the last two weeks. It's quite the tasty obsession, my friends, especially since it's brought us to this mango pineapple crumble.
I shared this Summer Stone Fruit Crisp last week, and it is already a known favorite around here. It was devoured ridiculously quickly both times I made it, and I was tempted to make for the third time because of all the beautiful peaches and plums and nectarines I had, perfectly ripe in the fridge.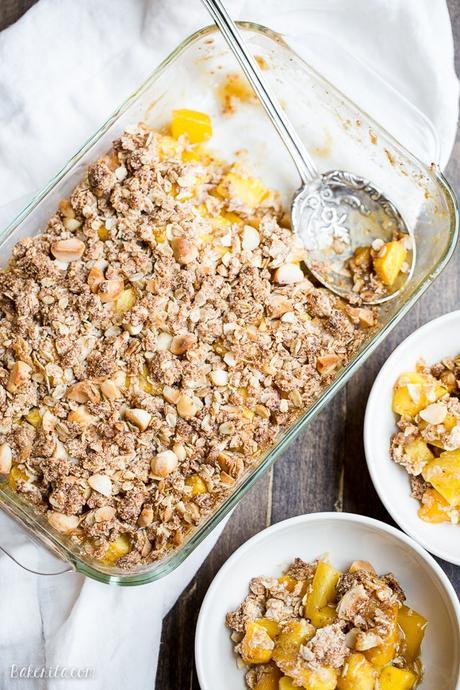 However, I also had a pineapple on the counter and a couple perfectly ripe mangos 
begging 
for their chance in the spotlight. So, thanks to a little inspiration from my sister hinting at a tropical crisp, I got to making this mango pineapple crumble.
Both the fruit filling and the crumble topping have tropical flair to them. The mango and pineapple filling are macerated in tart lime juice and zest, and just an 1/8 teaspoon each of cinnamon, nutmeg, and ginger. The spices add a subtle hint of warmth to the bright fruit flavors.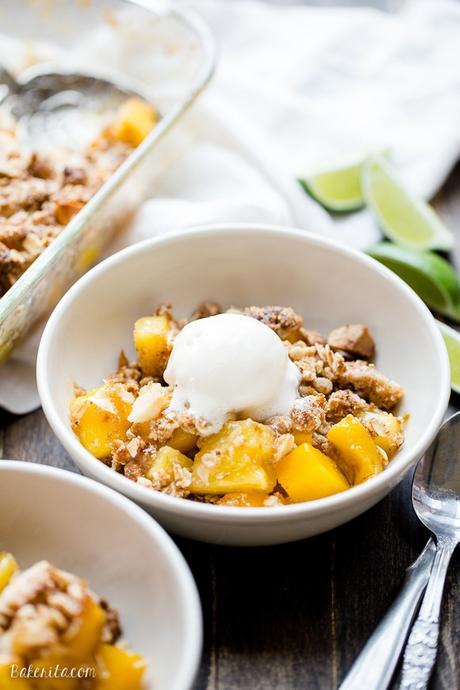 The oatmeal crumble topping of this mango pineapple crumble is made extra delicious from more of my tropical faves: 
coconut flakes
and
macadamia nuts
! Make sure to use virgin coconut oil for an extra coconut flavor in the crumble topping. Refined coconut gets rid of the coconut scent and flavor…which is great if you hate coconut, but not so great for when you need your mango pineapple crumble to be a tropical wonderland.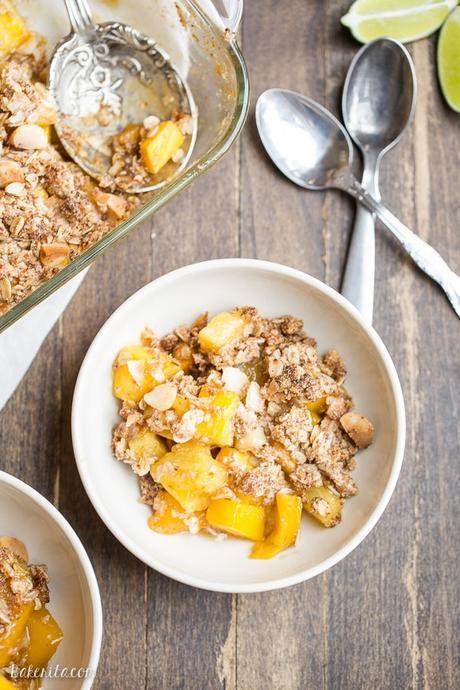 Coconut sugar is the only sweetener in both the filling and crumble topping, so this mango pineapple crumble is refined sugar free. It is gluten-free and vegan as well, as long as you make sure to use gluten-free oats in the crumble topping.
Serve this lightly sweetened tropical mango pineapple crumble with a scoop of yogurt for a healthy but indulgent breakfast – or switch to a scoop of ice cream or whipped coconut cream for an irresistible dessert. Either way, I think you'll be pretty damn pleased with this one ;) enjoy!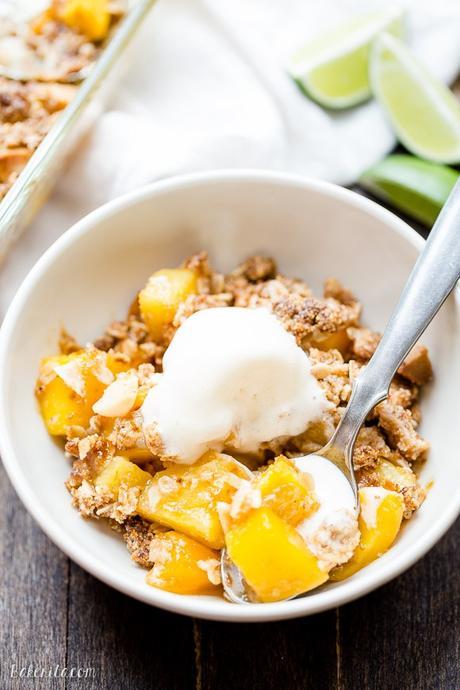 Remember to #bakerita if you try the recipe!
Mango Pineapple Crumble (Gluten Free + Vegan)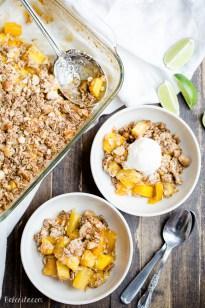 Save
Print
Prep time 15 mins Cook time 40 mins Total time 55 mins   Author:
Rachel Conners
Serves:
8 servings
Ingredients
3 cups (20 oz) fresh pineapple, cubed*
2 fresh mangos (3 cups or 16 oz), peeled, cored, and cubed*
1 teaspoon lime zest
2 tablespoons lime juice
⅛ teaspoon cinnamon
⅛ teaspoon nutmeg
⅛ teaspoon ginger
¼ cup coconut sugar
2 tablespoons tapioca flour
For the oat topping
½ cup almond flour
¼ cup tapioca flour
½ cup rolled oats
⅓ cup coconut sugar
6 tablespoons coconut oil, solid
½ cup unsweetened flaked coconut
½ cup macadamia nuts, chopped
Directions
Preheat the oven to 350ºF.
In a medium bowl, combine the pineapple, mango, lime zest and juice, cinnamon, nutmeg, ginger, coconut sugar and tapioca flour. Stir to combine and coat all of the fruit evenly. Pour all of the fruit filling into an 8x8" pan and set aside while preparing the crisp topping.
In a separate bowl, combine the almond flour, tapioca flour, rolled oats, and coconut sugar. Add the coconut oil and using a pastry cutter, two forks, or your hands, work the coconut oil into the flour until it comes together into a course meal with no dry flour remaining. Toss in the macadamia nuts.
Cover the fruit evenly with the oat topping and bake for 35-40 minutes, or until golden brown and bubbling.
Let cool slightly before serving warm. Store leftovers in the refrigerator for up to 3 days.
Notes Frozen fruit would also work well here. Tropical crisp all year round! 3.5.3208

There's more where that came from!
Summer Stone Fruit Crisp (Gluten Free + Vegan)

Mango Coconut Crumble Muffins (Vegan)

Strawberry Rhubarb Crisp (Paleo, GF + Vegan)

Mango Pineapple Smoothie Bowl

Raspberry Coconut Crumble Tart (Paleo, GF + Vegan)

Vegan Pineapple Coconut Muffins