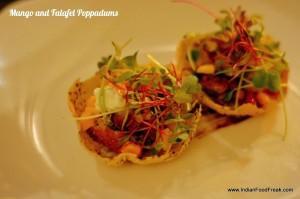 Mango is my favorite fruit and it's also one of those fruits that can be used for cooking in so many ways. Be it drinks, main course or desserts, use mango and that's a sure shot way to make your dish standout. We, at Indian Food Freak, were recently invited for a Bloggers' table at The Grand Mercure's Mango Festival which is on till the 17th May.
We started with the drinks that they had created especially for the festival. We ordered a Mango and Apricot Mojito, which looked quite good, but one sip and I couldn't take another. The drink was flat and lacked any flavor at all. We tried the Aam Panna (a mocktail) which I guess they should begin doing an alcoholic version of, since this was pretty good, with the right amount of spices and enough tang.
Moving on, we tried their Mango Caprese Salad – this had slices of Alphonso mango served on a bed of lettuce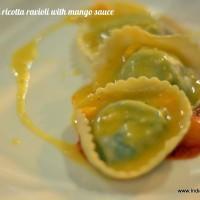 and rocket with cherry tomatoes, sun dried tomatoes, and a soft ball of bocconcini with balsamic reduction. The only regret here was that the portion was small considering how good the salad was. Next in line were the
Mini Mango Poppadums
. They had both a vegetarian and a non-veg optionfor this one. The non-vegetarian option had smoked chicken and mangowhile the vegetarian option had falafel, tzatziki and mango. We liked both the veg and non-veg versionsthough both needed an extra dash of dressing.  We also tried the
Shrimp and Raw Mango Salad
in soy, peanut paste and chilli dressing. This was one stunner of a dish. It was beautifully plated and tasted just right. The shrimp was cooked just right and everything else complimented the dish well. Though, this again lacked dressing, which we asked for and generously put in the salad.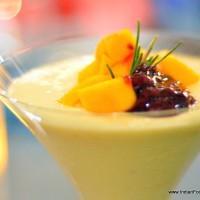 For the mains, we tried the
Spinach, ricotta and Raw Mango Ravioli
served with mesclun greens in mango sauce. This dish clearly failed to impress. The ravioli was just way too thick on the sides and the accompanying sauce lacked punch.
Balsamic grilled Vegetables with Parmesan Mango Polenta and Pomegranate glaze
was another dish we tried. This one looked great and tasted equally good. I, for one, have never been a polenta fan, but this was nicely done. I think I would go back just for the polenta again.We also tried the
Tenderloin steak with rock salt, olive oil baked potatoes, sautéed beans
and mango. It looked good, the tenderloin was perfectly cooked but the meat and the dish lacked any flavor at all.
Grilled Fish with raw mango parsley piccada, roast baby potatoes and bean sprouts accompanied by mango tenders and coconut salsa
, well, the description sounded good. But somehow, once we saw the dish and tasted it our opinion was quite contrary to what we thought initially. Everything else in this dish tasted good individually, but the overall it lacked the magic. Maybe, letting go of the sprouts would do the trick.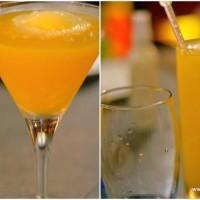 Think of mango and the second thought is desserts. But here the desserts failed to do the magic. There was something or the other lacking in everything we tried. The Passion fruit and Mango Tarthad a nice filling but the base was too doughy. The Mango Panacotta with the Basil Raspberry Coulislooked nice but the panacotta hadn't set well. Also, the basil and raspberry coulis did little for the dish.
Overall, we feel, this festival has its share of hits and misses. But if you are a mango lover, you should maybe go and give it a try.
Ratings (out of 5)
Food: 2.5 | Ambience: 4.0 | Service: 2 | Overall: 2.5
Price: Rs 2000 for two | Alcohol: Yes| Credit Card: Yes
Address: 12th Main Road, 3rd Block Koramangala, Bangalore, Karnataka 560034