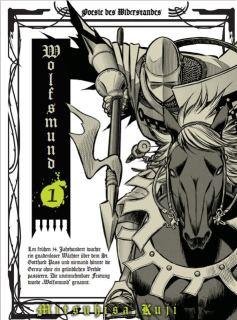 Title: Wolfsmund (Ookami no Kuchi: Wolfsmund)
Genre: Action, Historical, Seinen
Publisher: Enterbrain (JP), Vertical Inc (US)
Artist: Mitsuhisa Kuji
Serialized in: Fellows!
Translation: Ko Ransom
Original Release Date: July 2, 2013
It's been a good while for me to be extremely impressed by the contents of a first volume. Generally, most first volumes have elements that get in the way of its best aspects, causing the manga to be worthwhile, but in need of a few more chapters to sell a reader on its concept. Wolfsmund is on the very short list of manga I've read where its first chapter sold me convincingly, and the entire volume has only created a desire for me to read more. If you can handle brutal beheadings and multiple stories, with different characters and their respective quirks and skills, Mitsuhisa Kuji's historical drama should impress you as much as it has impressed me.
Set in the early 14th Century, Wolfsmund literally is a story about the trials and tribulations of the allied forest cantons of Uri, Unterwalden, and Schwyz, as they try to rebel against the oppressive Hasburg Austria forces. There are other elements at play, some political and possibly hints of trouble brewing internally, but so far, the only thing we need to know is if the characters in each story can cross the Sankt Gotthard Pass to get to the other side. Unfortunately, that pass has a station, and that station, dubbed "Wolfsmund", has a notorious reputation for being hard to get by inspection without a travel permit. It also has a seemingly jovial, unflinching bailiff who makes sure that everyone who tries to pass is checked thoroughly, and if they fail, the only thing in store for them is death.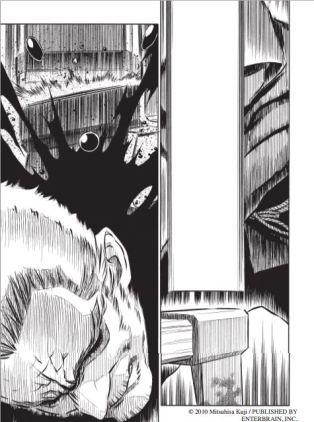 Like I said, death
In trying to think of anything bad to say about Wolfsmund, I can only come up with two. The first is the art. At times, it looks nice with those expressive lines and the backgrounds seem to be done with care, but in some instances, the art looks a bit weird for me (for example, how the blood is drawn seems odd, and heck, even horse manure doesn't look like horse manure…then again, I'm assuming I've seen horse manure, which I haven't. Hmm…). The second is the lack of a main protagonist. It's rare to have an episodic story like this where so far there's no real main protagonist, just numerous characters who all have a certain goal. This could lead to repetitiveness, so it might be nice to follow a protagonist for more than one chapter…except the way the story is constructed, which is centered around the station, that would be hard to do, and hard to change.
How Wolfsmund manages to turn these issues into minor ones stems from the absolute brutality that is employed in this manga, and its main antagonist in bailiff Wolfram. This is not a spoiler, as this is (half) advertised in the back of the manga: hope is fleeting here. So far this is where Austria is repressing the cantons, so you're going to see suffering, and you can bet that you'll get your action, and you'll get your blood. Someone might have learned too much from that artist who does Berserk I reckon. So far though it represents the brutality of the times, and hasn't shown itself to be totally excessive.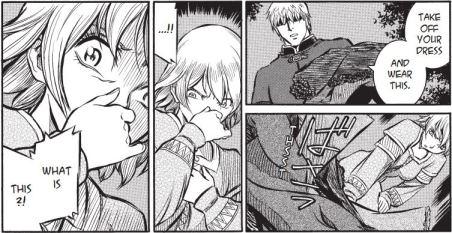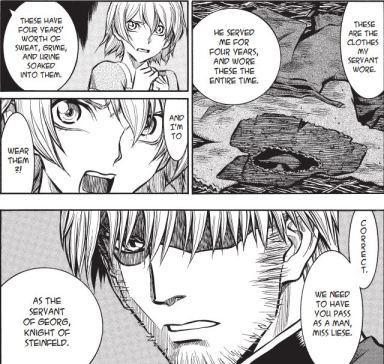 Making it sound like that's an easy thing since 1308!
Then you add a tyrant like Wolfram, and this complements everything else in the manga. We may never actually get inside his head, but his mere persona is one that reminds me of those guys you see in most fiction — never really changing that much, always with that elitist attitude, always happy, and unable to be unfazed by most events. Whatever the case, this will forever present a dilemma for the characters that try to get past him, ranging from the daughter of a fallen rebel, to the "Witch of Blinking Death", to fabled hero William Tell. Let's just say the methods of trying to get to the other side (yes, it involves that horse manure, and in another case, turning into a nearly 50-year old woman) are…interesting. It's a wonder what more stories (or torture) will actually be seen in this series, and what happens at the end of each story will build up to when it comes to the rebellion effort.
Combine these elements with enough information about each character and their situations, the pacing not feeling like a chore — I found this a quick read — and that sense of despair evoked with each move by the characters, saying I was merely satisfied with Wolfsmund would be a disservice; I am extremely impressed right now. And I would say that you'll get your money's worth by buying this volume.