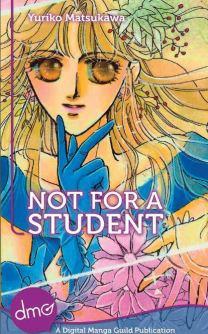 Title: Not For A Student (Seito de Nanka Irarenai)
Genre: Shoujo, Romance
Publisher: Hakusensha (JP), Digital Manga (US)
Artist: Yuriko Matsukawa
Serialized in: Hana to Yume
Translation: Brittany Sweet
If sweetness held the possibility of killing, then Not For A Student would be tried for attempting to be so sweet. The main culprit of that is Yuriko Matsukawa, her drawings, and the multiple stories in this volume published by Digital Manga which ultimately involve romance and people liking each other after some misunderstandings and an inability to explain the situation for one reason or another. The problem is the chapters were a blur. The situations for some of the stories were really silly and were resolved abruptly, and some of the stories weren't all that good. Really, this is a compilation that features nothing that works all too well at this stage, but maybe some will get a kick out of it.
The main story involves Miki Tasaka, a young college student who decides it's not economical to try and make money with her hobby (Photography), and instead pines to become a teacher. One problem she runs into: she meets Masaki Takase…as a student in her teacher-in-training class and apparently also at a disco club. This situation ends up worrying Miki a lot, but she should have just kept worrying instead, as she tries to find out why Masaki's working at a club so late, and gets herself embroiled in a mess that involves the custody of a child. Can she manage to get herself out of this mess or risk losing her ability to teach due to her actions?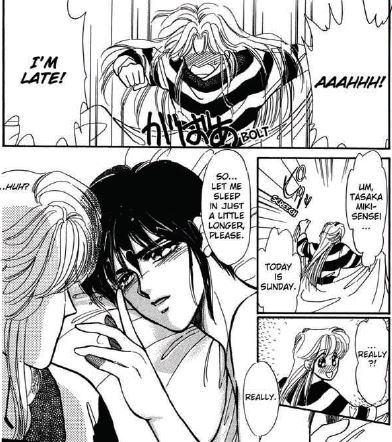 The other stories are one-shots, and some are short. One story revolves around a hostess that has a mysterious young man who claims to be a novelist at her debt-riddled hot springs inn. The next story revolves around dancing…specifically the dancing Yukari Shinkouji sees out in the streets by two men, each with their own skills that impresses her. The final one-shot is a fantasy tale, told story like by a boy who once had a friend leave him, but before that friend left, they each promised to reunite after putting back the piece of a four-leaf clover if they returned. But for the boy, he's a bit surprised, as it turns out it's a girl? Based on the reaction by his friends, it's not a good thing!
All in all, the stories were sweet, but my guess is that I won't really remember them in a few weeks, mainly because there's just not enough development of the characters and a lot of trivial things get in the way for all of them. The main story, Not For A Student, manages to take what was an interesting premise — Miki managing to get on the bad side of Masaki — and fumble it with the quick resolution of events that, as unlikely as it seemed for Miki to get no respect from Masaki, was even more unlikely that it would have been resolved so fast. And then it gets into territory that involves legality and a reliance on some really silly events (example, who takes the time to hire people to slow down a person for this situation involving a child?). Ultimately, the story's too short to really enjoy the characters in the work, and that leaves me thinking it had nice art, but not much else.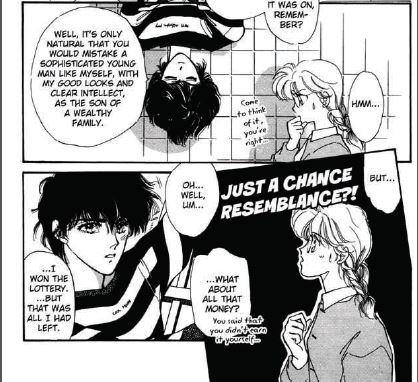 The other stories, which are shorter, are just about the same, though I can admit one story (Aim for Acclaim, My Beautiful Hostess) wasn't all too great, but it was pretty endearing and kind of cute. It probably helped it had a cliche, but fun twist in the work, but otherwise I could get behind the work. The other two either were too messy or just didn't have enough content to really enjoy the work. It's a bit of shame since the art, while it has the usual shoujo style, managed to somehow be really sensual and thoughtful. Probably due to the blushing done by all the females, I reckon. But otherwise, this manga isn't anything special.