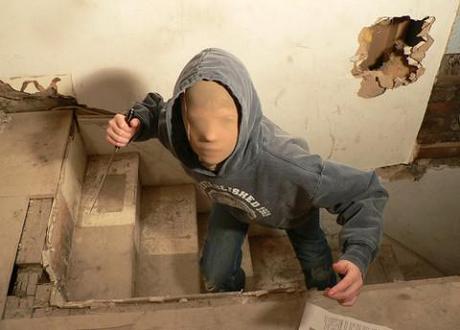 Youth with knife. Photocredit: Black Scratchy Lines http://www.flickr.com/photos/mrtomlong/1322711253/sizes/m/in/photostream/
Is the justice system toughening up? Proposals are being put forward which will mean that criminals face a mandatory life sentence for being convicted of a second serious offense. This will be applied to people who commit crimes that gain ten years or more – ie serious Grievous Bodily Harm, rape, child abuse, and terrorism, as well as to crimes that cause or allow the death of a child.
The plans will replace the indeterminate sentence for public protection (IPP), which had led to people being locked up without knowing when they'd be released. "We've got 6,000 people languishing in prison, 3,000 of whom have gone beyond the tariff set by the judge and we haven't the faintest idea when, if ever, they are going to get out," Kenneth Clarke  told BBC Radio 4′s Today programme, quoted on the BBC.
Compulsory jail sentences of four months, and a training order, will be dished out too, to anyone between 16 andd 18 who is convicted of "aggravated" knife carrying – in other words, when the knife is used to threaten somebody, or to endanger their knife. Adults are planned to get a compulsory six months. It is thought that Kenneth Clarke, was against this move, saying that such terms were "a bit of a leap" for the British system, reported The Daily Mail; his colleagues, however, including Home Secretary Teresa May, pressured him into it.
Other amendments include: an "Extended Determinate Sentence." This will mean convicted criminals serving at least two thirds of their jail term, as opposed to the half that they currently undergo.
Back to clarity. The new proposals would  ""restore clarity, coherence and common sense to sentencing, rid us of the inconsistent and confusing IPP [Imprisonment for Public Protection] regime and give victims a clearer understanding of how long offenders will actually serve in prison", said Ken Clarke, quoted on the BBC.
What about unreformed criminals? But shadow justice secretary Sadiq Khan said the plan "does not address the problem of unreformed offenders who have completed their sentence being released to commit crime and inflict harm on the public", also quoted on the BBC. "Under this government's plans, offenders who are a danger to the public could still be released from prison. They are taking an unnecessary risk with public safety."
A victory! It's about time too. The Sun's Tom Newton Dunn rejoiced, calling Ken Clarke "soft" for initially opposing the mandatory terms, and presenting the new plans as a "humiliating u-turn" for the Justice Secretary. Statistics, he reported, show that over 40 percent of knife crime in certain places is done by those under eighteen.
Or perhaps not. Are we going back in time? asked The Guardian, on the other hand, who said it was a return to a "more traditional 'lock 'em up' approach", and it was casuing problems for Clarke's hopes for a more liberal policy. Mandatory jail terms are American; they do not fit into the British justice system, which prides itself on judging each case by its facts. Clarke apparently managed to gain a concession that those under 16 would not be affected by the sentences. The new sentences would place "a serious question mark" over the stabilisation of the prisoner population, being likely to increase the number of those under lock and key.