Manchester for me wasn't just about that Canal Street night out, I had places to visit and things to discover. With three key locations in mind, I kept things low-key on the Friday night to ensure my Saturday morning pursuit would be fruitful. With murals, monuments and a certain stretch of canal to see, there was no time to lose! Like a maxi challenge, I did my best to serve it up! OK!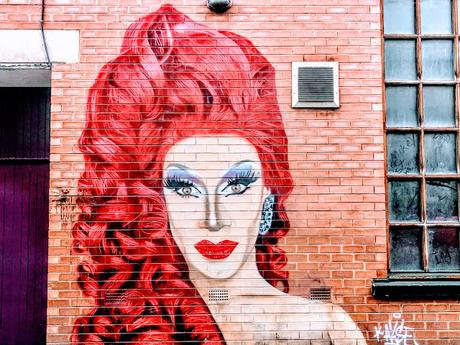 Bringing a slice of 'Brighouse' to my Saturday morning, I marvelled at the iconic spray painted mural of RuPaul's Drag Race UK icon, Divina De Campo. A red wig and a silver dress? I don't think! Meeting DDC on the BBC for the first time in 2019 on the first ever series of RuPaul's Drag Race UK opened my eyes to the Northern Powerhouse that has to be Divina De Campo. How did Manchester's Gay Village come to have such a mural? Because reading is fundamental, I educated myself to find out that DDC's husband 'Paul Yarwood' and good friend 'Keegan Flowers' both commissioned the mural to wish her good luck for her appearance on the 'UK Race!' Located just behind G-A-Y on Richmond Street, De Campo's show stopping mural shares space with other Manchester LGBT and female trailblazers such as 'Alan Turing', 'Quentin Crisp' and 'Emmeline Pankhurst'. Staying away from the booze the night before had allowed me to be on my game, tracking down DDC's mural without any mobile signal took some doing! Oh, DDC! 
I could definitely see the joy Divina's mural has brought to people who've paid it any mind, most definitely her mural continues to bring those with that royal taste! Now, as if we hadn't had enough mess to deal with during 2020 and then into 2021 with restrictions and continual bouts of lockdown due to the pandemic, an act of pure cowardice happened in Manchester's Gay Village! Branded 'cowards', Divina De Campo's mural was heartlessly vandalised by 'mindless hooligans' and possible 'homophobes!' 'Carl Austin-Behan', LGBT Adviser to Greater Manchester's Mayor said that the mural had been 'disgracefully defaced!' Taking place during Pride Month, Manchester rallied around to get DDC's mural repainted with the hurtful 'homophobic' slurs erased! Triumphantly, DDC herself branded those fools as 'cowards', reinforcing the message that 'Pride is a protest!' Bringing love, light and vibrance to my Saturday morning in Manchester, those vandalising degenerates have sure 'sashayed away!' Brighouseee!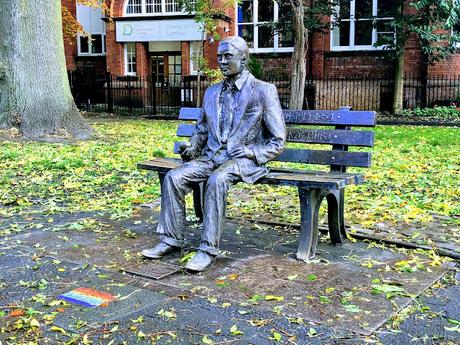 Located in Sackville Gardens, the sitting memorial statue of Alan Turing has been visited since the 23rd of June 2001, what would have been his 85th birthday. I felt compelled to visit Sackville Garden within Manchester's Gay Village to visit Turing as an act of remembrance. This forever English mathematician, computer scientist, logician, cryptanalyst, philosopher and theoretical biologist will always be revered as a genius and Gay trailblazer who was done very wrong by our country. Conveniently commemorated posthumously with a showering of accolades and titles, Turing did not deserve the fate he faced in 1952, committed of acts of a Homosexual nature, leading to what was believed as his suicide two years after that moment. It boils my blood that such a genius and wonder was chemically damned because the times saw him as mentally unwell, I have absolutely no further words to say on the subject. Honestly, this man will always been seen as a genius but whatever to the government, U.K hun? M, this blog has me fired up! 
Please allow me to turn back the hands of time to 2015, I hadn't long moved to Wuhan, China and had decided to watch a film for the first time at a nearby cinema. Catching 'Benedict Cumberbatch' in one of the film posters, choosing to watch 'The Imitation Game' I was not disappointed. The blockbuster film of the time took me on a journey, I gasped as Turing's story was being narrated on the big screen as history was being made during the Second World War. Working as a 'code-breaker', Turing effectively used the technology and intelligence to decipher a potential German threat. His efforts cut the war's length, allowing the German's to give up the ghost because Turing's genius saved Britain's bacon. I was bowled over by the impact of the film, I wasn't there to comment on the finer details but from what I witnessed told me what I needed to know about Turing. Spending that time that November 2021 morning in Sackville Gardens allowed me to take a moment, Turing saved us but in turn he was betrayed. Turing, he's a hero!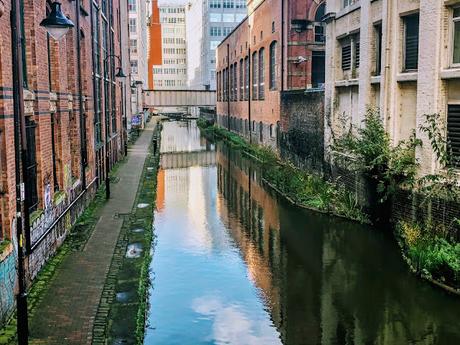 A 'canal' lines Canal Street? Not being born yesterday, Canal Street absolutely takes its name from the passing Rochdale Canal way. During the 19th Century Manchester thrived with industry, known as 'Cottonopolis' and around that time Canal Streets riches were made within the cotton trade, not through bars and nighttime commerce. As the glory days of the cotton trading fizzled out along the Rochdale Canal in Manchester, a certain pub had already started to change the game. Formerly known as the 'Union Hotel', first opening in 1865 this undercover 'rainbow' venue became popular with Gay men and Lesbian woman because it was known as a safe space. Now, I am no historian but as a Gay man myself, I can only imagine those passing barges attracted some curious out-of-town energy of a different kind. My dates might not be accurate but with those canal barges brought men from all around the country, I can make a clear enough estimation as to what activity thrived during those darker days. Blame it on the M?
As the cotton trade left Manchester's Rochdale Canal ways and the city as a whole, the freer canal space that overlooks Canal Street became a mecca for Gay men and other folks to meet for a bit of 'extra curricular activity'. Ey, sex work is work! Word on the street was that the owner of the then 'Union Hotel' had to spend a spot of time at Her Majesty's house. His crime was defined by the acts that were supposedly going on at the hotel, people really needed to broadened their horizons because even in the 1950's the Gays of Manchester were ahead of their time! Baby, love has always been love! Nowadays, the canal ways have changed their use because the development of Canal Street has become a safer and more inclusive space. Manchester's Gay Village had me viewing all kinds of wonders before I had even had one boozy drink, educated and enlightened, I felt as if Manchester knew I had grand plans to know more. From DDC's magnificent mural to the genius work of Alan Turing, Canal Street had me schooled alright, M! 
She Can Sing In Five Different Languages! 
Joseph Harrison