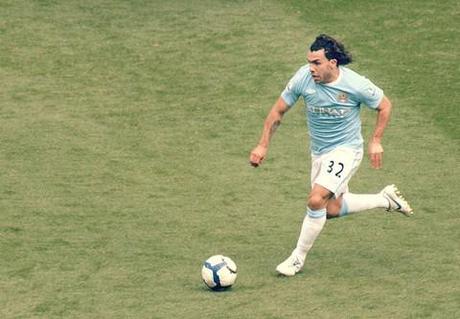 Manchester City's Carlos Tevez. Photo credit alfonso jimenez http://flic.kr/p/6N1cKN
Manchester United travel the short distance to Manchester City's Etihad Stadium tonight to contest what is the most eagerly anticipated Manchester derby in many decades. So, why the massive pre-match hype? Because the derby has way more riding on it than local bragging rights; it looks set to determine who wins the 2011/2012 Barclays Premier League title. United go into the game with a three-point lead but lose and they go level on points with City who have superior goal difference. It's all and more to play for for both the reds and the sky blues.
The sports commentariat having been falling over themselves to identify the key players, tactics and managerial decisions which will determine who will triumph on the night. Here's the pick of the fairly frenzied tub-thumping.
City has the edge in middle of the park. Writing at The Guardian The Sport Blog, Michael Cox, editor of the highly respected football tactics website zonalmarking.net, suggested that City's pace could really trouble a sluggish United midfield. Cox noted that United manager Sir Alex Ferguson's recent reliance on "the calmness of (Paul) Scholes and (Michael) Carrick has largely been a successful improvisation" and noted that "they can control the game brilliantly when playing at their own tempo." However, Cox said the pair can get "overrun when the opposition increases the pace. That was partly the problem last week against Everton, with Marouane Fellaini pushed high up and closing down robustly." United gave up a two-goal lead in that game to draw 4-4.
In the reverse fixture in October, City thumped United by a sensational scoreline of 6-1 at Old Trafford.
Mancini simply must gamble. "It's time to bet like a man, Roberto! City must risk it… United would," advised Martin Samuel of The Daily Mail. Samuel said now is the moment for Mancini to have a "a high-stakes gamble. He must set out his team to be bold, to be brave, to run on the bridle, to set the pace. Do that, and the title is within his grasp." "It seems bizarre to accuse a man who marshalled a 6-1 victory at Old  Trafford earlier in the season of being conservative, but Mancini's Italian nature often comes to the fore in these do-or-die games," argued Samuel, who said that, "the man who signed Carlos Tevez and Mario Balotelli appears reluctant to risk. And that is not what City need. They need a manager who will dare because, in the same situation, Manchester United would."
Write off Ferguson at your peril. James Lawton of The Independent said City's "formidable accumulation of force by any standards" makes their "status as favourites entirely just" but reminded that Ferguson has never been a man to go down without a fight: "If ever a night was made for Sir Alex Ferguson, and the peculiar force which has shaped his astonishing reign at Old Trafford, it is surely the one due to unfold at the Etihad Stadium tonight. Pushed into a corner by recent failures of nerve, and some basic defensive technique, facing a team which, man for man, has to be pronounced the more talented, Ferguson must do what he has always done best. He has to fight and rage against the possibility that after so many years at the top, finally, his number is up."
Importance of pre-match mind games over-stated. At The Times (£), Simon Barnes scoffed at the prevailing idea that "mind games" play a huge part in run-in results. Turning to supposed "mastermind-gamester" Ferguson's "banal, patronising and usually faintly insulting remarks," Barnes lamented that the football press "examine these remarks as if they were Zen koans of measureless profundity, puzzles that, once unravelled, will bring us enlightenment and reveal to us the entire meaning of football and, indeed, of life itself." "Is it possible that a moment of inspiration from Wayne Rooney or maybe Samir Nasri will unlock a defence and decide the outcome? Certainly not," joked Barnes. "Far too old-fashioned an approach and besides, I'm talking my way out of a job here. It's about mind games, always has been, always will be. Let's hope for a fair fight and may the best press conference win."