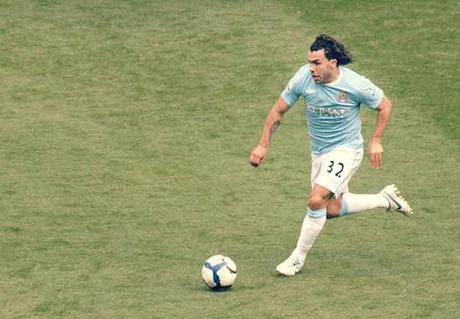 Manchester City's Carlos Tevez. Photo credit alfonso jimenez http://flic.kr/p/6N1cKN
Manchester City beat bitter rivals Manchester United 1-0 at the Etihad Stadium last night to assume leadership of the Barclays Premier League with just two games to go. The result means United have now blown a eight-point lead over City at the top of the table and are no longer favorites to lift the trophy. Here are the key talking points from a fast and furious night in Manchester which has quite possibly decided who'll win the league.
Sir Alex Ferguson doesn't set out to win every game. Ferguson has long insisted that he sends out a team to win every game but his negative team selection strongly suggested that United were playing for a draw. The game-plan backfired as the cautious approach handed the initiative to City. Instead of starting with flying winger Antonio Valencia (arguably United's player of the season) and red-hot striker Danny Welbeck, Fergie opted for a cagey 4-5-1 with Ji-Sung Park added to the midfield to press and harry City. Park, who has only completed one 90 minutes for United this season, looked well out of his depth, and Wayne Rooney was often left isolated without Welbeck playing alongside him up top. Many United fans feel their team would have proved far more threatening if the likes of Welbeck, Valencia, Ashley Young, and Javier Hernandez and had been deployed from the start or at least introduced earlier.
"There is rarely more than one effect on Wayne Rooney when he is billeted as a loan striker – frustration – and the shake of the head, the mutterings, the arms thrown out in supplication for a pass which never came were all in evidence," observed Ian Herbert of The Independent.
Mancini's bravery rewarded. In the build-up to the game, City manager Roberto Mancini was urged to be bold and brave by many in the sports commentariat and the Italian manager duly delivered.  He resisted the understandable temptation to deploy Dutch midfield destroyer Nigel de Jong and picked all four components of the fabulous foursome – David Silva, Samir Nasri, Carlos Tevez and Sergio Agüero. While City were not as electrifying going forwards as they sometimes have been this season, they did play attack-minded football and did take the game to United. Jamie Jackson of The Guardian praised Mancini for going "against his Italian stereotype."
City are the better side. City have now beaten United home and away this season and asserted their superiority over the reds in almost every department last night. City's superiority was most evident in midfield, where Yaya Toure tormented Michael Carrick and Paul Scholes with his rangy, lung-busting runs. When United did threaten City (which wasn't very often) City's defence looked rock solid. In fact, City's muscular and well-drilled back four of Joleon Lescott, Vincent Kompany, Pablo Zabaleta and Gael Clichy restricted United to zero shots on target throughout the game.
It's in the DNA of #mufc and Ferguson to fight back but, stating the bleedin' obvious, they need a Schweinsteiger type in cm

— Henry Winter (@henrywinter) May 1, 2012
United's old guard are nearing the end. Ferguson would surely have both Paul Scholes (37) and Ryan Giggs (38) in his all-time United starting 11 and he handed both experienced veterans starting spots at the Etihad Stadium. While neither Scholes nor Giggs performed particularly badly they did  fail to significantly influence their team's biggest game of the season. There were moments during the game when both players looked a little, well, past it, and it would be a great surprise if either starts the first game of next season. Regardless of who wins the title, it goes without saying that both players have made an enormous contribution to United's glory years and you'll find few United fans slating them this morning.
"By selecting Michael Carrick, Ryan Giggs and Paul Scholes as his midfield trio, Sir Alex Ferguson engine room had a combined age of 105 years," noted Mark Ogden of The Daily Telegraph.
Titles are won in seconds. While City were undoubtedly the better team and United did not register a shot on target, the fact remains that the sky blues only won the game by a solitary goal – Vincent Komapny's thumping header form a corner just before half-time. Tony Cascarino of The Times (£) described how that one moment upset the United game-plan: "Even with the most minute planning, the most forensic approach to a game, there remains one great unknown, something no team can control: the set-piece. It was simple human error that did for United, for everything that Ferguson had prepared. Chris Smalling was given the task of marking Vincent Kompany at a corner. As he waited for David Silva's delivery, the young central defender committed the cardinal sin: he started ball-watching. One step towards the delivery, and suddenly the City captain was in clear."