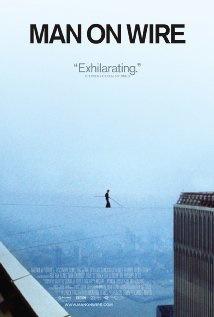 Director: James Marsh
Writer: Philippe Petit (Book)
Plot: A look at tightrope walker Philippe Petit's daring, but illegal, high-wire routine performed between New York City's World Trade Center's twin towers in 1974, what some consider, "the artistic crime of the century."
There may be spoilers the rest of the review
Verdict: Intriguing Documentary
Story: Man on Wire starts by following from the interviews with Philippe Petit and his team preparing for their latest stunt and how they went undercover the work on making it happen. We continue with the interviews where Philippe discusses his dream when he reads an article about the building of the Twin Towers. We see how Philippe performed these hire wire routines around the world before getting to his dream target.
Man on Wire is a fascinating look at Philippe Petit and his desire to high wire between the twin towers. We get to see how he met the people who helped him gain a reputation and how the group of people made his high wire stunts happen. We see how they look back and see how this all happened and how they felt about each things happening. I think this is a great look at how this remarkable achievement was achieved by the daredevil.
Director Review: James Marsh – James gives us a brilliant look at an interesting subject matter that shows each person remembering how they were involved with a mix of interview style and achieve footage.
Biographical: Man on Wire shows the time on Philippe Petit and his friends lives when they planned to hire wire across the twin towers.
Documentary: Man on Wire keeps everything in the style of the people involved telling their story to what happened with the events.
History: Man on Wire shows a moment in history no one would ever see again especially after the tragic events on 9/11.
Settings: Man on Wire uses the footage to show the settings which makes everything make us feel like we could have been part of the events.
Suggestion: Man on Wire is one to watch before going to see The Walk to learn the true story about what happened with the people involved. (Watch)
Best Part: Watching the walk take place is breathtaking.
Worst Part: Not one
Believability: Based on the real event with clips of what happened.
Chances of Tears: No
Chances of Sequel: No
Post Credits Scene: No
Oscar Chances: Won Oscar for Best Documentary
Box Office: $3 Million
Budget: $1 Million
Runtime: 1 Hour 30 Minutes
Tagline: 1974. 1350 feet up. The artistic crime of the century.
Overall: Brilliant Documentary that shows just how much one man can dream for.
Rating