Man space, man cave, mantuary, manland - there are lots of terms for it out there. Whatever you call it, every man needs to have a space that is exclusively his. A space where he can host his closest pals for the night or chill out with a drink after a long day at work. You can transform the garage, basement or even a storage shed into your manly retreat. Start carving out the space in your home and add some man cave essentials to create the ultimate man room.
Whether you're building your man cave from scratch or you're looking to do a revamp, you can use this blog post as a guide to take your manly retreat to the next level. Here, we have compiled a list of items that will transform your man cave into a prime space for relaxation.
Here are 6 must-have items for the ultimate man cave.
Comfortable seating for your man cave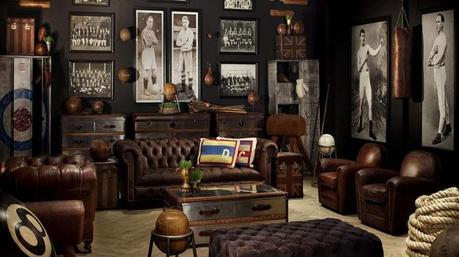 Image Source: https://survivallife.com
At the heart of every man cave is a comfortable seating that is dedicated for the king of the domain. After all, every guy needs seats where he can sit back and relax.
If you're building yourself the man cave of your dreams, make sure that you invest in couches, arm chairs or bean bags. This is especially beneficial if you're looking to hosting parties with your friends. When choosing furniture for your man space, opt for high quality pieces that the can last for a very long time. Also, choose the most comfortable seating you can find.
A night with the boys wouldn't be complete without alcohol. Spills are inevitable in situations like this. Leather couches and recliners are always the best options for situations like this. As eye-grabbing as it is, leather couches are also easier to clean and maintain. Plus, they are versatile and will work well with your decors.
Entertainment and gaming system for hosting parties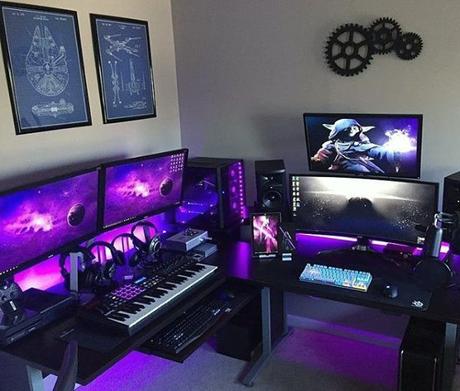 Image Source: https://donpedrobrooklyn.com
The kitchen is the core of the home, they say. Over the years, it has transformed into a space for preparing and cooking meals into a room where family and friends congregate.
Most men want to keep their wife and kids out of their man cave. But if you have some epic video games and state-of-the-art entertainment systems, you may want to invite them into your space. Go ahead and turn your man room into a space that everyone can enjoy. This will not only keep them entertained and occupied, it will also keep your wife and kids happy.
The bar is one of the most important man cave essentials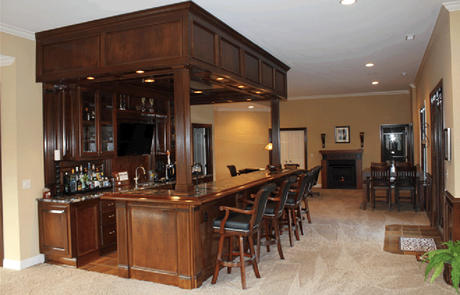 Image Source: https://www.pinterest.com
Couches and recliners, TV, and video games are man cave essentials every guy should invest in. But no man space is complete without a bar.
Guys act and behave like men when they enter a man room. Therefore, built-in beer and wine coolers, a full size refrigerator, and bar stools are man cave essentials you should have in your man room. This will keep you from running in and out of the main kitchen, especially when entertaining friends or on day when you just want to have a drink for yourself. But if you're short in space or you're working on a shoestring budget, a fridge and a small table will do.
Large flat screen TV for sports fanatics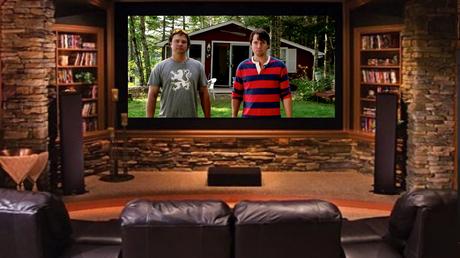 Image Source: http://brojects.tv
Most men enjoy watching sports with their closest pals. If you're a sports fan, a large flat screen TV is one of the most important man cave essentials. After all, you wouldn't want to watch your favorite sports team in a measly 32-inch TV.
Bigger is always better for guys who are obsessed with sports. Aside from watching sports, you can also use it for playing video games or watching movies. For a more realistic experience, we highly recommend that you look for one with high definition.
Add some personal touches to your man room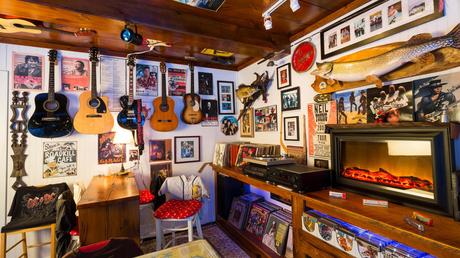 Image Source: https://www.atlasobscura.com
Let's face it. Most women don't want glowing metal beer signs or deer antlers poking out of the walls. By creating a room of your own, you have the freedom to decorate your space in a way that expresses your own individual taste and personality.
Your man cave is the perfect space for housing that collection your wife just doesn't understand. Whether you collect movie posters, oil cans, baseball caps or Star Wars action figures, go ahead and have them on display. Also, feel free to place your trophies proudly on the top shelf or hang your medals on the wall. This is your space, so you're free to decorate it any way you want.
Storage solutions to organize your belongings
Image Source: https://www.homestratosphere.com
Men are allowed to make their own rules in their own space. Here, you don't need to abide by the rules that being around others naturally bring. This includes rules about cleaning and organizing. However, a responsible man knows how to keep his space clean and organized.
In order to create a comfortable, relaxing space, make sure that everything is in its proper place. Storage and shelving are man cave essentials. They are essential since they aid in minimizing the amount of stuff lying on the floor or stacked on the table. The more storage space you have, the more organized your space will be.