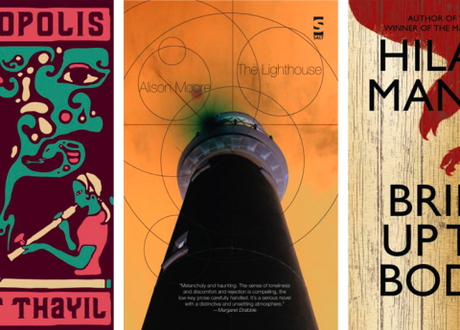 Some of the shortlisted books
The background
The Man Booker 2012 shortlist has been announced: the six books include Will Self's Umbrella, which concerns a century-spanning tale about a woman in hospital, as well as Hilary Mantel's Bring Up the Bodies, the sequel to her best-selling Wolf Hall, about Thomas Cromwell, which took the gong last year. The other books are Deborah Levy's Swimming Home, Alison Moore's The Lighthouse, Jeet Thayil's Narcopolis, and The Garden of Evening Mists by Tan Twan Eng.
Last year, the judges caused a stir, when Dame Stella Rimington said that she wanted to choose books for people to "read and enjoy," whereas MP Chris Mullin required books simply to "zip along." Sir Peter Stothard, this year's chair, said that he wanted to "avoid that thing where people say, 'Wow, I loved it, it's terrific.'" The judging panel this year included actor Dan Stevens, who had a pocket sewn into his costume on the set of Downton Abbey so that he could conceal his e-reader. The shortlist is also notable for containing three books printed by small publishers: And Other Stories, Myrmidon Books, and Salt. The winner, who gets £50,000 and guaranteed sales increase, is announced on October 16th.
A double for Mantel?
Hilary Mantel might win the prize twice, reported The Independent, and become the first British writer to do so. Peter Carey and JM Coetzee are the only two to have done so, and they are not British. Mantel is currently the favorite at Ladbrokes.
What the judges said
Sir Peter Stothard said: "We found the six books most likely to last and repay future re-reading. These are very different books but they show a huge and visible confidence." He also called this year an "exhilarating" one for fiction: "the strongest, I would say, for more than a decade." He added: "We read and we reread. It was the power and depth of prose that settled most of the judges' debates and we found the six books most likely to last and to repay future rereading. These are very different books but they all show a huge and visible confidence in the novel's place in the renewing of our words and our ideas."
It's a win for small publishers
Deborah Levy struggled to find a publisher for her novel, but found a home with Any Other Stories…. Tan Twan Eng's book about the Japanese occupation of Malaya was also turned down by almost all the publishers in England: "They said it was difficult to market and they didn't know what to do with it and it was Myrmidon who were brave enough to take a chance on me," quoted on The Guardian.
Who was left off?
This year Martin Amis, Rose Tremain, John Lanchester, Peter Carey, Zadie Smith, Ian McEwan, John Banville, Howard Jacobson and Pat Barker all published novels, but none of them made the cut.