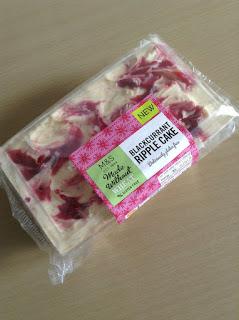 When this Made Without Wheat Blackcurrant Ripple Cake appeared in M&S recently I was practically elbowing people out of the way to buy one...okay, not really, but I was in spirit! It's mighty hard to get good gluten free cakes but this one looked and sounded amazing...it's a moist gluten free loaf cake with Blackcurrant sauce running through it, topped off with buttercream and extra Blackcurrant ripples. What could be better?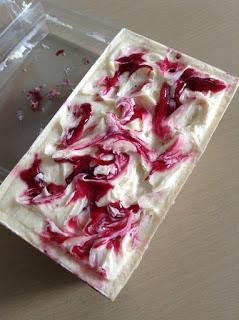 I must admit I do find it odd that M&S chose Blackcurrant as the main flavor for this cake, after all it's not a very common or popular flavor...raspberry or lemon are usually the go to cake fillings with good reason. I guess they wanted something that would stand out!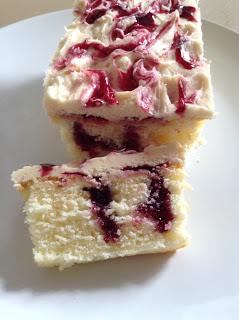 And stand out it does! This is a very rich, heavy going cake. The buttercream is sweet and buttery, but it was almost a bit too much for me. The Blackcurrant sauce gives a nice fruity kick but to be honest, combined with the rich buttercream it was all just a bit too much. Something lighter like raspberry or even passionfruit might have been more appropriate. The cake itself was just okay...it wasn't as dry as some gluten free cakes but it wasn't brimming with moisture and lightness either. I can't help but suspect the heavy buttercream and strong Blackcurrant flavor were meant to deflect attention from it.
Overall, I really don't mean this to come off as a negative review because as it stands, this is a tasty gluten free cake compared to what most supermarkets are offering. But it could be much better, and I hope to see yet more innovation in the Free From world...us gluten free folks demand cake, and we demand it now! I hope to see a gluten free Red Velvet cake one day...please consider it, M&S!


7.5 out of 10.