M&Co recently contacted me to inform me that they were holding a competition to win your ultimate holiday wardrobe. As you all know I LOVE holidays and travel of any kind, so put that alongside the word 'competition' and you'll be guaranteed I'm on it.
To enter, M&Co have set bloggers a challenge to create their own holiday wardrobe capsule, stating why you've chosen your specific items and why it has to be in your suitcase! The challenge being you are only allowed to 'spend' £100 or less!
I thought hard about this - The last 3 holidays I've been on have been action packed to the point where I've needed another holiday to get over the first! They've consisted of early mornings, late nights and being on my feet all day in the heat. For those that don't know, the arches in my feet are about to 'drop' so being on my feet for long periods is really hard for me now. I've either been in that much pain or that tired that we have often missed eating out in the evening, which is unfortunate because for me, a part of going on holiday is to sample new foods and restaurants.
With that being said, I hope my next holiday in an ideal world is going to be a relaxing slow-paced one, full of days around the pool/beach with a good book and a cocktail. I'd be refreshed and pain-free, therefore actually wanting to dress up in the evening for a meal.
I browsed M&Co's holiday shop and spotted quite a few things I wouldn't mind sticking in my suitcase! I will admit I fell in love with a few of their dresses and kimono's! However knowing I was on a spending limit, I had to pack wisely!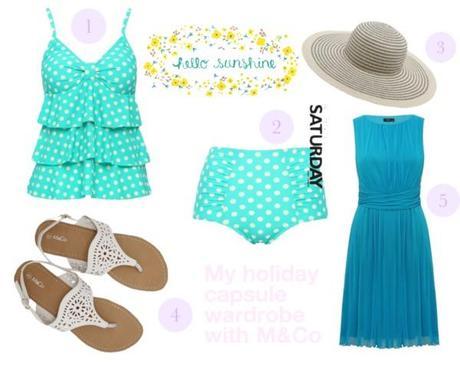 #1 I spotted this gorgeous mint green tankini top which would be perfect for lounging round the pool or on the beach. I've put weight on and I'm extremely conscious so not only does this have extra coverage, but the layered frills will hide any lumps and bumps on my stomach that maybe a 'normal' tankini wouldn't. I'm a lover of all things pastel as well so this mint green color is perfect, as is the polka dot print. Because of how self conscious I am, swimwear shopping is a little daunting for me as I struggle to find something to suit my figure, however this would definitely be on my wishlist this year should I be able to persuade my boyfriend to go on yet another holiday with me!
#2 I've been attracted to these high-waisted bikini bottoms ever since they came out in the shops. They're very 50's but are very flattering on the more curvaceous figure! I can imagine them being much more comfier than thong style bottoms too! (Oh dear, I'm showing my age now aren't I?!). As I previously stated, I intend my next holiday to be relaxing, so I need something comfy if I'm going to be in swimwear a lot!
#3 This floppy sun hat is a must for me as I'm a natural red-head, so I'm prone to burning, especially on my scalp! I think floppy sun hat's not only help protect your head against the suns rays, but teamed with a pair of large sunglasses, this will help create a stylish retro look.
#4 I remember the days when I used to pack about 6 pairs of shoes when I used to go away. Unfortunately now, me and heels aren't friends for very long anymore, so when I pack for a holiday, I'm looking for versatile sandals that I can team up with a variety of outfits, both day and night. This helps me to save a few kg on the luggage allowance too! I spotted these white cut-out sandals which can be worn both in the day and at night. They have an ankle strap which means no annoying 'flip-flopping' sound when you walk, or gripping them on your feet! (Who else hates that?!) They're flat as well, which means I may just be able to walk a little further ;-) The cute cut-out detail makes them just that little bit more pretty which makes them versatile for the evening too.
#5 When I saw this grecian mesh dress I just knew it'd be the perfect style for me. The gathering at the waist tucks in at the right place, the high neckline adds structure and almost creates an illusion that you're just that little bit slimmer! The material of this I can imagine to be light and floaty, which would be perfect for evenings when its cooling down. The elegance of this dress is timeless. I'd even pair it with the cut-out sandals, pop a silver clutch bag with it and some long drop silver earrings and I'd be good to go!
Total spent - £100 exactly. I don't mess around when someone gives me a budget!
I now want to go on a beach holiday with these clothes in my suitcase!
Which is your favorite items?
If you would like to enter this blogger challenge feel free! I'd love to see what you'd pack!
 NB - I am running a giveaway on my blog to win a 250ml bottle of bioderma (the eye make-up remover every has raved about!). I have 2 up for grabs so enter now to be in with a chance of winning!