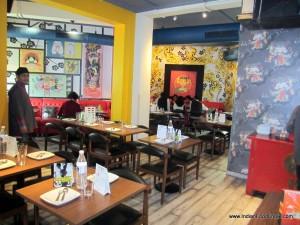 Mamagoto Interiors
When I was invited by Mamagoto to come and preview their winter menu, I gladly accepted it. Asian food is always a favourite, and I am always game to try new dishes. So on this winter afternoon, I hike my way up to the Mamagoto Khan Market outlet, all ready for the foodie adventure.
Mamagoto literally translated it means "to play with food" in the Japanese language. Based on this central thought of making Asian cuisine fun, the three-year-old restaurant chain has evolved the menu and the décor. So the atmosphere is relaxed and casual and the decor quirky. The manager Ashok Kumar tells me another interesting trivia – all Mamagoto branches have only 48 covers.
The tasting session starts with tom yum prawn soup (Rs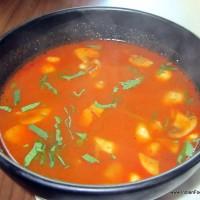 Tom yum prawn soup
265). It is good, hot and spicy, but in deference to the taste buds of Delhiites, skips the essential shrimp paste. This makes the soup low on umami, and not as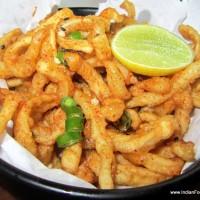 Calamari fritters
enjoyable as one would find on the streets of Bangkok. Calamari fritters (Rs 375) are perfectly cooked. Unlike many other places, here they are not over fried, and retain their soft crunch. They are rightly seasoned, with an exciting chilly mayo accompanying it as a dip. Makati city discovery (Rs 265), a dish from their winter menu, has cooked vegetables wrapped in a rice roll with pineapple salsa. It does not really work well as a dish, since it lacks a distinct flavor and has an unimpressive texture.
Pork spare ribs (Rs 1125) are beautifully cooked and ready to fall off the bone.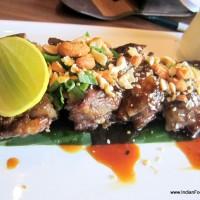 Pork spare ribs
I love the thoughtfulness in having the wet tissues being served along with it because the best way of eating ribs is with one's fingers. Tangtze river grilled fish with black beans and pickled chillies (Rs 445) is a good dish but somewhat imbalanced. The sauce is a bit too sweet and the taste of black beans gets lost.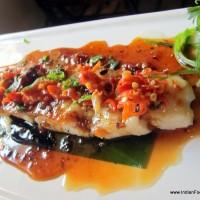 Tangtze river grilled fish with black beans and pickled chillies
In the main course, Soya butter garlic prawns (Rs 585) served on a bed of garlic butter udon noodles has robust flavours and is quite enjoyable. I just wish the noodles had not been overcooked. Banana lotus fish (Rs 515), an Indonesian turmeric flavoured curry with rice wrapped in a lotus leaf is amazing comfort food.  I enjoy the drama in opening the wrapped parcel to have the fresh fragranced of the dish overwhelm me. The dish is a complete meal, appealing well to my desi curry-rice palate.
For desserts I sample a soft caramel sponge cake (Rs 190) and a deliciously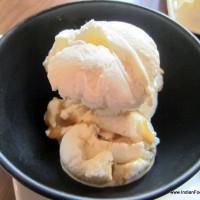 Home made coconut icecream
divine homemade coconut ice cream (Rs 145) which has a hypnotic effect on me. I just can't stop at one bite. It is a rich, creamy, gooey treat.
It is easy to see why Mamagoto is so popular with its patrons. One can feel the buzz in the air here. The food and the service match it admirable well. It has been an afternoon well spent for me.
Ratings out of 5
Food: 4.0 | Ambiance: 4.5 | Service: 4.0 |Overall: 4.0
Meal for Two: Rs 800 | Alcohol: No | Credit Card: Yes| Timing: 12:30 PM to 11:30 PM| Address: 53, 1st Floor, Middle Lane, Khan Market, New Delhi| Phone: 011 45166060, +91 8860906881
Pork spare ribs
Makati city discovery
Mamagoto Interiors
Tangtze river grilled fish with black beans and pickled chillies
Caramel sponge cake
Calamari fritters
Banana lotus fish opened
Banana lotus fish unopened
Home made coconut icecream
Tom yum prawn soup