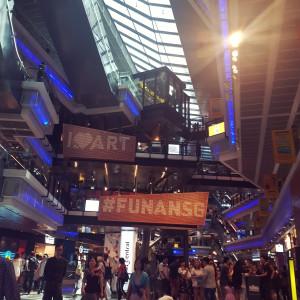 Finally, I pulled myself out of bed and ventured outside for a good ole date with the Hubz. We decided to pop by the newly revamped Funan Mall cos of the hype. I am pretty much in awe by the whole mall because there seems to be so much going on. There were a lot of lights, people and much to see.
However, it does feel like everything is all over the place (not in a sense like a maze). Definitely worth the hype to at least explore it at least once cos it does seems avant garde and kept me rather entertained for a good half day :D And I thought, why not bring back Mall Talk!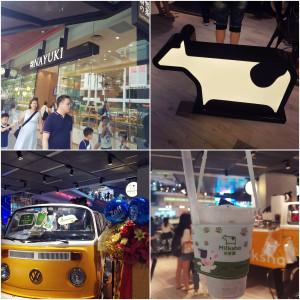 1. Queue
One true real hit for me were the drinks and desserts selection there. And all the shops came with sigh...a queue. The PPP Coffee smells super aromatic. But because I really can't take strong coffee/tea in the afternoon, I had to give it a miss. Nayuki (my fav!) had an outlet there as well. But there was no way I was going to queue for it given that you can pretty walk it and get what you want at the Vivo outlet.
We ended up queuing for Milksha and I really enjoyed the yam chunks in my drink. Nasty Cookie also set up a store in Funan Mall. There was quite a bit of satisfaction watching the staff pump in the sinful cream and chocolate. Didn't get one in the end, because I like to think I am health conscious. Haha.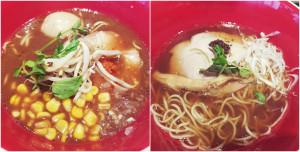 2. Eat 
There is quite a good selection of food and at a pretty affordable price-point. Unfortunately, I wasn't entirely prepared so I didn't go there with an empty stomach (totally regretted that) since it was a last minute venturing decision :P But, I did a see a few joints which I would totally be trying out in future. So keep a look out for these future posts!
With my limited tummy space, we decided to settle on Tsuta Japanese Soba Noodles cos it is an one-star Michelin store and there are no other joints in Singapore. To be very very honest, i am not much of a fan of this authentic Jap taste. >_< I guess there is no harm in giving it one try, but you definitely won't be seeing me stepping in for a second time.



3. Explore
As mentioned earlier, there's quite a bit to see. So wear comfy shoes. I walked so much, my calves hurt! For me, interesting shops include Iuiga, the rooftop garden, Think (where you can check out cute stationary while queuing for Milksha), Kiap Kiap (I enjoy spectating as people catch their prizes) and Xiaomi.
Dyson Beauty Lab was pretty intimidating. There was like no one even in the store, so I didn't even really dare to step in to play with their stuff. If you are a fan of mobile gaming, you can sit around to watch teams compete with one another. But honestly, I thought it was extremely underwhelming as compared to computer gamers, really not my thing. Legs were really tired, so that was basically the end of my journey! :P