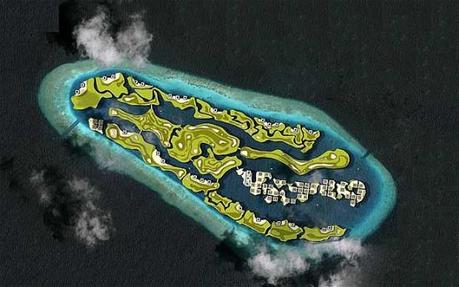 It's your move, Coeur d'Alene.
You may be aware of the Idaho resort's famous par 3 14th hole, which features a movable floating green, but the Maldives have revealed plans that call Coeur d'Alene's one hole and raises them 17!
Mark Prigg of the Daily Mail (whose report includes plenty of pictures) brings word that the Maldivian government, in collaboration with Troon Golf and the Dutch architecture firm Waterstudio, released more details this week of an entire course that floats and is estimated to cost $520 million. Prigg reports that the inspiration came from the island nation's precarious existence in the face of climate change:
With an average elevation of just five feet above sea level the Maldives, with its 1,192 islands in the Indian Ocean, is the lowest country in the world.
Amid fears many of the islands will soon sink into the sea, the Maldivian government has started a joint venture with the architectural firm Dutch Docklands International to build the world's largest series of artificial floating-islands.
The yet-unnamed course will be powered entirely by solar panels and is expected to be the first completed part of the massive floating island resort complex, according to The Daily Mail. It will be built in India or the Middle East before being "simply towed" into place just off-shore of Male, the Maldives capital city.
And of course, according to Dutch Docklands CEO Paul van de Camp, "it comes complete with spectacular ocean views on every hole."
Although that would appear to exclude the clubhouse, which will be entirely underwater among the submarine tunnels that link the islands together.
The course is scheduled to open in late 2013 with the entire complex set to open in 2015. Just be sure to bring plenty of extra balls.
This article was written by Michael Rosengart.