"Let's go see the whale shark!" said Darren. "Okay sure!" I happily chirped, not even knowing what it looked like. I was expecting dolphins. So you can imagine my utter shock when I jumped into the water, and there it was, the Goliath of fishes I have ever seen swimming right towards me (then again, most of the fishes I see fit on my dining table). Glurp, keep still, pretend that I am a coral…until I remembered that they only feed on plankton, phew (and I look more like roasted pork after 2 days in the Maldives). It was then I began to admire this graceful giant…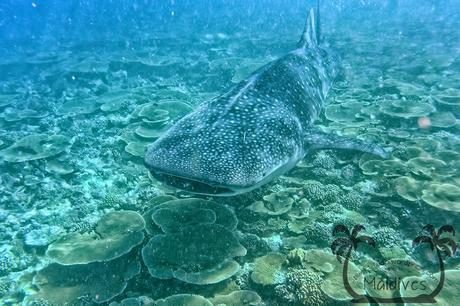 Whale sharks are the largest living non-mammalian vertebrate in the world with the average whale shark measuring about 9.7 metres (as long as a bus) and weighing about 18.7 tonnes (comparable to the largest dinosaurs). They feed mainly on plankton by sucking in water which contains the plankton and filtering out the excess water through their gills. It has five large pairs of gills and with a mouth measuring up to 1.5 metres wide containing 300-350 rows of tiny teeth. They are gray in color with pale yellow spots & stripes all over – and these are unique to a whale shark, like fingerprints! The whale shark lives about 70 to 100 years old.Places where you can swim with the whale sharks include Isla Holbox (Mexico), Utila (Honduras), Ningaloo Reef (Western Australia), Gladden Spit (Belize), Donsol Bay (Philippines), Tofo Beach (Mozambique), South Mahé (Seychelles), Koh Tao (Thailand) and South Ari Atoll (Maldives).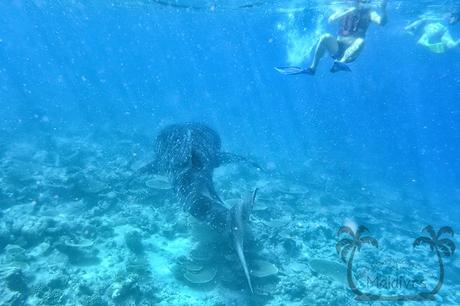 What a magical momentDespite its size, the whale shark does not pose any significant danger to humans. They are gentle by nature, and even curious about nosy divers and snorkellers. The Maldives is a great location for whale shark sightings all-year round. Conversely, the human poses more danger to the whale shark – they are hunted for their meat, fins and oil in parts of Asia. It is on the verge of extinction and listed as a 'Vulnerable' species by The World Conservation Union.
Remember to keep a respectful distance from the whale shark, and NEVER try to touch them or use flash photography (how would you like to be fondled and flashed at by strangers all-day long?). Everyone should do this at least once; it's an experience never to be forgotten. I want to see it again.
Here's one off my bucket list! :)