Malcolm Young Of AC/DC Has Passed Away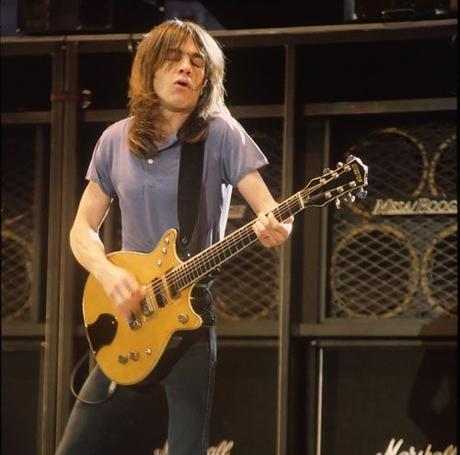 In sad rock-n-roll news, iconic Australian hard rock band AC/DC's founder Malcolm Young has passed away. The 64-year-old is said to have died peacefully at home. To me, he'll always be "the guy with the long hair playing guitar behind Brian and Angus." He wasn't the flashy one in the schoolboy outfit (that was his brother Angus Young), but he's described as the "driving force" for the band in his Wikipedia entry and he co-wrote some of the greatest songs of all time. You aren't legally married in some states if "You Shook Me All Night Long" wasn't played at your wedding reception.
A statement from his family (via Rolling Stone) says that he died peacefully at home. Young had taken a break from the band to be treated for dementia in April 2014, and permanently retired in September of that year. He gave the band his blessing to keep on rocking without him.
"Renowned for his musical prowess, Malcolm was a songwriter, guitarist, performer, producer and visionary who inspired many," the statement said. "From the outset, he knew what he wanted to achieve and, along with his younger brother, took to the world stage giving their all at every show. Nothing less would do for their fans."
Malcolm was from Glasgow, Scotland, and founded AC/DC in 1973. He's the guy who co-wrote "Back in Black," "Hells Bells," "Highway to Hell," "Thunderstruck," "For Those About to Rock (We Salute You)," the aforementioned "You Shook Me All Night Long," and many others. He was respected rock royalty!
In the 2008 Rolling Stone profile on AC/DC, the Young brothers were asked "Who runs AC/DC?" "We both do, because we were there from the start," Malcolm replied. The Young brothers and AC/DC were inducted into the Rock and Roll Hall of Fame in 2003. With over 110 million albums sold, AC/DC is also the highest-selling Australian act of all time.
Besides creating goddamn AC/DC, Young was also a recovering alcoholic who got sober in 1988.
After a few months, Malcolm returned to the band and remained sober ever since. "I was not surprised," George Young said his younger brother's sobriety. "When Malcolm puts his mind to something, he does it."
R.I.P. Malcolm.
Pic: Wenn.com
Source: Malcolm Young Of AC/DC Has Passed Away
2 total views, 2 views today