I am sure you must heard or read about BlogVault. I had just recently posted an article about it. BlogVault is an online backup service that provides excellent and secure backup service to all WordPress websites.
This tool is a simple, safe and efficient way to back up your entire website data including recent articles, posts, videos, plugins, and settings. Read my review of "BlogVault: WordPress Backup & Security" to learn more about BlogVault and its features.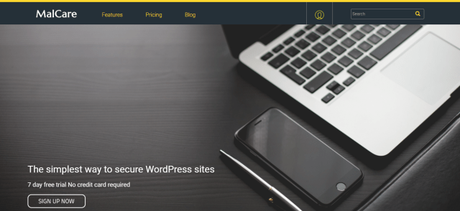 But in this article, I am going to talk about another amazing product called "MalCare: Malware Scanner" that has been developed by the same team that worked behind the success of BlogVault and is slowly emerging as one of the best Malware Scanning tools in today's time.
Why do you need a Malware Scanner?
Anything and everything on the internet is prone to hacks some time or the other. If you have a fully functioning website, then you need to make sure that it remains secure against any kind of malicious codes and hacks.
Coming from the same development team, MalCare is definitely something interesting and worth your attention. What makes it even better is that it has been exclusively designed for WordPress websites.
Let's read through to learn more about it!
MalCare: WordPress Malware Scanner
After achieving much acclaim and success in the niche of website backup services through BlogVault, the same development team decided to employ their skills and expertise to design another WordPress exclusive tool for Malware scanning, which along with BlogVault, will make your blogging experience more secure and hassle-free than ever.
So yes, MalCare is an online automated Malware scanner and plugin designed especially for Websites running on the WordPress platform. It is the only single-click, fully automated hack cleaner available in the market today, which means you don't have to wait for technical assistance, which that usually takes 12 hours or more, depending on the complexity of your hack.
Also, read:
MalCare employs a decisive and learning algorithm that utilizes data collected from the cases the team has previously dealt with, and learns from it. It processes more than 100 signals and characteristics, to check if your site has been hacked. This feature helps identify the most complex hacks, with the minimal amount of errors. Thus, you can be at ease about your WordPress site's security.
MalCare: What makes it different from others?
The BlogVaut development team has made perfect use of their skills and experience in crafting this tool, ensuring least amount of errors and maximum results for its users. As a result of which, MalCare Malware Scanner has garnered significant praise and popularity in a relatively short period of time.
MalCare effectively picks and fetches every suspicious file to its servers and scans it using their advance set of algorithms.
The best thing about these algorithms is that, unlike other plugins and tools available in the market, these don't slow down your WordPress sites at all, since these algorithms run on their systems.
Unlike other similar tools in the market, MalCare doesn't even use check for signatures or a pattern.
MalCare effectively processes its data and tests over 100+ signals to identify hacks overtime and keeps learning from it.
MalCare is quick and simple. It is a single-click, fully automated hack cleaner, which means you can clean your site with a single click.
MalCare has made a name for itself when it comes to accurate scanning. Their system effectively identifies the most complex hacks, with zero false positives.
MalCare: Features & Major Advantages
Accurately Detects Even Complex Hacks
MalCare is the most effective, efficient and accurate way to scan and detect even the most complex WordPress hacks like Malicious code, hack codes, hidden Trojans, that can hide anywhere on your WordPress site and comes in many forms.
No matter where its hideout is or how complex its structure is, MalCare's intelligent processing engine sniffs out any such sort of malware from your website.
Doesn't Sound False Alarms
There are numerous Website scanning tools that raise a false alarm and get you tensed. Then when you scan through, you find nothing. This can waste your time. However, if you ignore them you might also miss notifications about any malicious code on your site.
But with MalCare, there is nothing like false alarms, or notifications about 'possible hacks'. MalCare efficiently investigates any such malicious and mal-code and alerts you about legitimately malicious instances on your WordPress site.
Detects Malware, the Intelligent Way
As mentioned earlier, MalCare is built on an intelligent processing engine and employs smart algorithms that keep learning from data it processes. Furthermore, it focuses solely on code based on its behavior and heuristics, rather than signature.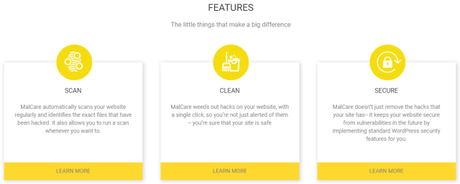 MalCare evolves overtime to keep up with malicious codes and hack threats, and is pretty well equipped to keep your WordPress site safe and secure even in the future.
Removes Malware with One Click
Most security solutions in the market today use manual inspection & removal of bad code to solve complex hacks. This isn't really a useless way to come about it, but it can take anything between a few hours to a few days to complete properly.
MalCare in comparison to them removes every simple or even complex hack with one single click. Thus, you don't have to wait for time consuming technical support either.
Tough on Malware, Easy on Site- Performance
Even while performing such complex security scans in the background, MalCare allows no compromise with your WordPress site's performance. All thanks to MalCare's advance heavy-duty hack-detection algorithms that exclusively run on their servers, not yours.
So basically, you will not have to choose between your site's security and performance. You get both of them efficiently and at ease.
You may also like:
Automatically Scans Your Site Daily
MalCare automatically scans your site every day, automatically. So even if you always forget to schedule scans, it will not be a problem.
Hacks always take you by surprise. So having MalCare scan your site every day reduces any chances of that.
MalCare: Plans & Pricing
MalCare offers customers to choose from 3 different plans according to their requirements. Each of these plans is priced differently on the basis of the features and services they offer.
Basic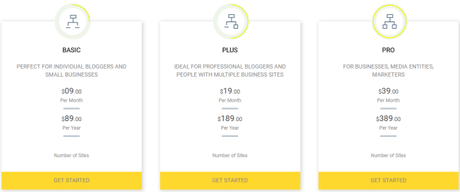 Price: $09 per month ($89 per year)
Number of sites: 1
PERFECT FOR INDIVIDUAL BLOGGERS AND SMALL BUSINESSES
Plus
Price: $19 per month ($189 per year)
Number of sites: 3
IDEAL FOR PROFESSIONAL BLOGGERS AND PEOPLE WITH MULTIPLE BUSINESS SITES
Pro
Price: $39 per month ($389 per year)
Number of sites: 7
FOR BUSINESSES, MEDIA ENTITIES, MARKETERS
Apart from these three plans that offer backup for a limited number of sites, MalCare also offer three additional unlimited plans that offer backup services to unlimited number of websites.
Basic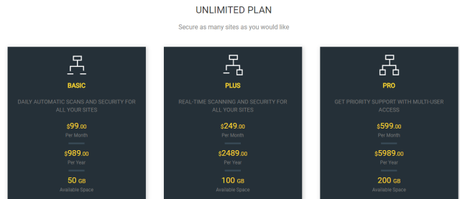 Price: $99 per month ($989 per year)
Number of sites: UNLIMITED
DAILY AUTOMATIC SCANS AND SECURITY FOR ALL YOUR SITES
Available backup space: 50 GB
Plus
Price: $249 per month ($2489 per year)
**COMING SOON**
Number of sites: UNLIMITED
REAL TIME SCANNING AND SECURITY FOR ALL YOUR SITES
Available backup space: 100 GB
Pro
Price: $599 per month ($5989 per year)
**COMING SOON**
Number of sites: UNLIMITED
GET PRIORITY SUPPORT WITH MULTI-USER ACCESS
Available backup space: 200 GB
MalCare further offers you a full featured, free 7 day trial in case you want to make sure if their services are worth your time and money. Just sign up for free and check it out. NO CREDIT CARD REQUIRED!
Visit their official website www.malcare.com for more information regarding their services, plans, features, prices and more.
MY SAY
Like I've mentioned earlier, literally everything on the internet stands a potential threat of getting hacked some time or the other. Sometimes, even adding a new plugin or changing your website's theme can result in bugs and viruses for your site, resulting in its crashing.
Crashing of a website due to viruses or the entire website getting hacked can be really painful to deal with when one's work is near completion or already completed or when the site is gaining popularity.
MalCare offers you just the right solution for all such problems. An online malware scanner and plugin specially designed for WordPress websites, this tool aims at providing simple, safe and efficient scanning and security to your entire website.

It is easy to use and conduct security checks on your WordPress website. Swift and simple experience, the MalCare plugin for your WordPress site makes it even simpler and quicker for you scan through any kind of potential threat with JUST ONE CLICK. This One click malware scanning feature is not available in any malware scanner in the market.
I personally loved the feature that you don't have to manually scan your website for malicious codes and hack threats daily. It automatically scans your site every day, automatically. So even if you forget to schedule scans, MalCare will do your work.
Your data will be securely stored on their server during scanning to minimize any chances of data loss, with a further backup to Amazon S3 servers. Plus, they offer massive disk space starting at 50 GB.
Altogether, if you are looking for the best solution to keep your website secure from any kind of internet hacks and threats, then MalCare is the thing for you.