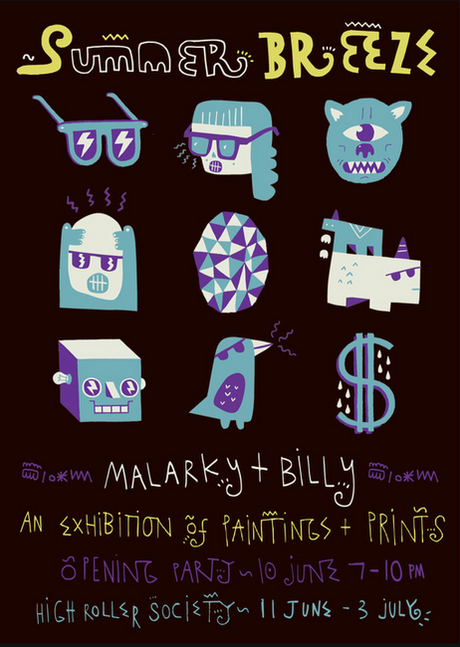 Producing upwards of six murals in a single evening may seem like the work of ten robots, but
Malarky
and Billy simply have it down to an animalistic instinct. Being inspired by skateboarding and trained by foxes has certainly had its benefits; the adroit duo has been painting towns in a medley of 'look-at-me!' colours across the UK and beyond non-stop since the freezing snow day when they first met.
As the warm weather approaches, the two artists have delivered hoards of redecorated work trucks and shop shutters with lightening-fast ferocity, the culmination of which heralds their first London show, SUMMER BREEZE. The exhibition blows in on 11 June with a series of original paintings and prints to resonate the new season.
Raised in South London, Malarky's style is influenced by a combination of the multi-cultural surroundings of Brixton, and the laid-back vibes of sunny Barcelona where he spends half his time. Malarky's trademark foxes pay homage to his home turf where the animals roam freely around the city streets at night, echoing that of his own evening escapades with the likes of Billy, Mr Penfold, Rowdy, and Mighty Mo.
Childhood adventures in Africa fused with a background in graphic design influence Billy's tribal-esque shapes and bright colours.
Billy
incorporates funky typefaces and wild colour combinations to create a style that is abstract, bold and fun. Taking this on trips to colour up the streets, Billy is enjoying the positive vibes and community impact of drawing big and painting bigger in Brixton and beyond.
SUMMER BREEZE presents both individual and collaborative works by the artists, and runs until Sunday 3 July at
High Roller Society Gallery.
11 JUNE-3 JULY | OPENING PARTY FRIDAY 10 JUNE 7.00-10.00 PM
HIGH ROLLER SOCIETY | 10 PALMERS ROAD | LONDON E2 0SY