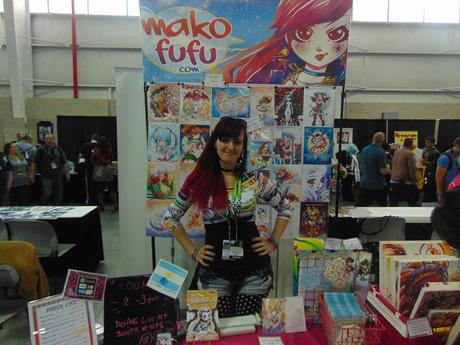 There's life in being inspired by what you grow up in, and for Gisela Alejandra Vergara, or Mako Fufu, as she grew up in Argentina, seeing a number of Disney films and discovering anime and manga inspired her to become an artist. She moved to the U.S in 2012, and 2015 was her first full year of traveling to conventions around the country. Since she was at New York Comic Con, I stopped by her booth on Sunday to ask her how she discovered anime and manga, the decision to move from Argentina, and how things have changed for her since coming to the U.S.
Organization ASG: So how has New York Comic Con been for you?
Gisela Alejandra Vergara (Mako Fufu): Awesome, really the best convention so far–
OASG: The best? You've gone to other conventions this year correct?
Gisela: Yes, it's my first year doing conventions and I've been to everything I could book!
OASG: How does NYCC compare to all the other conventions?
Gisela: Like, 50x bigger and busier and crazier?
OASG: I guess that's what makes it stand out!

Gisela: Yeah, it's awesome, I love it.
OASG: You've gotten a chance to see anything you wanted while here?
Gisela: I wanted to be here, in the artist alley. I've been attending NYCC since 2012 and I was dreaming to have a table here, so I'm just happy to be in the artist alley.
OASG: How was it like growing up in Argentina?
Gisela: Well…it's…different. I was born and raised there, I just came here three years ago…it's…there's not as much of a market for art as it is here. So while you like to do this kind of work it's tough. I love the people, I love the place, but for this kind of work it's not ideal.
OASG: It's interesting that you say that. There were cartoons shown on TV right? How did you actually discover cartoons?
Gisela: I was attracted to manga and anime, but I didn't really know what were they, it's like, "Oh, I really love these big eyes and these specific special effects that they have!" and I didn't know, I was like, 10 and making a long list of cartoons that I called Japanese cartoons — my mom would call it Chinese cartoons and make fun of me all the time but when I was 13 I found this Spanish book that explained everything, what is manga, what is anime, the words. My mom didn't want to buy it for me because she flipped through it and saw some sexy stuff –like, not terrible —
OASG: Like not 18+ stuff.
Gisela: No, no! It was just stuff like, "There's someone taking a shower, they have no clothes–" You couldn't really see anything but my mom was like, "Nooo! You are too young!"
So the next day I went with a friend of mine and brought it myself. So nothing was really known in Argentina — there were shows on TV, like everybody knows Speed Racer, Astro Boy, and such — but they didn't know. I had always drawn, I was doing more Disney kind of style, and when I wanted to learn how to draw this type of style, nobody would teach it, and I didn't want to learn comic book style because I wasn't what I was attracted to. So I just practiced until I got to this.
OASG: What Disney titles were you able to watch?
Gisela: The Little Mermaid, all the princesses, Beauty and The Beast, Aladdin, but The Little Mermaid was something that I used to do all the time, I'd watch it a million times. But yes, I was obsessed with it and still obsessed but I like to draw these better *laughs*
OASG: What was the moment that convinced you that drawing was something you wanted to do for the rest of your life?
Gisela: Well I remember I used to think that in Japan they have so many people who draw much better than me, so why would they want me? And when I was 16 I started to hang out with other people who liked anime and manga and…it was really weird at the time, it was a time where you used to trade VHS because…yeah it's rare anime, it wasn't really rare but it was hard to get!
And I remember a friend of mine brought me an Adam Warren comic and he was like, "Yeah he's doing a manga, he's doing like Dirty Pair and stuff," but I was like, "But he's American, he's not Japanese!" "No but in America, they do that too!" There wasn't much internet either at that time, I'm not that young *laughs* So I was like ok, that's possible. Maybe not here, and maybe not in Japan that's super difficult, but maybe in the rest of the world, the world is really big, so when I was 16 I pretty much figured out that it was something I wanted to do because I couldn't stop drawing anyways, even if I wanted.
OASG: Like nobody said no, stop drawing, find something else–
Gisela: Yeah, my mom and my dad. They were like "stop doodling around" and "go do your homework"; I had good grades, so what's your problem with this you know? They were like, "What, you want Sailor Moon cartoons? You're 13! You're old for this!" But I couldn't help it. They grew to like it and now they're like, "Oh my god, she's at New York Comic Con, she's in New York," but in the beginning it was really tough. But they were worried, they knew it wasn't something that I could've make a living of back there — well maybe, but very little.
OASG: You wasn't sure you could make enough money drawing in Argentina correct?
Gisela: Right. I used to work, do illustrations, a lot of different graphic design things there, but I barely made a living out of it and I was working all the time. It's hard because right now you can't get money from outside the country, they don't allow people to receive dollars. So you know how Paypal, if you have it you can buy stuff online, but you can't even receive the products. You would have to buy internet hosting or something that you're not going to receive and it's crazy.
So at some point I used to work and do some stuff for people in American prices but then they did this and I couldn't get anymore money from other countries. I had to limit myself to whatever I could get there, I did children's book illustrations, stuff like that there, but it didn't pay enough.
OASG: And eventually that meant you had to move to North America, correct?
Gisela: That's because I'm a crazy person sometimes and I came here–
OASG: That was a difficult decision wasn't it?
Gisela: No, sometimes I'm a crazy person. I came here 3 years ago for NYCC on Friday, and I came here to NY for a month to do a show with a friend, and the third day I was like, "what if I stay? I don't have anything to lose." I had to do a pile of paperwork but it was like, I'm already here, this is the place that I think I can make it…so worst case scenario, I go back *laughs* So you know, it's been working really good so far.
OASG: What were some of the first things you were able to do that you couldn't do in Argentina?
Gisela: Well, conventions, yeah. They have artist alleys in some conventions but they're not as massive. People don't buy independent stuff as much, so you probably won't pay for the table, they'll give it to you for free but you're not going to make much sales, and producing anything is pretty expensive, so you can't really price it much higher than the costs you have. So I used to do that for a little while and it wasn't worth it and I stopped it, and I've been doing this here, and it's like, really really good. I get to meet people and people are excited about my work and I'm excited about them being excited, so it's really good.
OASG: How would you say your style has evolved since you've come to the U.S?
Gisela: I don't think it's changed much. I've been able to try different traditional media, those I have to try and figure out, to photograph and post correctly, that's why I don't have that many, they'll lose quality when I photograph them. But there's a lot of tools that I have access to that are from here or from other countries that don't get to Argentina. So I've been able to experiment with that and try new things.
OASG: Like you've done like live drawings, traditional media, and murals at street places — how is the process like and how do you approach each of those mediums?
Gisela: Well it depends on the size of the mural, for example, I made for a restaurant a huge mural, so in that case I took a picture of the place, I sketched over the picture, and I showed the owners like, "Is this something you would like to have at the front of your restaurant?" And they were like yes, then I was like, "How am I going to do this? It's two stories!" But you get references, like some people use a projector or something, the place has windows and stuff so I use those as a reference of size and everything and I got it through. And then there are other murals that I have done that they were like, "Ah, we have this wall, do you want to paint? Here's paint!" And I was like "yeah, I want to paint the wall for free and just doodle around" like I do in the live painting. Just start playing with colors, and it's more of a relaxed thing to do. It's really good because it's like when you doodle on the phone you don't think about it, so for me it's like that, I get really relaxed and I'm like somewhere else.
OASG: Did you happen to have any artists that influenced your style or no?
Gisela: Well Disney influenced me, um, they are famous but not many people know them as much. I love Mutsumi Inomata's work, she did a lot of work for the Tales of games, but I used to watch a movie that she made when I was a kid, Leda: The Fantastic Adventures of Yohko, and that was like, ahhh, amazing for me, and I used to draw that, and Hiroyuki Utatane, he's more of a hentai artist but he makes like these squishy bodies and these dynamic positions because he makes other things besides hentai but he's always like, ohhhh, you know, ecchi!
But yeah, those two influenced me a lot and then a lot of other artists because I'm always looking at other things, like I always pick a little bit of something because I love to try new things and so I'm like "Huh, I haven't tried these colors" and you know, but that's what I can think about now *laughs*
OASG: You also teach correct?
Gisela: Yes, I used to teach in the Argentinian school of comics, a class for kids, and also some intensive workshops for adults about chibis, and also re-painting workshops around the country back in Argentina.
OASG: What do you hope students take away from your classes?
Gisela: I hope that they do what they like because I don't want them to draw like me, or feel like there's an instructor and that's rigid. The best thing is doing what you love, so I want them to find a way to enjoy their style, embrace it, and to develop it because a lot of people came to my workshops like, "Aw yeah but I'm not good at this," and they have good things! The thing is they were comparing it to other things that they like and so maybe it's sometimes you really love some artists or some style, but maybe your style doesn't want to go that way. I love a lot of realistic stuff, and my style doesn't want to go that way! I try and I'm not enjoying this. And it shows in the work. If you enjoy it, maybe make a few lines and it feels more alive than anything you try to do and put hours and hours of.
OASG: My final question is what have you been able to keep up with in the past couple of months? Anime, non-anime related, TV shows, etc?
Gisela: TV shows mostly because anime you have to pay attention and read everything, and I like to watch them in Japanese. I haven't had the time to sit down and watch anything…but Game of Thrones, The Walking Dead, Rick & Morty *laughs* I watch a lot of shows, some I pay attention to, and I watch a lot of others that I listen to while I work in the meanwhile.