Mark 5.21-43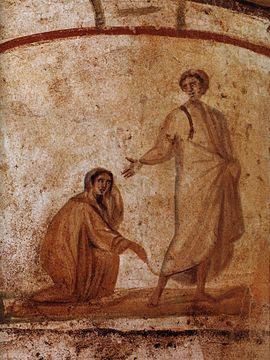 If you had a choice of superpowers, what would they be?
I'd probably settle for ability to fly! Very useful in this time of closed borders ..
But what about the power of being invisible?
That is OK if you can choose to become invisible and then choose to become visible again - but what if we got trapped in our invisibility power, if we could not get out of it, if nobody could see you or hear you?
That is one of the reasons why people are scared about ghosts. 
Today we read how Jesus has the power to make ghosts real, to make the invisible visible
That is what happened with the woman
She was invisible - not in a superpower sort of way - but invisible because nobody saw her.
She was sick with a haemorrhage, with bleeding, which had lasted for 12 years.
It meant that she was unclean. It meant she would have been socially isolated. It seems that she was on our own.
She was 
like a ghost, 
the person who came in the crowd and would have gone away in the crowd and nobody would have noticed her, nobody would have missed her.
Nobody, except the people who wanted to make use of her - to bleed her dry. Quite literally in her case. Notice how Mark writes that she had spent all her money on doctors, and she still hadn't been healed.
In our cities there are many people who are invisible. They've come to the city because there seems to be no future for them at home. They've come because of a dream.

We are encouraged to be ambitious. Children are told to be ambitious. To dream big dreams. You can do anything, become anyone. And of course it is good to encourage our children to be ambitious, but there need to be reality checks.
You may desperately want to to become an astronaut, or a hockey player, or a ballerina, or an oligarch, or marry an oligarch or - if that doesn't happen - a wealthy foreigner, but so do millions of other people. And you need a plan B and a plan C and a plan D.
There is an old fable in England about a man called Dick Whittington, who had a cat, who heard that the streets of London were paved with gold. So he came to London, with his cat, and he ended up making a fortune, and becoming Lord Mayor.

But for every Dick Whittington, there are a million others, who come to the big city and who end up disenchanted, abused, lost and invisible.
When they get to the city they become invisible. At first it might be like having a super power. They can do what they want. They can go where they want. There is nobody checking up on them.
But it is possible, for whatever reason - and sickness is one of the main reasons, and so is substance dependence - for people to become trapped into an invisibility cycle. And nobody sees them. And they are trapped, lost and also extremely vulnerable.
When I was vicar of an inner city church in London, one of the great encouragements was seeing the sort of people who came to our church. There were not many rich or famous, maybe one or two(!), but many had been drawn to London, often from overseas, by the promise of a new life. But it had not worked out for them, and they had become invisible, lost. And one of our people, a London City Mission worker, Lucy from Peru set up a space called the square of grace. And people came to the church, and they met other people who were lost and who had become invisible.
And some of them found a home away from home.
I've strayed a long way from our passage!
But here we have an invisible woman. She creeps up behind Jesus and touches his robe. That would have been because she was unclean and, as someone who was unclean, should not have come anywhere near a rabbi, a religious teacher. But she also creeps up to him, because she is - in her own eyes - invisible woman (it was her way of surviving), and she had become so used to being invisible that she wanted to remain invisible.
And Jesus. Jesus makes the invisible visible. When he calls her to come forward, to show herself, she is terrified. But he does not do it to abuse her, or publicly shame her. He does it in order to reassure her that she is OK, that she hasn't done anything wrong, and that she is healed.
He does it so that she who was invisible can become visible.
There are connections between these two stories
Both Jairus and this woman were desperate
The woman had been sick for 12 years. Jairus' daughter was 12 years old
For both of them, the situation that they bring to Jesus seems to get worse before it gets better (Jairus' daughter dies, and the woman has to confess to what she has done).
Jairus comes to Jesus very publicly, very visibly - but the raising of his daughter is done privately, invisibly
The woman comes to Jesus secretly, invisibly - but her healing is made very public, visible.
And for a brief moment, which has been sealed in the scripture for eternity, God brought the lives of these two very different people together. I bet, when they meet in heaven, they will have a great deal to talk about!
It is also interesting that neither of them make any declaration of faith in who Jesus is: they do not call him son of David, son of God. They do not call him master or Lord. They simply know that he is the one who has the power of God to rescue them.
They were people who were beginning to see, with their inner spiritual eye, that which is invisible to the outer eye. They were beginning to see through the visible to the invisible.
Most of the other religious leaders saw Jesus as an upstart, a false, heretical teacher, a trouble maker, as someone who needed to be destroyed (Mark 3.6). 
But Jairus, a religious leader, saw Jesus as someone who could heal his daughter.
Most of the crowd saw Jesus as a celebrity, an entertainer, a wonder worker, a remarkable teacher. They were going with him to see how he would heal Jairus' daughter. 
But the woman saw Jesus as someone who could heal her.
We come to church today for many reasons: to hear English spoken, to meet our friends, to be somewhere that is just slightly cooler than outside!
But I do hope that we come to church today, because we are beginning to see that which is invisible. We may not have worked out exactly what we believe about Jesus, but we are beginning to understand - with the woman and Jairus - that he is the one who we can turn to in our desperation. That he is the person who can make the invisible visible, and that one day he will make everything that is invisible visible.