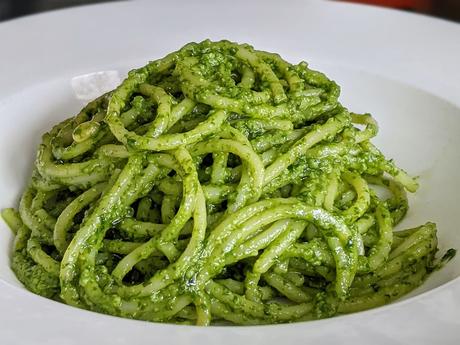 This article is about basil pesto, the second most famous Italian pasta sauce, of course after tomato sauce.
However, this is not about the traditional way to make "Pesto Genovese" - using a mortar; there are plenty of good resources on that (as greatly summarized on Food Lover's Odyssey). This article is about the more modern way to make pesto - using a blender, a method which is quite common also in Italy.
Technically the word "pesto" comes from the Italian 'pestare', to pound. Therefore, the purists would argue that this sauce should be called differently when made in a blender.
Aside from how it should be called, does the pesto made in a blender taste the same as the traditional one? Absolutely not. But it does get close, and it's much better than any pesto that I could ever buy in a jar.
But before we start throwing basil leaves into the blender, it's important to know that chopped basil is prone to oxidation - it turns dark and deteriorates in flavor when in contact with the oxygen in the air. Luckily oxidation can be countered by allowing the basil leaves to dry completely before blending them so that the oil can create a seal around the chopped leaves, keeping the oxygen away.
Basil also deteriorates and changes flavor when heated too much. To help counter this, the blender must be activated in pulses in order to limit the overall blending time and the corresponding friction produced by the blades.
Pesto sauce is traditionally used on trenette, trofie (pictured below), but also on linguini, spaghetti (as in this post's feature image), and even gnocchi.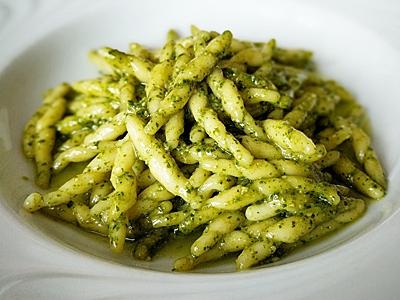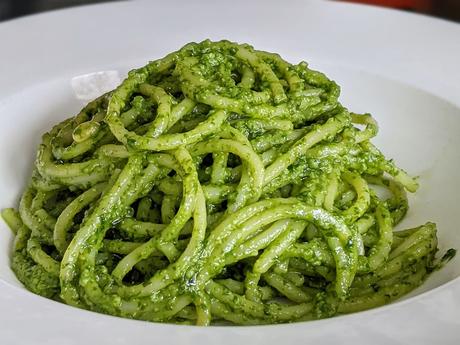 Ingredients
100 g fresh basil leaves (if you can find it, prefer the Genovese kind)
50 g Parmigiano (or a mix of Parmigiano & Pecorino cheese)
25 g pine nuts (possibly, from the Mediterranean)


½ cup extra-virgin olive oil
1 teaspoon of coarse salt
1 clove of garlic (optional)
Preparation
Gently wash the basil under cold running water and then lay it on a towel and let it dry completely (fig. 1). Do not bend or crush the leaves.
Meanwhile, put the blender's bowl and blade in the freezer for at least 10 minutes (fig. 2a).
Pour all of the oil in the blender, then add the crushed garlic (if using it) and the basil. Give it a few pulses until the leaves are roughly chopped up (fig. 2b).


Add the cheese, grated or cut in small bits, and the salt (fig. 2c). Give it a few more spins.
Add the whole pine nuts (fig. 2d).


Give a few last spins and extract from the blender (fig. 3).

Notes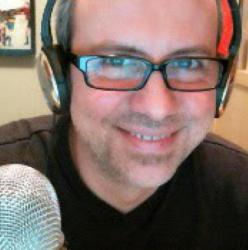 Author: Paolo Rigiroli
Now based in the UK, Paolo is an Italian who lived in Canada for nearly 18 years and blogs about Italian food and its many aberrations. View all posts by Paolo Rigiroli