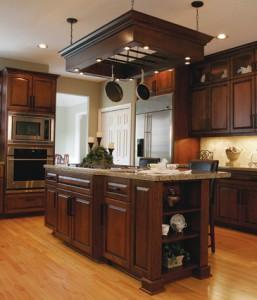 When you have a young family, preparing and cooking meals is often quite a difficult task because you have children running around your feet, the television blaring in the background and a multitude of questions being asked. With the assistance of a kitchen builder in Melbourne, however, you can ensure that your space is as family friendly as possible.
Plan a bar space – Not only does this give you additional room for cooking and even eating, it can give you a place to sit your children whilst you are trying to prepare their dinner. You might even like to place a small television on the bar to entertain them or so you can watch cooking programs as you work.
Additional stove space – You should arrange your stove so that there is plenty of room for more than one cool. This can be achieved by ensuring that there is generous bench space either side of the stove and that pots or pans are within easy reach. When you are trying to cook, it will not matter if your kids are winding around your legs.
Open living areas – If possible, ask your kitchen builder to remove a wall between the hallway or even a lounge room so that you can enjoy a more open plan design. Try to use similar colours and furnishings. This will make the kitchen seem less secluded and will encourage conversation between the people in the area.
Sliding or bifolding doors – If you have a patio or deck area just off your kitchen, you might like to consider adding sliding or bifolding doors so that you can make the most of the view. This will also make it easier to move between the indoors and the outdoors whilst you are entertaining or preparing for a meal.
As you can see, there are a number of ways that a kitchen builder in Melbourne can make your space as family friendly as possible. To ensure absolute safety for your children, you should also avoid cluttering up the kitchen, as this can make the space feel cramped and can also pose a tripping or falling hazard. You builder should be able to offer you suggestions to avoid this.