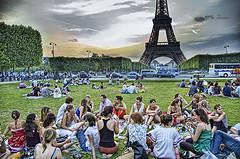 Image by Stuck in Customs via Flickr
"Knowing French will allow you not only to function but to compete effectively in the global economy of the future."
Upon reading this statement, it made readers like you and me think that learning French does not only concern the success of bridging communication, as far as learning another language is concerned. With the pace our world is running nowadays, the importance of learning another language has become even more significant than just communication. The need to learn French rises up to a level of fulfilling the competitive necessity in the international employment and the global market.
When people choose to learn French, they actually increase job opportunities and salary potentials fortunately exclusive for themselves. They will get to travel to French-speaking countries, get a highly-paid employment, and eventually live in sophistication, and of course, become successful in their inspired career. People who learn French undeniably has an edge among others who doesn't know French at all.  Besides, when you get to learn French, particular to those who choose to learn French in a language school, people will learn and appreciate the whole French community, including its people, tradition, history, and culture.
Do you know that a person who learns French also improves his ability in the English language? Well, 40 to 50% of the English vocabulary actually comes from French language, so your English skills will certainly get enhanced and thus become an effective verbal communicator. Moreover, French is an easier language to learn since it has great similarities in the English language, as far as English grammar and vocabulary are concerned. And of course, learning French develops a learner's critical and creative thinking skills. This skill will surely make the learner be accepted to a university or even a graduate school. A person's skills in French language have lots of benefits and it is limitless!
So, do you perceive French as a language worth learning for? Decide to learn French at language school and become effectively competitive in the global economy you will soon be facing in the near future!