Every time I gather research for the Makers Spotlight column, I'm always amazed by the handmade talent I discover. With so many passionate people out there hustling every day, and creating perfectly imperfect, soulful pieces, it's often hard to narrow it down to 4 feature makers. But alas, here they are! Watercolor mural artists, lighting designer, neon sign maker, and porcelain artist: I hope, like me, you'll find loads of inspiration to sail into the weekend with! Happy Weekend!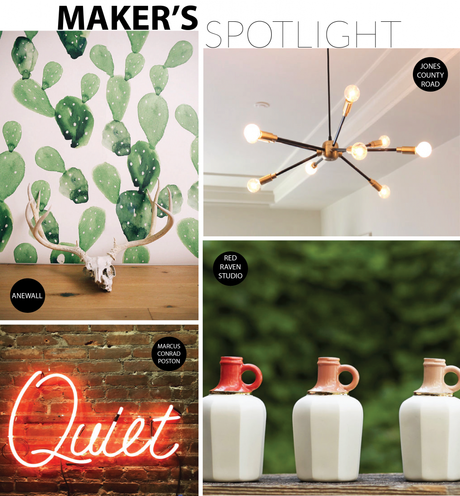 Anewall: (a-new-wall) The Vancouver-based BFF duo, Richele and Sydney, are taking wall coverings to the next level with their ethereal watercolor wall murals and papers. #cactuslove
Marcus Conrad Poston: Glowing wall art for the modern interior. Marcus Conrad Poston hand bends his completely customizable neon signs out of his New York studio. Choose a sign from his shop or commission a custom sign!
Jones County Road: LA lighting designer, Ryan Roger, subscribes to a simple, restrained design aesthetic, creating minimal hardwired brass lighting with equal parts graceful utilitarian and refined mid-century.
Red Raven Studio: Amy Hamley's STUN. ING. handmade English porcelain is the perfect addition to any table with its modern vintage styling and 24K gold touches. The faceted vessel can wear many hats as a vase, decanter or sculptural table centerpiece. I think I need a vessel for each use!
For more in the Maker's Spotlight Series, go here and here!