Hope you had a great long weekend! I'm excited to share an amazing round-up of makers this week in the 2nd ever Maker's Spotlight! From screen-printed soft goods to hand-painted ceramics–there's a whole lotta inspiration for the devouring up in here.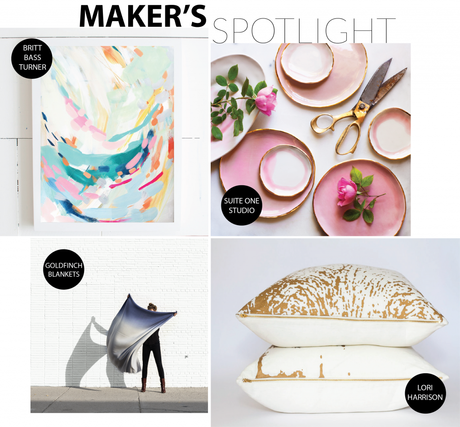 Britt Bass Turner – First up is an abstract painter out of Atlanta. I LOVE her use of color and the movement in her pieces–I mean, wow! Her shop features originals, prints, homegoods and notebooks.
Suite One Studio – Lindsay Emery, a ceramicist hailing from North Carolina, creates watercolor-inspired, gold-kissed tableware that effortlessly makes mealtimes everywhere just a bit more beautiful.
Goldfinch Blankets – The brainchild of Minneapolis designer, Debra Herdman, Goldfinch blankets and throws are designed here in Minneapolis and hand-loomed with only the finest merino wool by artisans in Nepal. Their simple sophistication and luxuriously soft hand make them a must-have for cool summer nights.
Lori Harrison – Lori finds inspiration in the imperfections and unexpected beauty in the world around her, translating it into luxe home goods to enhance our everyday. I especially love her screen printed pillows. Get on my sofa!