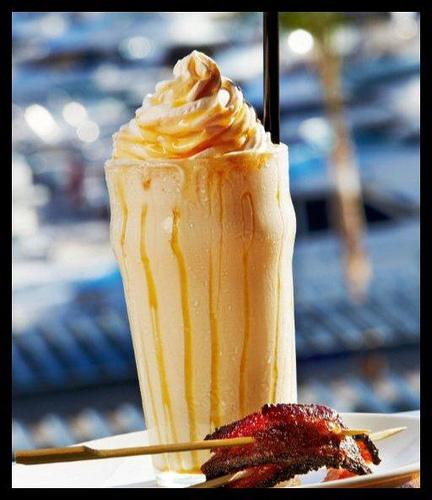 Maker's Mark Milkshake
Grown-up milkshakes are all the rage today, and restaurants like Marina Kitchen in San Diego, and The Tin Cow in Downtown Pensacola, serve them up with style. Though the temps have dropped- even here in the Florida Panhandle, this chilly milkshake will be the hit of any holiday party! Leave out the kick for the kids to enjoy too!
Maker's Mark Milkshake
RECIPE:
1-1/2 parts Maker's Mark® Bourbon
1-1/2 cups butter pecan ice cream, packed
1/2 cup whole milk
2 tablespoons toasted pecans
1/4 vanilla bean, scraped, seeds only, or ¼ teaspoon pure vanilla extract
1 tablespoon Lyle's Golden Syrup or maple syrup
caramel syrup
Place all ingredients in a blender. Puree on the highest speed until smooth and creamy. Pour into a large pint glass or two 8-ounce glasses, top with whipped cream, drizzle with caramel syrup and serve with a side of sliced bacon; immediately.