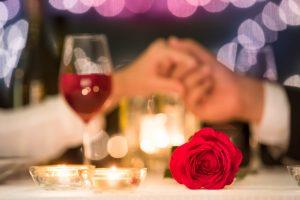 We've researched the Houston's most romantic Valentine's Day restaurants. Reserves your table now!
Where are the hottest Houston Valentine's Day spots?
Valentine's Day in Houston is a big night for the restaurant industry. Eateries roll out one-night-only prix fixe menus, wine deals, desserts for two, and other specials. But not all restaurants are created equal. For Valentine's Day, you'll want the power to choose a restaurant that serves great food, delivers it with quality service, and sets the right mood with romantic ambiance.
You'll probably wind up paying more than you would for just any old date night. But since you don't have a summer Houston electricity bill to pay this month, your budget may allow for a little splurge.
If you haven't made your dinner reservation for February 14, get on the phone right now! Here are a few Houston Valentine's Day restaurants that'll make your night one to remember for years to come.
Le Colonial
Take a trip back in time and halfway across the globe to Le Colonial. This River Oaks area restaurant captures the spirit and tastes of 1920's French Colonial Southeast Asia. We'll spare you the Vietnamese names of the dishes in favor of their English translations. Try tempting items like Spicy Yellowfin Tuna Tartare, Duck Noodle Soup, Fire Cracker Beef, and Seafood Ceviche. You may have had Vietnamese food before, but Le Colonial is a whole new experience.
Caracol
Texans' usual idea of Mexican food is greasy enchiladas or sizzling fajitas. Both are great, but they don't exactly fit with a Valentine's Day mood. For a coastal twist on Mexican food, visit Caracol. Your tastebuds will be transported to a little Mexican beach town, but your feet will still be in the Galleria area. If you want to celebrate Valentine's Day on February 8-13 or February 15-17, they have a special four-course couples menu those nights.
Masraff's
Reviewers describe the food at Masraff's as American cuisine with a touch of southern Europe. With dishes like Crispy Chicken Roulade and Duck Confit Ravioli, the description is apt. The ambiance is more contemporary than your typical gourmet restaurant. If you're in the mood for a longer evening at Masraff's, start your night in their bar. The bar menu is completely different from the dinner menu, so you'll have a different slate of options to accompany your pre-meal drink.
Taste of Texas
When you picture a classy Texas steakhouse, the image that comes to mind is Taste of Texas. They have every cut of steak you could want plus Texas favorites like pecan crusted chicken and jalapeno stuffed shrimp. Save room for Snickers pie or apple dumplings. They don't take reservations, so get there early to make it the first act of a multi-part Houston Valentine's Day.
Le Mistral
French food goes hand-in-hand with Valentine's Day. Le Mistral serves classic French fare in an elegant setting. You'll be tempted to fill up on their freshly baked bread and housemade butter, but resist that urge in favor of saving your appetite for your meal. This Valentine's Day, Le Mistral offers a special five-course couples menu.
Want more money for date nights?
You may be throwing away money each month with your current Texas electricity plan. Shopping around and then switching electricity plans can save money on your electricity bill. Search for plans on Texas Electricity Ratings now before summer electricity prices are put in place. Less of your money spent on electricity means more funding available for date nights!